How Many Dogs Does Megan Thee Stallion Have?
Megan Thee Stallion welcomed her latest dog in September 2020.
Megan Thee Stallion is one of the latest rappers to boast about her love for her dogs. 
The 25-year-old rapper's career may have soared over the past few years, but it hasn't stopped her humble personality. When she isn't promoting a new collaboration or an epic performance like her recent appearance on Saturday Night Live, Megan enjoys showing her home life with her fans on social media.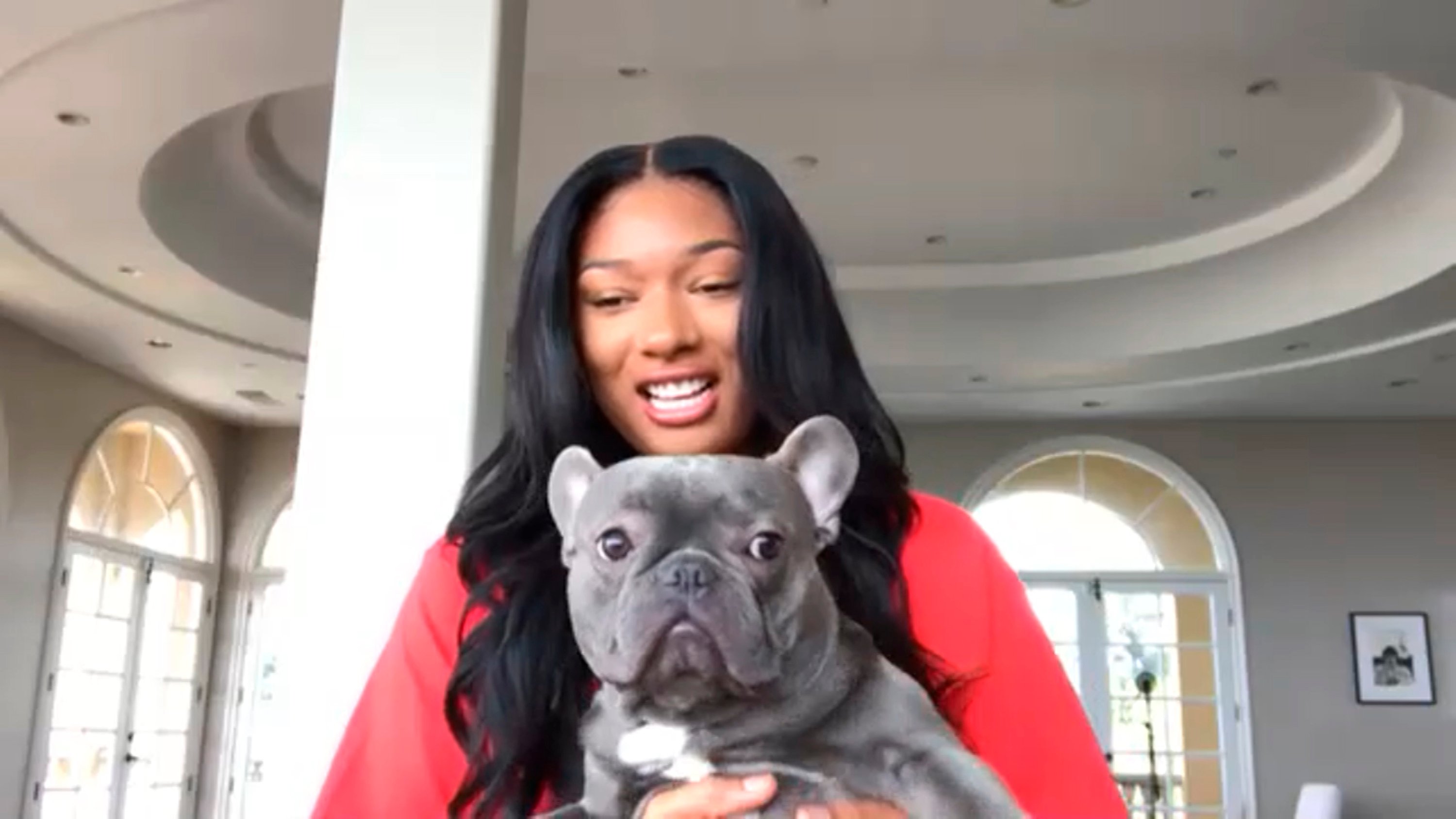 Many of Megan's fans might have noticed that Megan is the proud mother to several dogs in addition to being single. While she's had some of them for quite some time, her new additions have her supporters wondering, just how many dogs does Megan have? 
Megan Thee Stallion is the owner of four dogs
In September 2020, Megan announced to her fans via Instagram that she is now the proud mother of four puppies- 4oe, Dos, 5ive, and X (10). She welcomed X by showing the grey pup playing with Megan's older dogs, 4oe and Dos. Megan also captioned the post by saying her latest addition is already meshing well with his siblings. 
"Meet 10 (X)," Megan wrote. "He's only 2 months now So 4oe, and Dos better enjoy him while he's this tiny." 
Related: Megan Thee Stallion Wasn't Sure Why Politicians Decided To 'Focus' On Her & Cardi B's 'WAP' Lyrics
According to iHeartRadio, X has also appeared on Megan's first dog, 4oe's Instagram page. Megan's eldest pup has over 400,000 followers who watched as he played with X in multiple photos. 
Megan Thee Stallion got 4oe as a gift from her ex-boyfriend, Moneybagg Yo
While Megan currently has four dogs she's responsible for, she officially became a dog mother in 2019. At the time, she was dating fellow rapper Moneybagg Yo. During their courtship, the two kept their relationship pretty discreet, as they wanted the focus to be on their upcoming music and other projects. However, the couple decided to share one sweet element of their relationship in June 2019. According to Power 105.1, Moneybagg briefly opened up about his romance with Megan. As she showed off her new dog, 4oe, Moneybagg confirmed he bought the dog for his then-girlfriend.
Related: Why Megan Thee Stallion Is 'Super Hard On [Herself]' When Songwriting
Megan and Moneybagg officially called off their relationship in November 2019. Although Megan hasn't addressed the breakup much since then, her ex offered insight into why the couple is no longer together. In January 2020, Moneybagg shared with Ebro Darden's Rap Life podcast that he and Megan's personalities often clashed. He also said that while they're no longer together, they will always be connected through 4oe. 
"It's still love, we just didn't see eye to eye," Moneybagg explained. "That's why I ended up getting a dog for her cause I feel it'll still be a part of me."
Megan Thee Stallion is primarily focused on her dogs and her career
With four dogs to raise and a bustling career, it's no wonder that Megan is focused on herself at the moment. After ending her relationship with Moneybagg Yo, the rapper was romantically linked to several celebrities, including Wiz Khalifa, Tristan Thompson, and G-Eazy. Megan has denied dating anyone in the entertainment industry and has said she wouldn't enter a relationship just for the sake of having someone around.
Related: Megan Thee Stallion And Cardi B Give Fans Ultimate 'WAP' Gift On Twitter
In April 2020, Megan shared with Marie Claire that she learned from her father, Joe Pete, not to settle for someone who doesn't fully respect her goals. 
"I saw how he treated my mom," she said of her father. "And I saw how my dad treated me. I have so many strong positive influences. I'm not going to lower my standards."