How Many Movies Have Jennifer Aniston and Jason Bateman Appeared In Together?
It's not easy making longterm friends in Hollywood. The business is a fickle one and stars often move from project to project, leaving old acquaintances behind. However, every once in a while, two stars strike up a friendship so deep, it lasts far beyond the work itself. Such is the case with Jennifer Aniston and Jason Bateman. How many films did the two appear in together and how exactly did they meet?
How did Jennifer Aniston and Jason Bateman meet?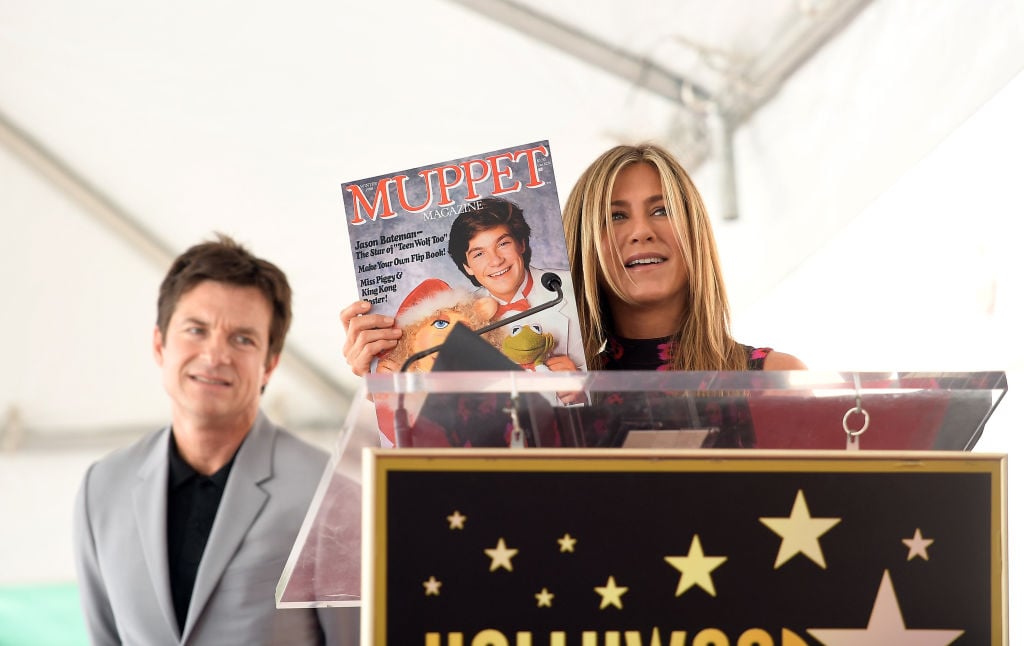 Jennifer Aniston's career spans all the way back to 1988, but her longtime friend, Jason Bateman's career began in 1981. According to multiple reports, the two Hollywood stars met on the TV show, Simon.
Aniston wasn't a part of the TV series, but Bateman starred as Carl Himple for 21 episodes.
"I've known him for so many years, since I was 25 years old when a friend was doing a TV show with him," Aniston previously told Relevant Magazine.
"He was in a much different mental space back then, but still lovely and great and I've just always adored him. He's just delightful. There's nothing about him that isn't squeezable."
Aniston honored Bateman with a few touching words
The two are so close, Aniston attended Bateman's Hollywood Walk of Fame ceremony in July 2017, speaking on his behalf.
"One thing has proven itself to be true and that is having longevity in this business is not easy. Especially starting out as a child actor. Usually, that's a story that doesn't always end well," she said of Bateman.
"When I actually met Jason it was kind of looking like it could go either way," she said. "He's a fantastic partner in crime, the most generous man that makes the world laugh and cry on a dime. Oh, and he's a vicious negotiator. I have been in the room, and I have witnessed it. Do not poke that bear."
She continued. "The part that I'm really the luckiest, that I get to witness as his friend, is Jason Bateman the husband, the fantastic father, the dear friend, and as we lovingly call him: Grandpa. He looks 12. He acts 100. A head of hair that women envy. He works hard. He's tired. Even in his most restful state, he's one of the loveliest men to be around."
The secret to their friendship, Bateman told The Guardian, is that he has "a great deal of dirt" on Aniston, joking that "as long as she continues to hire me for her projects I will not show the pictures."
He added, "We've always just really gotten along well. I think I was just fortunate to be a good fit for parts in her films."
Aniston and Bateman have starred in five films together. Here's a look at each.
'The Break-Up' (2006)
By 2006, Aniston left the Friends life behind. Her feature-length film credits included Along Came Polly, Rumor Has It, Derailed, The Good Girl, and more.
In The Break-Up, Aniston's character, Brooke, and her on-screen love, Gary (Vince Vaughn), had a tumultuous breakup. Bateman's role as Riggleman was as their attorney, navigating the comedic, yet realistic parting of ways.
'The Switch' (2010)
Four years later, Aniston and Bateman teamed-up again for The Switch, which originally had a different title: The Baster. This time around, Aniston and Bateman play friends — until Bateman's character, Wally, decides to switch a sperm donor's sperm with his own, in which Kassie (Aniston) is impregnated by.
"It's a romantic comedy with Jennifer Aniston. It's less than traditional," Bateman previously told Collider. "There's some sperm swapping going on there."
The Ozark star admitted The Switch was his first attempt at that kind of story.
"I haven't done a romantic comedy before, but it's new for me in that sense and again, it's nice that I'm it's another one that I'm sort of on every page and I like being hired to do more and more stuff," he said. "Carry more and more responsibility. It's nice I'm getting that trust."
'Horrible Bosses' (2011)
Just a year later, Horrible Bosses came about, linking Aniston and Bateman once more, alongside Jason Sudeikis and Charlie Day. Aniston plays dentist Julia Harris, who lacks personal space and boundaries with her employees. Bateman plays Nick, one of the friends who conspire to kill his horrible boss.
"When I wrote the script — I always have actors in mind when I was writing. And Jason Bateman and [Jen] were the actors I had in mind," film writer, Michael Markowitz told Pop Sugar at the time. "I never knew if it was like, rude, to tell you that I thought of you for that part."
'Horrible Bosses 2' (2014)
After the success of Horrible Bosses, Aniston and Bateman joined forces for a second iteration three years later. Jason Sudeikis, Charlie Day, Kevin Spacey, Jamie Foxx, and Chris Pine were also in the sequel. However, Aniston felt challenged by some of her scenes with Bateman.
"I've known him for 25 years. We've practically grown up together. You know, his wife is one of my best friends," she previously told Huffington Post UK. "So it was just a little…there was that moment of like, 'Oh this could be awkward. This could be awkward. This is my brother.'"
'Office Christmas Party' (2016)
In 2016, Aniston and Bateman filmed their fifth movie, Office Christmas Party. The two play frenemies with Aniston as CEO, Carol, who's trying to lay off employees and cancel the annual Christmas party.
Bateman's character, Josh who helps to rally the staff with said Christmas party to prevail over Carol's threats. Aniston admitted to CNN how difficult it was to keep a straight face on the set.
"Because I'm really angry inside, I'm naturally miserable with a bubbly exterior," she said. "It's not easy, honestly, especially when we did the big boardroom scene in the beginning when it was all of us in there."
With all of these comedic hits, we can only hope for more Aniston and Bateman projects in the future.