How Many Songs Does Eminem Have About His Daughter Hailie Jade?
If you're a fan of Eminem's music then you've heard him rap about his family. Slim Shady has a number of angry lyrics directed at his mother, Debbie Nelson-Mathers, and has released entire tracks about his past issues with his ex-wife, Kimberly Scott. But the rapper has also devoted a number of songs to his daughter, Hailie Jade, who he has called his main source of motivation that drove him to become successful.
Here's more on how often he has mentioned Hailie in his songs, plus what his daughter holds the Guinness World Record for and what she and Eminem have said about their relationship.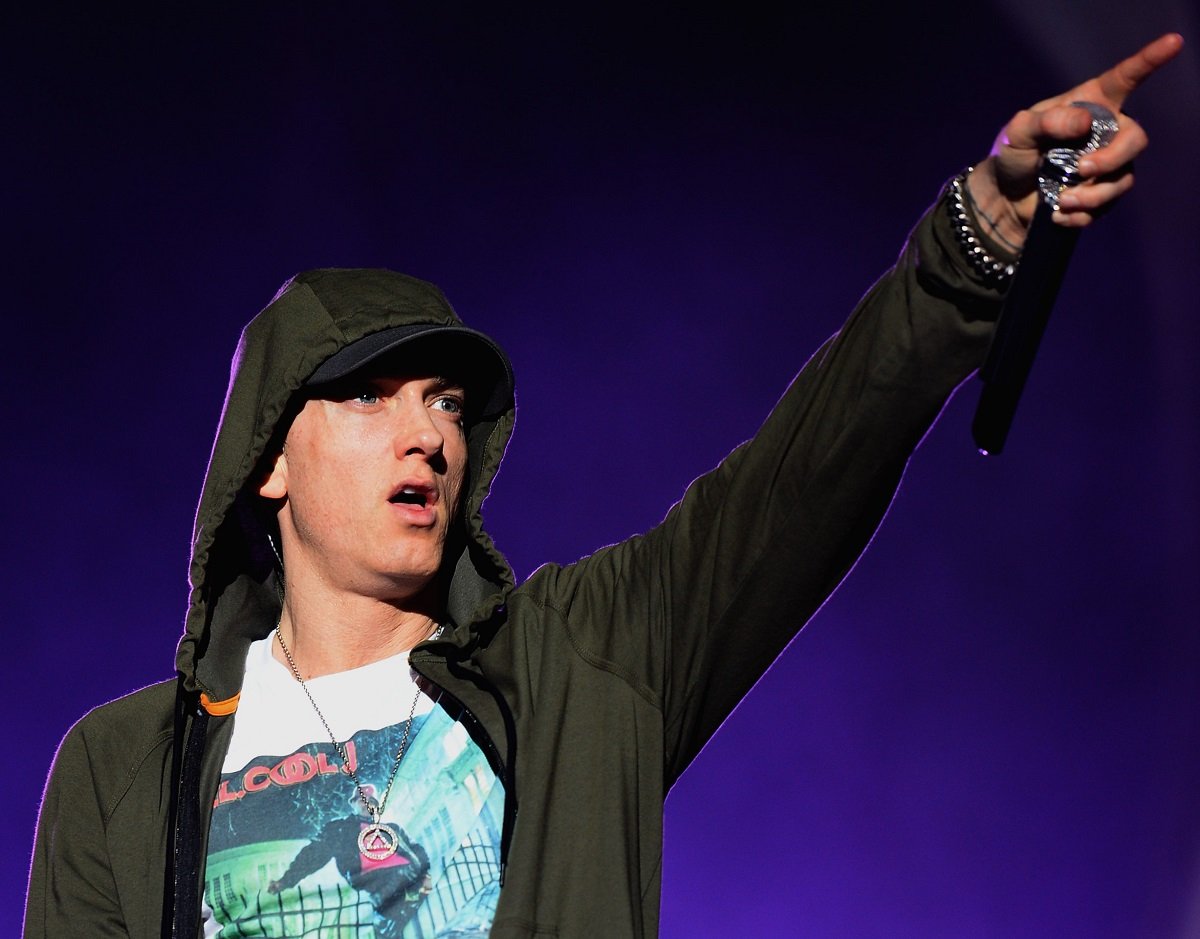 Eminem raps about Hailie in a number of his songs, and she holds a Guinness World Record
Marshall Mathers' fans can probably think of quite a few songs off the top of their head in which he talks about Hailie. One of the earliest times we heard him mention her was on the single "97 Bonnie and Clyde." The song tells a dark tale about his troubles with Kim and taking their daughter along to disposes of her mom's body. The track even featured Hailie's voice, and that wouldn't be the rapper's only song she had a part in.
Em and Kim's daughter also provided part of the hook on "My Dad's Gone Crazy." 
"Me and Dre were working together and Hailie was running around the studio and she was like [in a little girl high voice], 'Somebody please help me! I think my dad's gone crazy!'" the hip-hop star recalled in an interview with Rolling Stone. "Instantly that locked in with a beat we'd made the day before. I went to my house, and I had her go in the booth and say it. When she opens up, she's just like her dad in a lot of aspects. I just told her what to say and she nailed it, the first take."
For that, Hailie became a Guinness World Record holder as the youngest performer (aged 6 years 210 days at the time) to be credited with a hit when "My Dad's Gone Crazy" charted in 2002. 
The rapper expressed regrets for being so open about his daughter
Over the years, Hailie has been referenced in more than 20 of Eminem's songs including "Cleanin' Out My Closet," "Going Through Changes," "Hailie's Song," "Doe Rae Me (Hailie's Revenge)," When I'm Gone," and "Mockingbird." But the hip-hop artist has expressed some regret about bringing her up so much.
In the 2017 single titled "Castles" Em raps: "This game is crazy. I wanted to claim my love for you but damn I never knew it'd be like this. If I did, I wouldn't have done it. You ain't asked for none of this s**t. Now you're being punished? Things that should've been private with me and your mother is public."
How Hailie Jade has described her relationship with her famous father
Hailie doesn't give interviews about her famous father. However, in 2018 she did touch on their relationship briefly and told the Daily Mail that she and her dad have always been "very close."
In March 2020, Eminem appeared on the Hotboxin' with Mike Tyson podcast and spoke about how proud he is of Hailie.
"She's doing good. She's made me proud for sure," he stated, adding, "She's graduated from college, had a 3.9 [GPA]. "When I think about my accomplishments, probably the thing I'm the most proud of, is being able to raise kids. It's important to keep your kids grounded when they're in a situation like I have. People also think too that money just buys happiness–that is absolutely not the truth. You've got to be right inside, otherwise none of this s**t means nothing."