How Many Times Was Bob Hope Married?
Bob Hope is unquestionably an American icon. With a career spanning over half a century in nearly every corner of entertainment, Hope brought laughs across the world with his impeccable timing and snappy one-liners as one of the most enduring actors of the 20th century. His ability to adapt his comedy to so many mediums over the decade made him a formative part of multiple consecutive generations. Hope's comedy changed with the times to stay smart and relevant over the years, but did his personal life share that adaptability?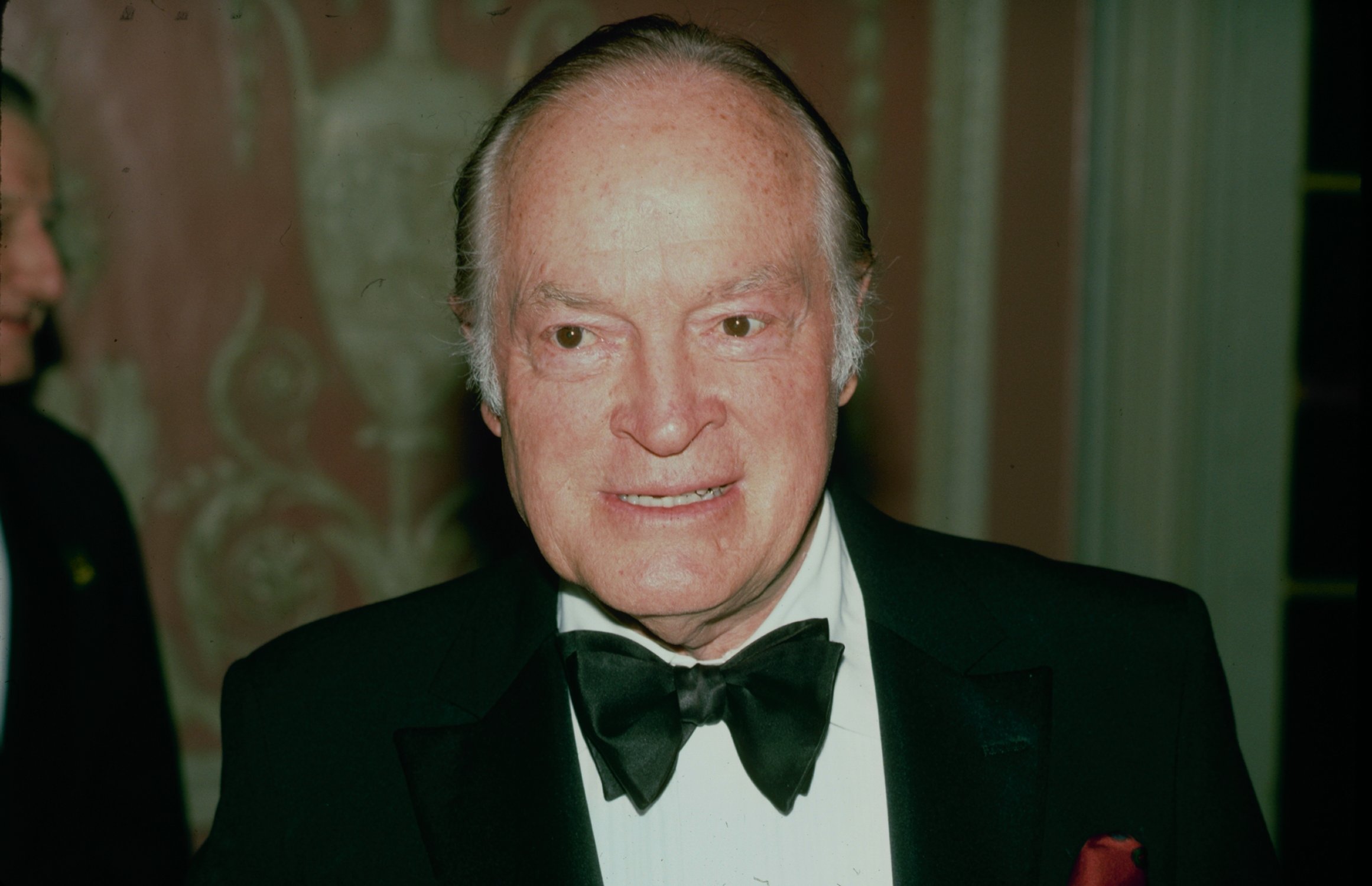 The early life of the comedy legend
Hope, who's so often remembered as an American comedy icon, was actually born in England as Leslie Townes Hope in 1903. Migrating to the US at the age of 4, Hope's parents and their seven sons settled in Cleveland. They struggled financially, and Hope and his brothers had to work to support the family during his adolescence.
As a teenager, Hope partnered with his girlfriend Mildred Rosequist to form a vaudeville act, playing local venues for whatever they could earn. Neither their business nor personal relationship would last long, however, and throughout the 1920s Hope worked prolifically in vaudeville, film, dance, with numerous partners before having a Broadway breakthrough in 1927 with Sidewalks of New York.
In the 1930s, Hope was an established showman and comedian and found solo work in musicals and films. He still dabbled in vaudeville however and maintained partners for acts. Through 1932, Hope worked with Grace Louise Troxell for his vaudeville act. According to The Guardian, a 1999 biography alleges that Hope secretly married Troxell in early 1933, though Hope claimed he took out a marriage certificate but never wed her. Never elaborating any more on the situation, the circumstances of his relationship with her will likely never be known.
Dolores and Bob
RELATED: 7 Great Classic Films You May Never Have Heard Of
Later in 1933, Hope met singer, Dolores Reade. The two fell in love and were wed shortly after in 1934. Two stars in their prime, they were media darlings. Hope's career continued to skyrocket landing regular features on major radio programs and starring roles in feature films. Partnering with Bing Crosby for The Road to Singapore proved to be a lifelong success for Hope and Crosby, as the two friends would partner with each other decades to come.
The beginning of the Second World War led to a new calling of sorts for the Hopes, one which would remain a vital part of their legacy for over half a century. Beginning with a radio show from a California Airbase, Hope would begin more entertainment in support of US troops. The future decades would see both Bob and Dolores take numerous USO tours overseas to entertain troops in Germany and The Pacific during the war, continuing to numerous trips to Korea and Vietnam, Laos and Lebanon, all the way up to tours of Iraq during the first Gulf War- when Hope was 90.
Legacy of love and laughter
Dolores and Bob Hope had four children and were married for 69 years until Bob's death in 2003 at age 100. Dolores would die 8 years later at the age of 102. In a culture where most are used to Hollywood stars splitting and re-marrying continuously, the couple stands out as a beacon of timeless and enduring love. Though occasional accusations surfaced of marital inequity against Bob Hope in the media, both were always quick to deny anything as simply sensationalism. The couple were rather private in their personal lives but seemed very happy. According to the Los Angeles Times, Dolores once remarked of her marriage, "If it hadn't been a good marriage, I'd have never stayed."
Bob Hope is one of the most lauded performers in history. According to Biography, over his career, he was awarded over 50 honorary degrees, a lifetime achievement award from The Kennedy Center, a Presidential Medal of the Arts, and a British Knighthood. In 1997 Congress passed an act to make Bob Hope "the first and only honorary US veteran" for his long record of service of entertaining the troops.
Hope's legacy is a long record, with an accomplished career spanning 8 decades. Despite all the honors and performances, USO tours, and charity drives, perhaps the most admirable legacy is Dolores and Bob Hope's 69-year partnership and marriage. In times when so often first marriages don't last, Bob and Dolores stand as a beacon of hope that sometimes the first one is the right one.