How Meghan Markle and Prince Harry's Post-Royal Life Puts Archie First
Meghan, Duchess of Sussex and Prince Harry have officially begun their new, post-royal life. Their new schedule is a whirlwind of around-the-world appearances, speaking engagements, and planning meetings — all free from palace interference.
While the couple has been keeping quiet, for the most part, fans have started to eagerly anticipate their next move and where they could pop up next. The one constant in Meghan and Prince Harry's life these days is their young son, Archie Harrison.
There's no doubt that their new life has a lot of uncertainty. But, according to a recent report, their biggest priority is crystal clear.
Meghan Markle and Prince Harry's exit statement referenced Archie Harrison
On January 8th, Prince Harry and Meghan shocked the whole world when they announced that they would be retiring as senior royals and that they wanted to start making their own income, separate from the royal family. In their statement, the couple revealed that they intended to split their time between the United Kingdom and the United States, which would enable them to raise their son "with an appreciation for the royal tradition into which he was born."
In the weeks since the bombshell announcement, fans and critics have been trying to figure out what exactly led to the royal couple's big announcement. There's little doubt that Meghan has been under attack from critics and tabloids ever since she started dating Prince Harry, and her unhappiness likely had something to do with their decision.
However, it also seems very likely that the couple did truly want to remove their son from a life where he would be constantly scrutinized and criticized. 
Archie Harrison has been sheltered from the spotlight
Archie Harrison was born in May 2018. As he is the first child for Meghan and Prince Harry, there was a great deal of excitement and anticipation surrounding his birth.
Although the public was eager to see the new royal baby, Meghan and Prince Harry were determined to keep their son well away from the media's prying eyes. They stepped out for a quick interview in the days following his birth, but other than that, made every effort to shield their newborn from the public.
Royal baby baptisms are traditionally a huge celebration. However, Meghan and Prince Harry fought tradition and kept Archie Harrison's baptism ceremony very private and didn't even reveal the name of his godparents. They received a great deal of criticism for their decision, but the couple remained firm.
Many royal fans believed that Prince Harry was spearheading the move to keep Archie Harrison's life more private, as the result of having spent his entire life in the spotlight.
Meghan Markle and Prince Harry are focused on being parents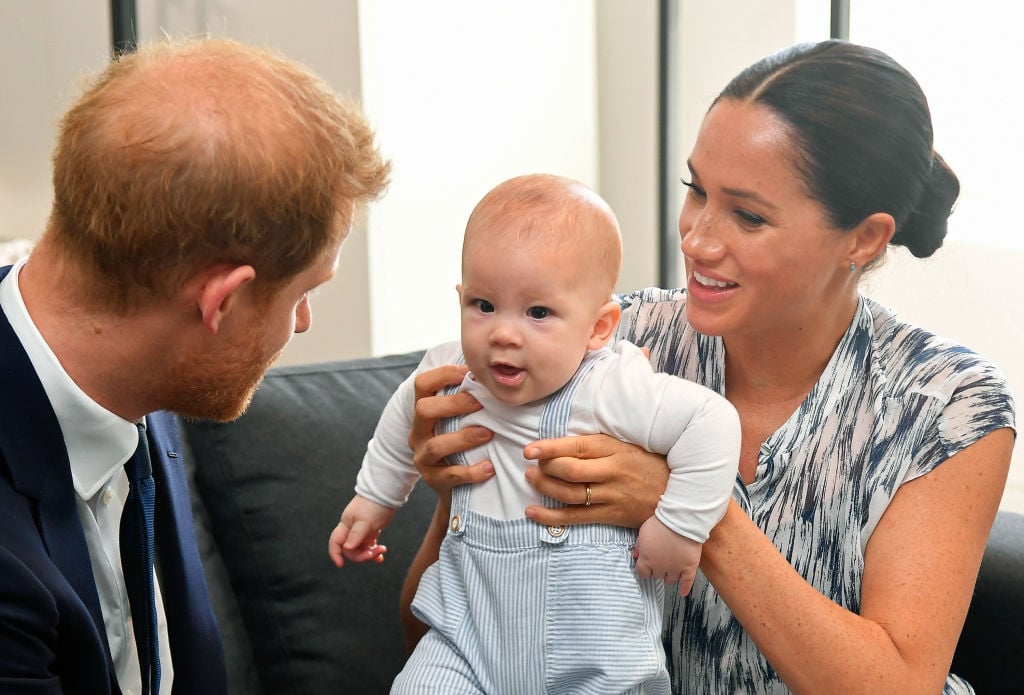 While Prince Harry and Meghan haven't quite established their new home base yet, and are reported to be looking at houses in Los Angeles, they are still taking the time to be devoted parents to their little one. A recent report features an interview with a royal source, who claims Meghan and Prince Harry's lives these days include lots of one-on-one time with Archie Harrison.
The source revealed that "Archie is the priority. It's very much still about taking care of him and putting the family first. He's a happy kid—he loves to laugh."
It seems likely that in their new life, Meghan and Prince Harry will ensure that Archie Harrison gets to spend some quality time with select family members such as Doria Ragland, Meghan's mother. Through it all, the Duke and Duchess of Sussex have proven that they are willing to do whatever it takes to make sure that their son has a happy, well-adjusted childhood.