How Might The Coven Witches Return On 'American Horror Story'?
Ryan Murphy said the witches of 'American Horror Story: Coven' will return. But how? Will it be in Season 10?
American Horror Story has had quite a run on television. Through nine seasons, over 100 episodes, and many haunting storylines, fans have fallen in love with the actors behind this series. Typically, fans can cling onto a specific character, but it always changes with AHS, and hardly any two characters make a big appearance more than once or twice.
That's where the season Coven differed from the rest of the show. All the seasons are connected and within the same universe, so there is character overlap sometimes. However, fans clung so hard to the witches in Coven that Murphy brought them back to star in Apocalypse. He even said he's going to bring them back again, but how? There are some options.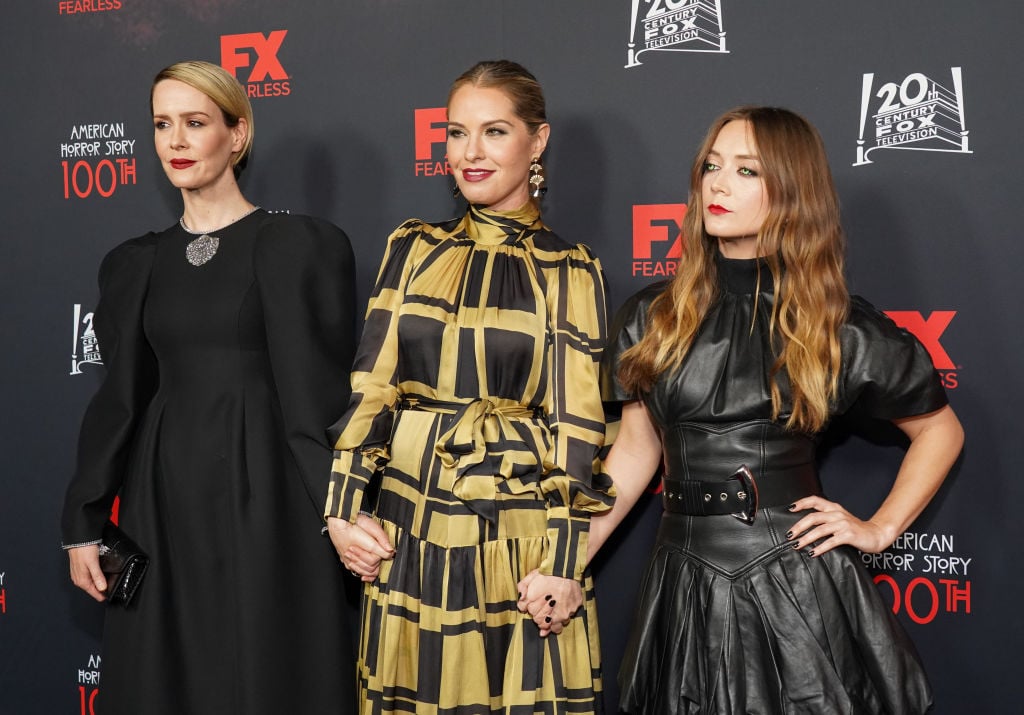 Ryan Murphy teased the return of Coven's witches
In December of 2018, Entertainment Tonight asked Murphy his plans regarding the witches. The final episode of Apocalypse kind of left it off as a cliffhanger, with more devilish trouble looming on the horizon. Luckily, they'll return to fix whatever problems the new Anti-Christ causes. "The witches will be back," he said. "Not next season, but we have something really fun planned."
As of right now, there has only been an official announcement of a Season 10, with nothing beyond that. But Murphy did hint that a Season 11 could happen, given the popularity of the show. "The tenth is the last season that's ordered but [FX CEO John Landgraf] and I said around Season 5, this is something that is so beloved that maybe it could keep on going," Murphy told Variety. "And now in its ninth season, in terms of worldwide…it's one of the most popular shows in the world."
It also depends if Murphy and Landgraf are into it enough to pursue another season after 10. "I will continue to have an appetite to do it as long as John wants to do it," the showrunner continued. "So, we have been talking about should we end it? Or should we keep moving forward? But I hope we can move forward."
Sarah Paulson wants to return to 'AHS' in the future
A key player for a Coven return, post-Apocalypse, is Sarah Paulson, who appeared on every season except 9. You can't have a season with the Coven witches without Cordelia, so it's good news that Paulson is also interested in returning to the show in Season 10 and beyond. "I think the star of American Horror Story is American Horror Story itself," Paulson said to Variety at the AHS 100th episode celebration on Oct. 23. 
The show is the thing and I think you can get a whole different group of actors and people will still watch it… I think that's the extraordinary thing that Ryan [Murphy] created, and I would love to be a part of it. One time, I said I'd like it be to vampires in space when I'm 99 and I hope the show is still going then.

— Variety
Where did the witches last leave off and how could they return?
Well, vampires or not, how could AHS: Coven return, you might ask? Apocalypse ended with the witches successfully killing Michael, the Anti-Christ, and the child of Tate Langdon and Vivien Harmon. However, will Satan always finds a way, with the new spawn of the devil is the child of Timothy and Emily. With that cliffhanger, you know that the end of the world is just going to come again at some point. This could be the perfect way to bring the witches back.
It was a surprise to a lot of people to see the witches come back in such a significant capacity, so you might not get another season where the coven is the main character. But however they come back, rest assured that they definitely will be.