How Millie Bobby Brown Knew 'Stranger Things' "Would Be Big"
Millie Bobby Brown – quickly ascending the showbiz ladder to A-list status– received her breakout role, playing Eleven, in the Netflix phenomenon Stranger Things. Initially timid and fearful, Eleven transforms into a protective and loyal friend as the sc-fi thriller progresses. 
Paying homage to some iconic 80s flicks – the ones featuring kids on bicycles hurrying to save the day – the show boasts an unrelenting nostalgia factor, while never sacrificing its contemporary twist. Stranger Things has been deemed a success on both a critical and fiscal front, as the show boasts widespread viewership and strong reviews on Rotten Tomatoes.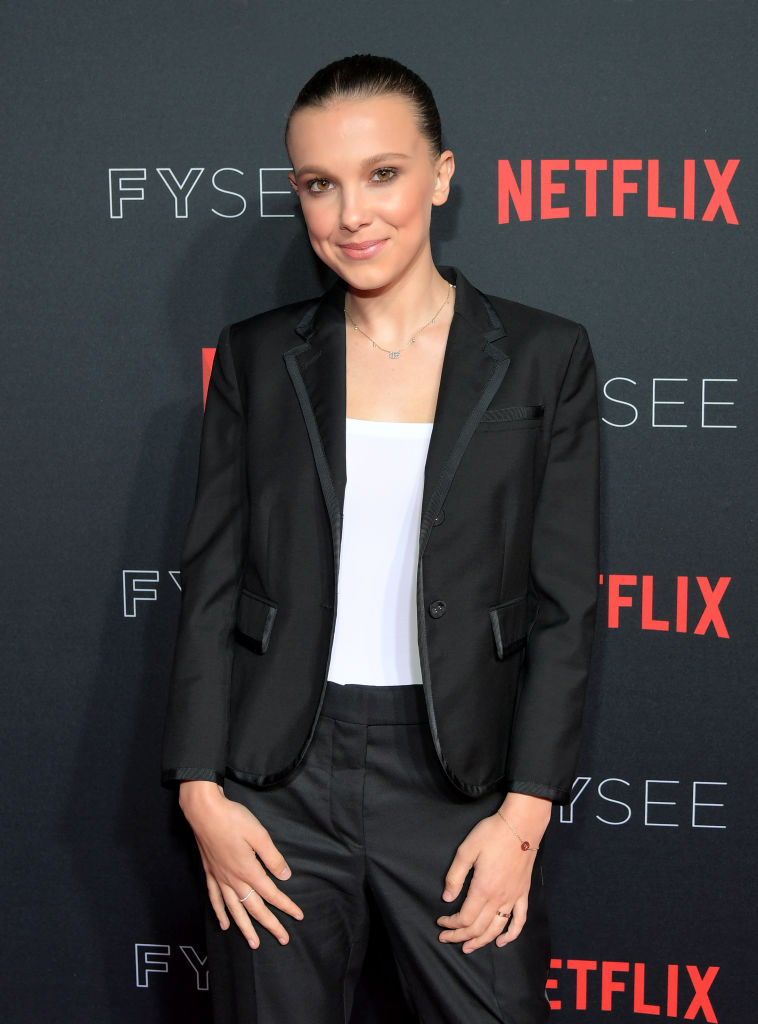 During an interview with Teen Vogue, Millie Bobby Brown discussed Stranger Things, and why she knew the show was bound for success before it even got off the ground. Lucky for Brown, who had previously appeared briefly in NCIS and Modern Family, her insights were correct.
Millie Bobby Brown talks Stranger Things: destined for success 
When discussing the root of Stranger Things' success, Millie Bobby Brown explained to Teen Vogue:
"I think the show's success is because we have a great cast and a great crew. I kind of knew it would happen, that it would be big, because our writers are geniuses and we have a great cast. We're like a family."
Millie Bobby Brown may be young, but the fashion icon and UNICEF Ambassador can spot talent when she sees it. Brown acts alongside Winona Ryder and David Harbour while following scripts penned by Ross and Matter Duffer; simply put, the show started with a substantive idea and executed with an impressive ensemble. 
"Genius writers" are integral to any successful show, as they lay the groundwork. However, without a strong cast  – particularly one with good chemistry – the writing never reaches its full potential. Millie Bobby Brown notes that the entire cast is "like a family;" meaning, love, respect, appreciation, and trust exists between each cast member, allowing all performances to hit the high notes we've grown accustomed to witnessing during Stranger Things. 
Snagging award nominations and wins left and right, Stranger Things has become one of the most popular television series currently on the air (or, more accurately, available for streaming). So, just how big is Stranger Things? How successful is the show Millie Bobby Brown knew would be a hit? 
'Stranger Things' success: is it really that "big?"
According to Esquire, Stranger Things – in its premiere season – quickly became "one of the biggest Netflix shows of all time." According to the Entertainment outlet, over 8 million people watched the premiere season in the first sixteen days it was available for streaming. 
The most recent season of Stranger Things drew in record viewership, according to Variety. From July 4 – July 7, fans hurried home from barbecues and binged the series for hours on end, leading to an average minute audience of 12.8 million viewers.
Over the holiday weekend, the show reached 26.4 million unique viewers in the United States alone. By the end of July 4, Variety reports, 824,000 people had already watched the entire season, which is a 56% increase over season two's one-day completion number. 
When it comes to Stranger Things enthusiasts, there are many – many of whom managed to finish the entire season in one day. That's what we call dedication.