How Much was Addison Rae Paid for Jimmy Fallon Performance?
It's not easy being a young star — and such is true for Addison Rae Easterling, better known as Addison Rae. The young TikTok star attained fame on the app in 2019, and she's now making appearances on late-night TV shows. So, how much was she paid for that infamous performance on The Tonight Show Starring Jimmy Fallon? Here's the amount and how it contributed to Addison Rae's net worth.
Why is Addison Rae famous?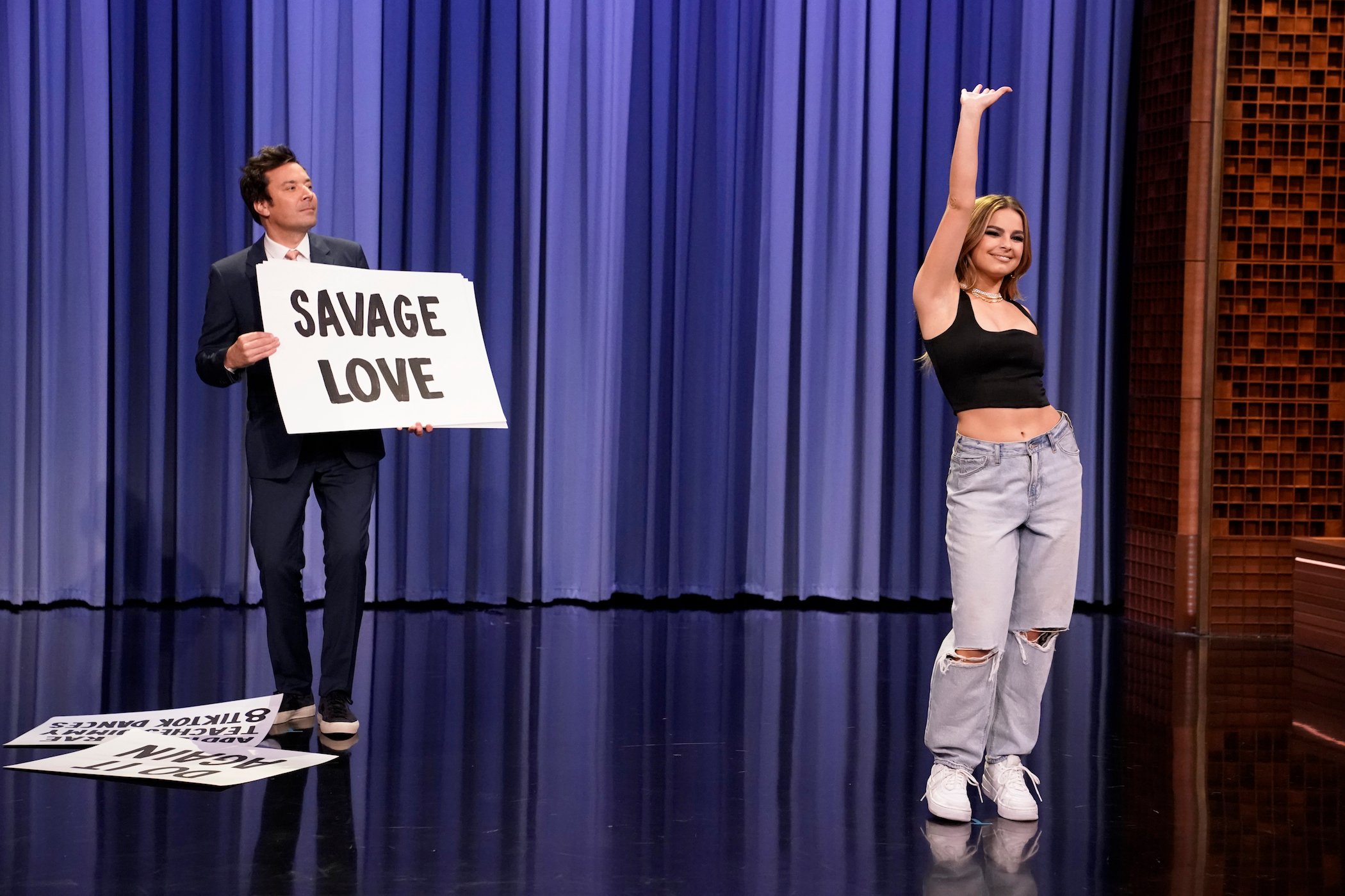 Addison Rae got her fame through TikTok back in 2019 an app that allows users to share short videos. Today, she's 20 years old — and she's reflecting on what it was like when she first started using the app.
"I'm doing the craziest dance moves in it because I was like, 'I don't know what this is,'" Rae shared about the first TikTok she was in to the podcast Emergency Contact, according to Yahoo. "[People] just turned to TikTok from Musical.ly. People were just starting to get it that were in high school. The older crowd was starting to get it a little."
Rae's first video she ever posted featured her dad, but it didn't get her very far. "Definitely no traction there," she added. "It was, like, the dumbest, weirdest video I could have posted ever. I got, like, literally one like." Eventually, though, she struck gold. Her later videos attained hundreds of thousands of likes. Today, Addison Rae's net worth is largely thanks to the 79 million followers who continue to interact with her content and support her.
How much did Addison Rae make from her Jimmy Fallon performance?
Addison Rae's performance on The Tonight Show Starring Jimmy Fallon was certainly a memorable one. Rae took to the stage to teach Fallon eight viral TikTok dances. Entertainment Weekly notes the segment received some backlash after the show failed to credit the original artists who created the dances, as only Rae took centerstage.
So, how much was Rae paid to appear on The Tonight Show Starring Jimmy Fallon? It's difficult to get an exact amount, but there are certainly good estimates. According to an internet user on Quora, "The celebrity receives the SAG/AFTRA scale for such an appearance, which is probably $933 these days. Although, arguably, most celebrities may not need the money, it is a way of ensuring that performers aren't exploited for such appearances."
Others commented that the celebrity's agency might actually pay them more via their contract to appear on talk shows instead of the talk show paying the celebrity. "When a star comes to the show to promote a movie, TV show … they are paid by the movie producer as part as an advertising campaign/duty," another commented.
Others noted celebrities on late-night shows are more likely to receive around $300-$400. Either way, Rae is making a lot more via TikTok.
Addison Rae's agents did not return a request for comment about how much she was paid for the performance by the time of publication.
What is Addison Rae's net worth? How does she make her money?
TikTok star Addison Rae's net worth is impressive. In total, she's worth about $5 million — and her empire is just beginning.
Rae signed on with WME after attaining fame through TikTok. "WME will focus on building out Easterling's business across modeling, fashion, music, dance, TV, film, digital, podcasting, touring, books, licensing, and endorsements," the talent agency announced. "The family will also work with the Endeavor Foundation to support charitable causes."
She also makes money via endorsements. Rae hopes to launch her platform beyond the confines of TikTok and work in beauty and skincare moving forward.
Check out Showbiz Cheat Sheet on Facebook!