How Old Are the 'Bridgerton' Siblings — Compared to the Real-Life Actors' Ages?
Find out how old all of the 'Bridgerton' siblings are as well as many of those who end up married to a sibling in the Ton.
While watching Bridgerton Season 2 on Netflix, many viewers want to know how old the Bridgerton siblings are. How old was Daphne Bridgerton (Phoebe Dynevor) when she married Simon Bassett (Regé-Jean Page), and how does that compare to the real-life actors' ages? We also look at Kate Sharma (Simone Ashley) and her sister Edwina Sharma's (Charithra Chandran) ages. How do their ages compare to the actors who play them in the Netflix period drama? Find out all of the Bridgerton family ages in our timeline breakdown below.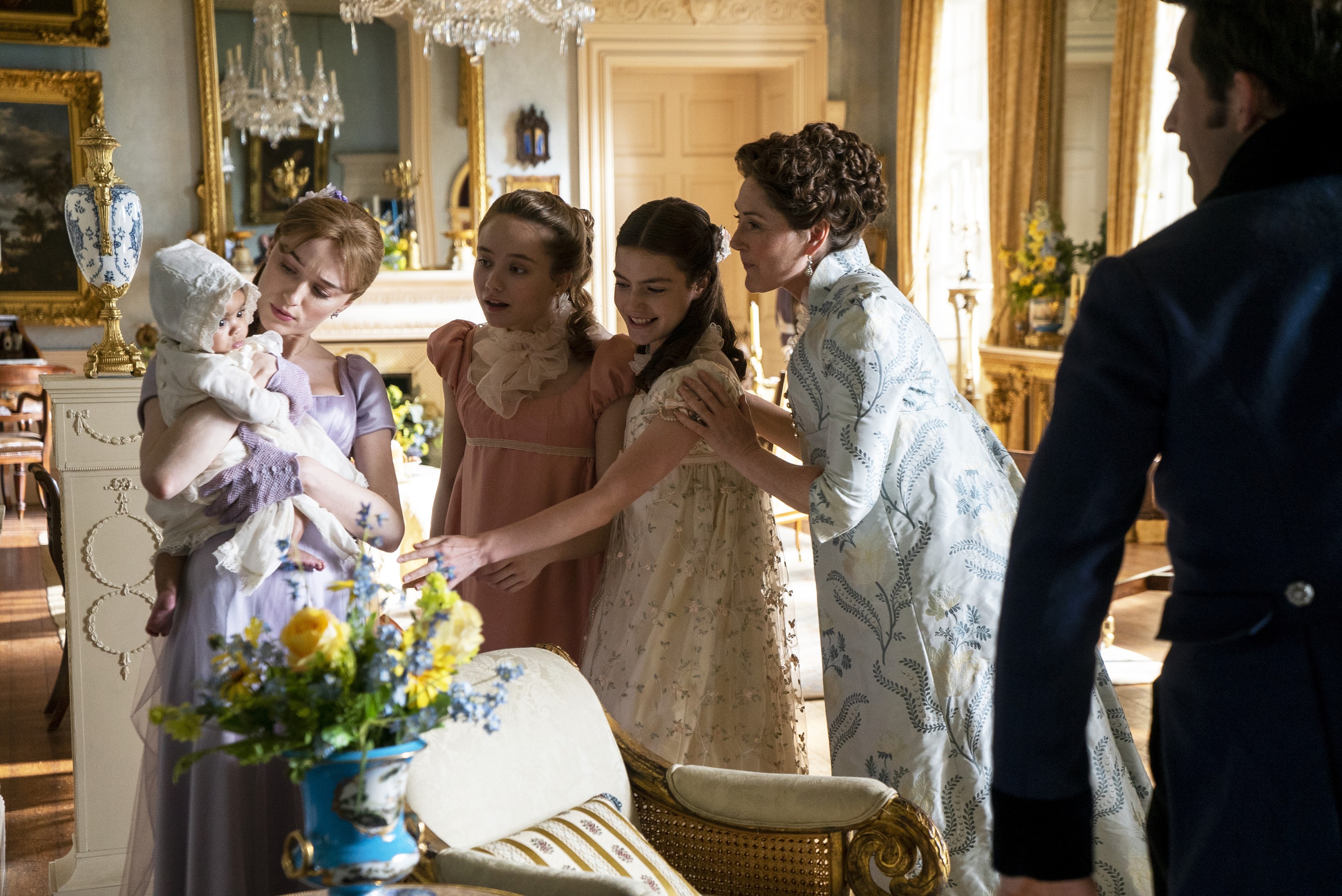 How old is Daphne Bridgerton?
In the Bridgerton book series, Violet and Edmund Bridgerton had their first daughter, Daphne Bridgerton, in 1792. Although she is not the oldest sibling, the books begin with the first female Bridgerton in age order. The events of The Duke and I and Bridgerton Season 1 began unfolding in 1813, so Daphne was 21 years old. Phoebe Dynevor was 24-years-old while filming the first season with Simon Bassett. The Duke is eight years older than Daphne in the novels, so he was 29 when they married. Bridgerton Season 2 follows the next season of the Ton, so each of the original characters is only one year older. Daphne is now 22, and the Duke is 30. Page, who did not even dare make a cameo in the second season, was close to Simon's age while filming, 32-years-old.
How old is Penelope Featherington compared to the 'Bridgerton' siblings? 
Penelope Featherington is the same age as one Bridgerton sibling, Eloise, — both born in 1796 — the two best friends are 18 in Bridgerton Season 2. However, the actors who play the women are not the same age. Nicola Coughlan was 33 while filming season 1 and 34 while filming Bridgerton Season 2. Claudia Jesse is a few years younger, now 31. 
How old are Edwina Sharma and Kate Sharma?
In the Bridgerton book series, Kate Sharma is 21 years old when she marries Anthony Bridgerton. However, her husband is also older — having spent many years as a Rake — he is 30 when they marry. The Netflix series changes their ages a bit. When we meet Edwina Sharma in Bridgerton Season 2 she is only 21, while her sister Kate is 26. In real life, Simone Ashley is 27, and Charithra Chandran is 25.
How old are the 'Bridgerton' siblings?
When the Bridgerton book series began in 1813, Anthony was 29, Benedict was 27, Colin was 22, Daphne was 21, Eloise was 17, Francesca was 16, Gregory was 12, and Hyacinth was 10. Bridgerton Season 2 is only one year later, in 1814. So, the Bridgerton siblings are now 30 (Anthony), 28 (Benedict), 23 (Colin), 22 (Daphne), 18 (Eloise), 17 (Francesca), 13 (Gregory), and 11 (Hyacinth).
According to IMDb, the ages of the actors who play the Bridgerton siblings vary widely. Jonathan Bailey (Anthony) and Luke Thompson (Benedict) were both 32 at the time of filming season 2. Luke Newton (Colin) was 28 while filming the second season. Phoebe Dynevor was 25, and Claudia Jesse was 31. Ruby Stokes (Francesca) was 21 while filming. The actors who portray the two youngest Bridgerton siblings, Will Tilston (Gregory) and Florence Hunt (Hyacinth), were only 14 while filming season 2.