How Old Are the Primary 'NCIS' Cast Members?
How old are all the 'NCIS' primary cast members. From Agent Gibbs (Mark Harmon) to Torres (WIlmer Valderrama), get the full breakdown.
NCIS boasts quite a large cast, as several field agents comprise the integral team members. So, how old are the NCIS cast members you watch take down the baddies every week? Let's go through the main cast members, starting with the one and only Leroy Jethro Gibbs (Mark Harmon).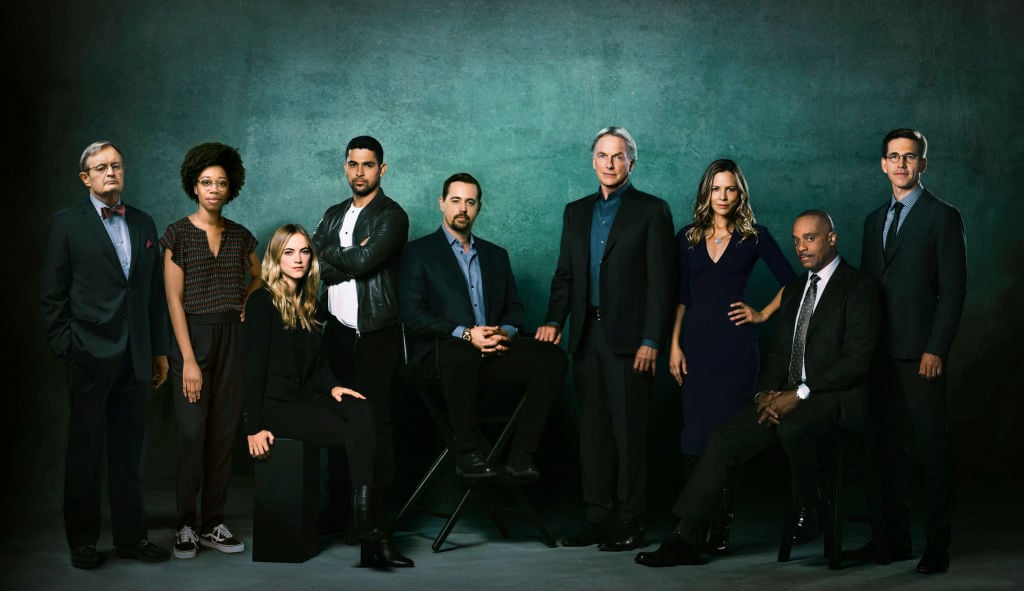 1. Mark Harmon / Gibbs  
Mark Harmon is 68 years old, as he was born on September 2 in 1951, making him one of the oldest actors to carry a leading role on the show. Harmon may be best known for his turn as Gibbs in the crime procedural, yet he also dabbled in some big-budget Hollywood movies before joining the show. Harmon starred in Stealing Home, Sweet Bird of Youth (opposite Liz Taylor), The Presidio (opposite Sean Connery), and more during his early years in Tinseltown. He was also the second man to win People Magazine's Sexiest Man Alive in 1986. 
2. Sean Murray / McGee 
Sean Murray was born on November 15 in 1977, making him 42 years old. While Murray's role in NCIS is his most well-known part, the actor also starred in the Halloween cult classic Hocus Pocus (when he was just a young man), This Boy's Life, Spring Break Lawyer, and more. Murray remains one of the cast members who has been in NCIS since the early days, despite the fact that Michael Weatherly, Pauley Perrette, and Cote de Pablo (until recently) have all since departed. 
3. Emily Wickersham / Bishop 
Emily Wickersham was born on April 26 in 1984, making her 35 years old. Before joining NCIS as Cote de Pablo's replacement (though more analytical and less combat-ready), the actress starred in How I Got Lost, Taking Chance, Definitely, Maybe, Gardener of Eden, and more. 
4. Wilmer Valderrama / Torres 
Wilmer Valderrama was born on January 30 in 1980, making him 40 years old. Wilmer Valderrama is well-known for playing Fez in That '70s Show, yet he has also starred in Larry Crowne, Unaccompanied Minors, From Prada to Nada, and more. You may also recognize him from Mad TV. 
5. Diona Reasonover / Hines
Diona Reasonover joined NCIS as Pauley Perrette's replacement, taking over the lab after Abby departed. The actress was born on January 6 in 1992, making her one of the youngest NCIS cast members; she is only 28. Diona Reasonover was also in 2015's Clipped, but NCIS remains her "big break."
6. Rocky Carrol / Vance 
Rocky Carroll — the man behind NCIS director Leon Vance — was born on July 8 in 1963, making him 56 years old. Though well-known for his recurring role on the hit show, Carrol previously starred in Chicago Hope, Roc, Best Laid Plans, and more. 
7. Brian Dietzen / Palmer 
Brian Dietzen was born on November 14 in 1977, making him 42 years old. He plays a supporting role — as Dr. Jimmy Palmer — in the show, yet he has since become a more integral member of the team. You may also recognize him from One-Minute Time Machine, Purgatory House, From Justin to Kelly, and more. 
8. David McCallum / Ducky 
David McCallum was born on September 18 in 1933, making him 86 years young. Though his role in NCIS has grown a bit smaller recently — which should come as no surprise — he remains a beloved and pivotal member of the team. The actor also starred in 1963's The Great Escape, Return of the Man From UNCLE, Billy Budd, and more. He was quite the Hollywood star in his younger days.
9. Cote de Pablo / David 
Though Cote de Pablo departed the show for quite some time, she came back for the most recent season; thus, she has earned a spot on this NCIS list. De Pablo is 40 years old; she was born on November 12 in 1979. After leaving NCIS, she went on to star in The Dovekeepers and The 33. 
10. Maria Bello / Sloane
Maria Bello was born on April 18 in 1967, making her 52 years old. Before joining NCIS as forensic psychologist Jack Sloane, she starred in several Hollywood blockbusters. She is well known for her roles in A History of Violence, Coyote Ugly, The Cooler, Prisoners, and more.