How Old Is Kelly Ripa, and Does She Have Any Kids?
Even if you're a long-time fan of the actress and talk show host, you might not know everything about Kelly Ripa. Find out her age and family details.
Kelly Ripa is an actress best known for her roles in All My Children and Live! With Kelly (formerly Live! With Regis & Kelly). Despite being old enough to be a grandmother (she's not, though), the actress has maintained a flawless face, fantastic hair, and a rock hard body. But how old is Kelly Ripa anyways, and did that rock hard body give her any children?
How old is Kelly Ripa?
Kelly Ripa was born on October 2, 1970 in Stratford, New Jersey. That makes her 49 years old. Many fans are shocked to hear that Ripa is almost fifty, because she has appeared to age little over the decades.
She's married to Mark Consuelos
Kelly Ripa is married to her former All My Children co-star, Mark Consuelos. The two began dating while filming the television series, and Consuelos proposed to his future wife over a pizza and champagne. When Ripa excitedly said yes, the two whisked away to Las Vegas and eloped – thus skipping the elaborate celebrity wedding bit.
She has three children
Kelly Ripa has three children with her husband. She has two sons: Michael, age 20, and Joaquin, age 15. Her only daughter, Lola, is now 17. All three of her children look just like their mother and father.
Kelly Ripa has a LOT of rules for her kids
Ripa is known for having really great kids. They are well-rounded, well-educated, and incredibly well behaved. This isn't just coincidence, either. Kelly Ripa has a LOT of rules for her children – and we do mean a lot. Some are just common sense, while others are found to be a bit excessive.
Some of the biggest rules revolve around phones and other technology. The children are only allowed one hour a day for electronic usage (including video games) on the weekends, and phones are not allowed during supper or homework. All technology can be taken away as punishment, and the children have to work to get them back. Also, Kelly is allowed to check her children's phones or social accounts at any time.
Other rules include that all of her children (who are half Mexican) must speak Spanish, Kelly picks out her children's clothing to ensure it is appropriate, and there is no junk food allowed in the house at any time.
The family is very close
Despite being strict parents, Kelly Ripa and Mark Consuelos have created a very bonded family unit. On Mark Consuelo's Instagram, he can be seen posing with his daughter and their "twin Jordans." He also has images up of him making faces at his son, and all three of his children attended MMA fight night at Disney together.
Kelly & Mark take time for each other
Raising a family isn't easy, and when you throw in celebrity status it can seem like there is no time left for couple's time. But Kelly Ripa and Mark Consuelos always make sure to take time for each other whenever they can. They attend events together, and spend quiet time alone at home. This may be one of the reasons their relationship has lasted an incredible 23 years.
Kelly doesn't care if she embarrasses her kids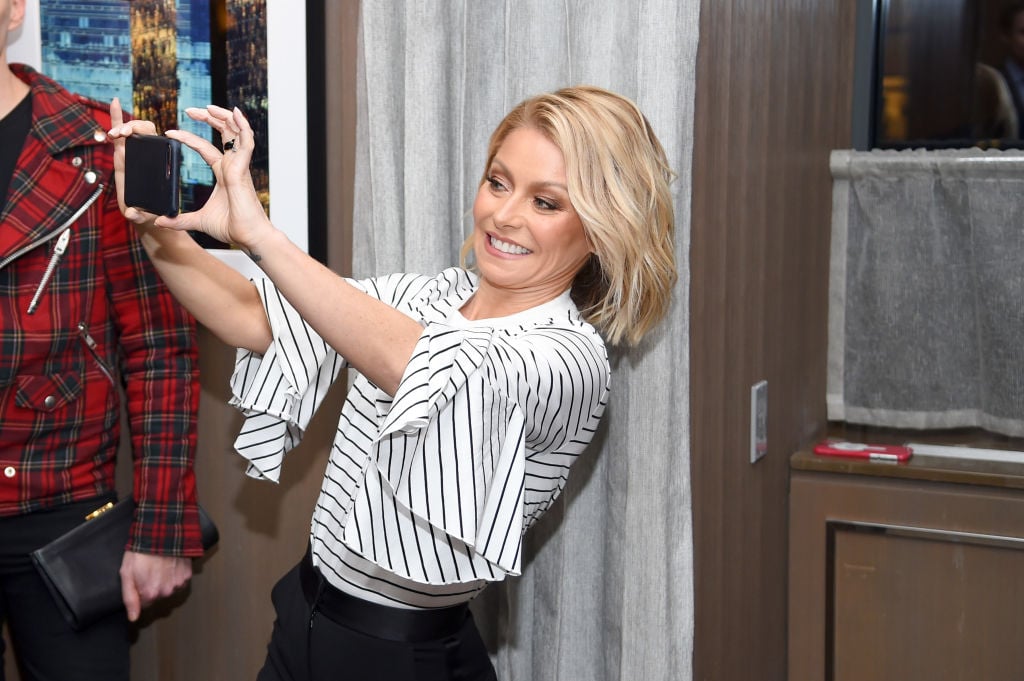 Okay, we don't mean that Kelly doesn't care if her kids are embarrassed by, say, pictures she posted of them on social media. If they don't like those, she takes them down.
As for her own life? Kelly does not care if her children are embarrassed by (a) what she posts on her own social media accounts, or (b) what she says during her talk show. Her daughter, Lola, has expressed embarrassment a few times and was promptly shut down by her mom.