How Old Was Jessica Alba When She Dated Michael Weatherly?
Today, Michael Weatherly is married to Bojana Jankovic — an award-winning physician who is double board-certified in internal and integrative medicine. The former NCIS star and Jankovic have been married since 2009, and they have two children together: a 6-year-old son Liam Weatherly and an 8-year-old daughter Olivia Weatherly.
Jessica Alba — the Hollywood actress and co-founder of the Honest Company — is currently married to Cash Warren. Warren is a film producer known for his work on Taxi, Fantastic Four, and Crips and Bloods: Made in America. The couple has three children together who are all quite young. Their daughter Honor Marie Warren is the eldest at 11 years old. Their second daughter, Haven Garner Waren, is 8 years old. And finally, their youngest son Hayes Alba is just two.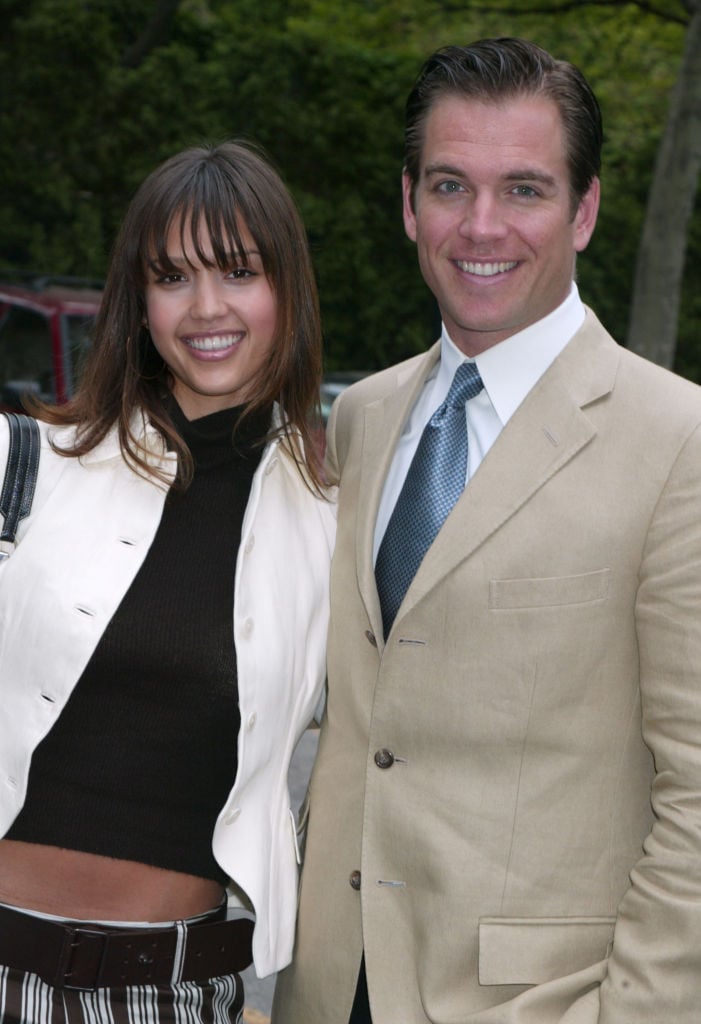 Michael Weatherly and Jessica Alba have settled down with new partners, and have gone on to boast successful careers and happy families. One is the co-founder of a very profitable company, while the other is currently leading the hit primetime procedural, Bull. Yet, many years ago, when the two were both newer to the industry — young talents in Tinseltown — they struck up a romance. Their story ended with an engagement — one that never quite took the duo to the altar.
Michael Weatherly and Jessica Alba met on the set of Fox's 'Dark Angel'
A few years (from 2000 — 2002) before Michael Weatherly joined NCIS, which would go on to catalyze his career, he appeared alongside an up-and-coming Jessica Alba in the Fox series Dark Angel. Alba was also new to Hollywood, and she had not yet climbed the ladder to A-List status, becoming the household name she is today.
The show was a science fiction drama centering on a group of genetically-enhanced children who escaped from a lab project. Years down the line, the audience meets Max, who now works for some clandestine messenger service in the show's post-apocalyptic Pacific Northwest.
As for Michael Weatherly and Jessica Alba, they played Logan and Max respectively: two characters who go on to boast a very close friendship — one in which sexual tension and romantic inclinations exist beneath the surface. Thus, it should come as no surprise that this on-screen romance led to an off-screen coupling (remember Mr. and Mrs. Smith?).
Jessica Alba was only 18 when she dated former 'NCIS' star, Michael Weatherly
While a 12 year age gap isn't too out of the ordinary in Hollywood, when one member is 18 and the other is 30, it definitely leads to some criticism and questioning from the public and family members alike.
Alba was 18 when she began dating Michael Weatherly, who at the time was 30. As the Econotimes reports, Jessica Alba's parents were allegedly against the relationship — likely one of the many facts that led to their breakup.
Jessica Alba and Michael Weatherly even got engaged, and they remained that way until 2003. So, this relationship did last quite a while, despite the age difference, widespread criticism, and many other reported downfalls. Weatherly also happens to be about fifteen years older than his wife, Jankovic, but both are grownups.