How Did 'Parks and Recreation' End?
Few things are worse than series with an unsatisfying ending. Fortunately for fans of Parks and Recreation, showrunner Michael Schur (who has since been busy with four seasons of The Good Place) gave each character a suitable sendoff. Because it's been more than a few years since the finale, you might need to brush up on how Parks and Recreation ended.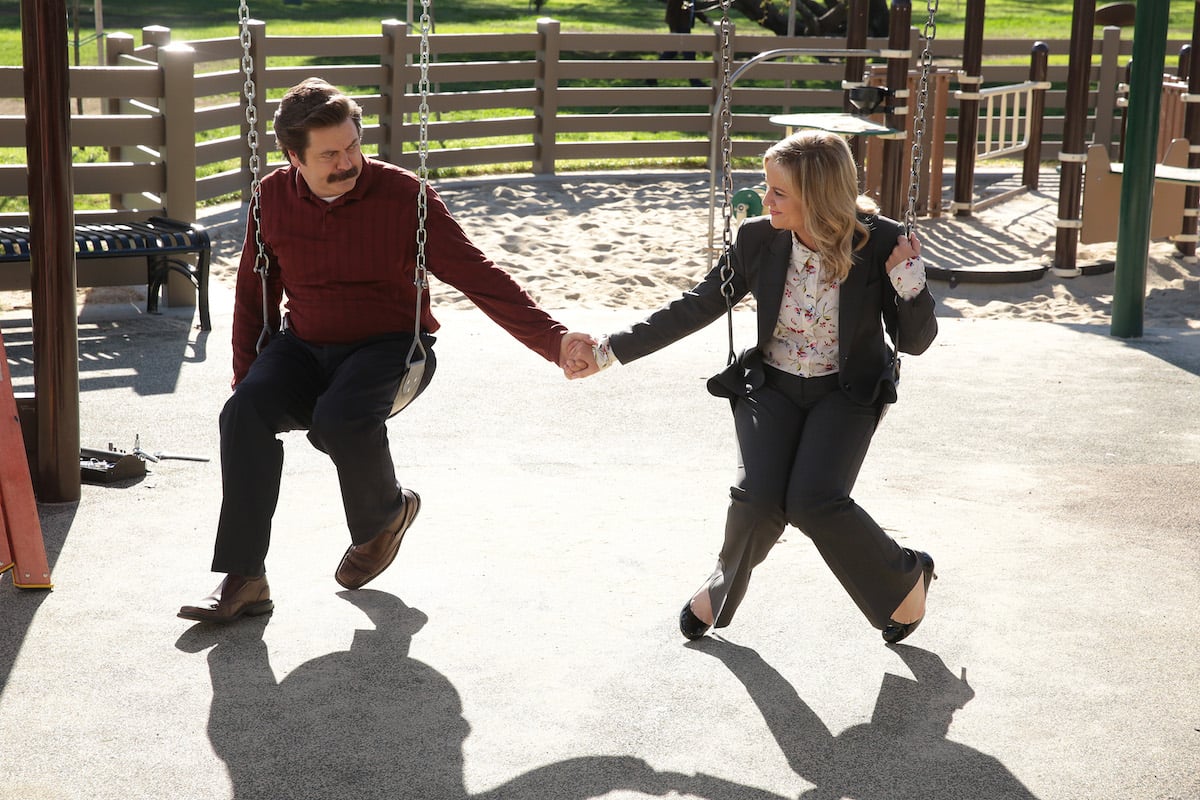 Tying up loose ends
By the end of season 7, the crew of the Parks and Rec department in Pawnee, Indiana, was ready to move on from the small town. True to her nature, Leslie Knope (Amy Poehler) gave a passionate presentation about their time together, much to the chagrin of her former coworkers.
However, an early-morning visit from a resident who complained about a broken swing gave Leslie one last opportunity to help their community.
The last episode flashes forward to give viewers glimpses of their favorite characters after they depart the Parks department.
It starts with Donna (Retta), as she decides to forego her lavish lifestyle full of international adventures with her teacher husband Joe (Keegan-Michael Key) to establish an education fund with American Service Foundation, the organization that April (Aubrey Plaza) moved to Washington, D.C. to work for.
In another flash-forward, fans see how April and Andy (Chris Pratt) have flourished. However, the married couple has been discussing a new adventure: parenthood. Andy has become increasingly convinced that he wants children, while his wife is on the fence.
Visits from Leslie and her husband Ben (Adam Scott) show that the couples have remained in close contact over the years, despite Leslie's busy life as governor of Indiana and Ben's career in congress. The pair even show up after April gives birth to her first child back in Pawnee.
What happened to Ron Swanson?
Leslie hasn't forgotten about her good friend and occasional opponent Ron (Nick Offerman), either. After leaving local government, he started his own company but mysteriously resigned despite its success.
Ron turns to Leslie for advice when he cannot figure where to go from there, and she is all too happy to offer it. With Leslie's help, Ron becomes the superintendent of Pawnee National Park.
Meanwhile, Tom's (Aziz Ansari) restaurant empire succeeds before falling victim to a recession. Fortunately, Tom turns things around with a self-help book that he wrote after some heartfelt advice from Ron.
Garry leaves Parks and Rec when he becomes an interim mayor, a role that he is officially voted into for an impressive 10 terms before passing peacefully. At his funeral, Leslie and Ben are escorted by Secret Service Agents, suggesting that one of them has become President of the United States.
According to Looper, even secondary characters were included in the series finale of Parks and Recreation, helping to make the ending satisfying but bittersweet. Even Nick Offerman admitted to shedding a few tears on the last day of filming.
The 'Parks and Recreation' cast reunited in 2020
At the beginning of the coronavirus (COVID-19) lockdown, Schur announced a reunion that would shine a light in the darkness while also serving as a fundraiser for Feeding America.
Each of the actors logged in from their respective homes to give viewers a taste of how their favorite characters might respond to sheltering in place during a global pandemic.
It wasn't the first time that the cast had reunited, however. Thousands of fans attended a Parks and Recreation panel at PaleyFest LA 2019 to hear creator Schur and the entire cast discuss their time making the show.
RELATED: 'Parks and Recreations' Bosses Told Nick Offerman to 'Stay Beefy' Until the Show Ended but It May Have Hurt His Career