How Salma Hayek and Francois-Henri Pinault Became the Richest Celebrity Couple in the World
When it comes to celebrity couples, there are certain pairings that come to mind as some of the richest: Jay-Z and Beyonce, Kanye West and Kim Kardashian, or even Gisele Bündchen and Tom Brady. None of these couples come even close to the wealth that actress Salma Hayek and her husband François-Henri Pinault share, however.
Hayek and Pinault are far and away, the richest celebrity couple, by of a factor of seven. Despite their enormous wealth and the judgment from outsiders that comes along with it, the couple is just very much in love.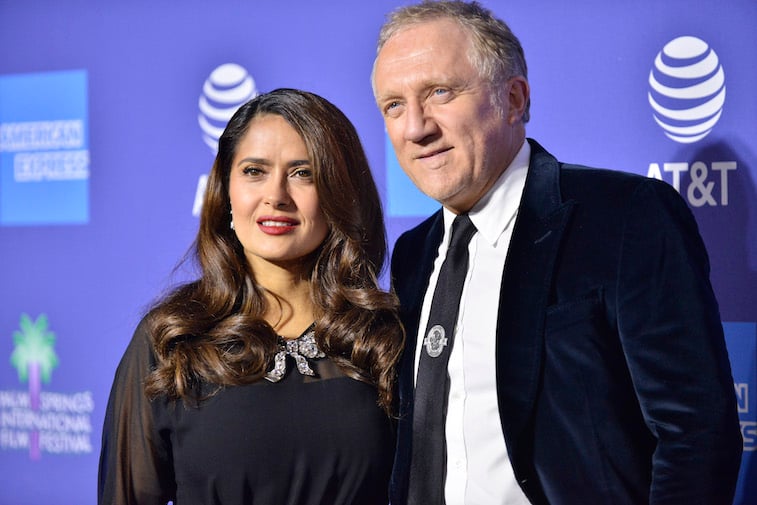 Who is François-Henri Pinault?
Pinault is a French businessman, the son of the even wealthier businessman, François Pinault. François-Henri Pinault took over his father's position as CEO of PPR (Pinault-Printemps-Redoute) in 2005, renamed it Kering Group, and began expanding the brand toward luxury goods.
Many people haven't heard of Kering, but they have heard of the many brands it owns: Balenciaga, Gucci, Yves Saint Laurent, and Alexander McQueen, to name just a few. Pinault is also the president of Groupe Artémis, which owns even more assets for the Pinault family, including a winery and a theater.
Reported estimates of Pinault's net worth range from $7 billion to over $25 billion and his family's total net worth is estimated to be at least $35 billion. To put that into perspective, Jay-Z and Beyonce have an estimated net worth of around $1.35 billion and West and Kardashian's net worth is somewhere around $335 million.
To really hit the difference home, take for example one generous donation by Pinault: he gave over $100 million to the restoration of Notre Dame. That's almost a third of Kimye's entire net worth. 
How did François-Henri Pinault and Salma Hayek meet?
Hayek and Pinault met sometime in 2006, possibly through mutual friends, but Hayek keeps the full story a closely held secret. She told Town and Country Magazine: "It's such a romantic, amazing story, but it is mine. I don't want to vulgarize it by making it into a story to make myself interesting."
She did, however, share in an interview with Associated Press that it took some time to realize he was a good match for her because they were so different, but that eventually, he won her over. "This person that looks so far away from me, was my perfect match," she said.
She is always singing his praises in interviews calling him "the best husband in the world" and expressing how wonderful it is that she can be fully herself around him.
Salma Hayek and François-Henri Pinault's marriage is often judged
When it comes to money, Hayek has plenty of her own not only from acting but from business ventures such as her makeup line and organic juices. She has an estimated net worth of about $115 million. This doesn't stop the judgment and rumors about her marriage to Pinault however.
She addressed some of these issues in her Town and Country interview: "A lot of people are very shocked that I married who I married. And some people are even intimidated now by me. But it's another way of showing racism. They can't believe this Mexican ended up in the life that she has, and they're uncomfortable around me."
The couple doesn't let it bother them. Their marriage has been going strong since 2009 and they have one daughter together, Valentina Paloma. Hayek always wanted a big family but was 41 when she had Valentina and was unable to have any children after her.
For this reason, she says she feels "blessed" that she gets to be stepmom to Pinault's three children from his previous marriage.