'How Stella Got Her Groove Back': Angela Bassett Initially Didn't Want Taye Diggs as Her Co-Star
Taye Diggs landed his first film role in the critically acclaimed and box office smash 'How Stella Got Her Groove Back.' His co-star Angela Bassett was not initially impressed with him.
She may be the highest-paid Black actor to ever grace primetime television on Fox's 9-1-1 but Angela Bassett will always be beloved as Stella from the 1998 drama, How Stella Got Her Groove Back. Audiences worldwide were also introduced to Bassett's on-screen love interest, Taye Diggs. Prior to the film, Diggs was a Broadway star who had to convince Bassett that he was worthy of the role.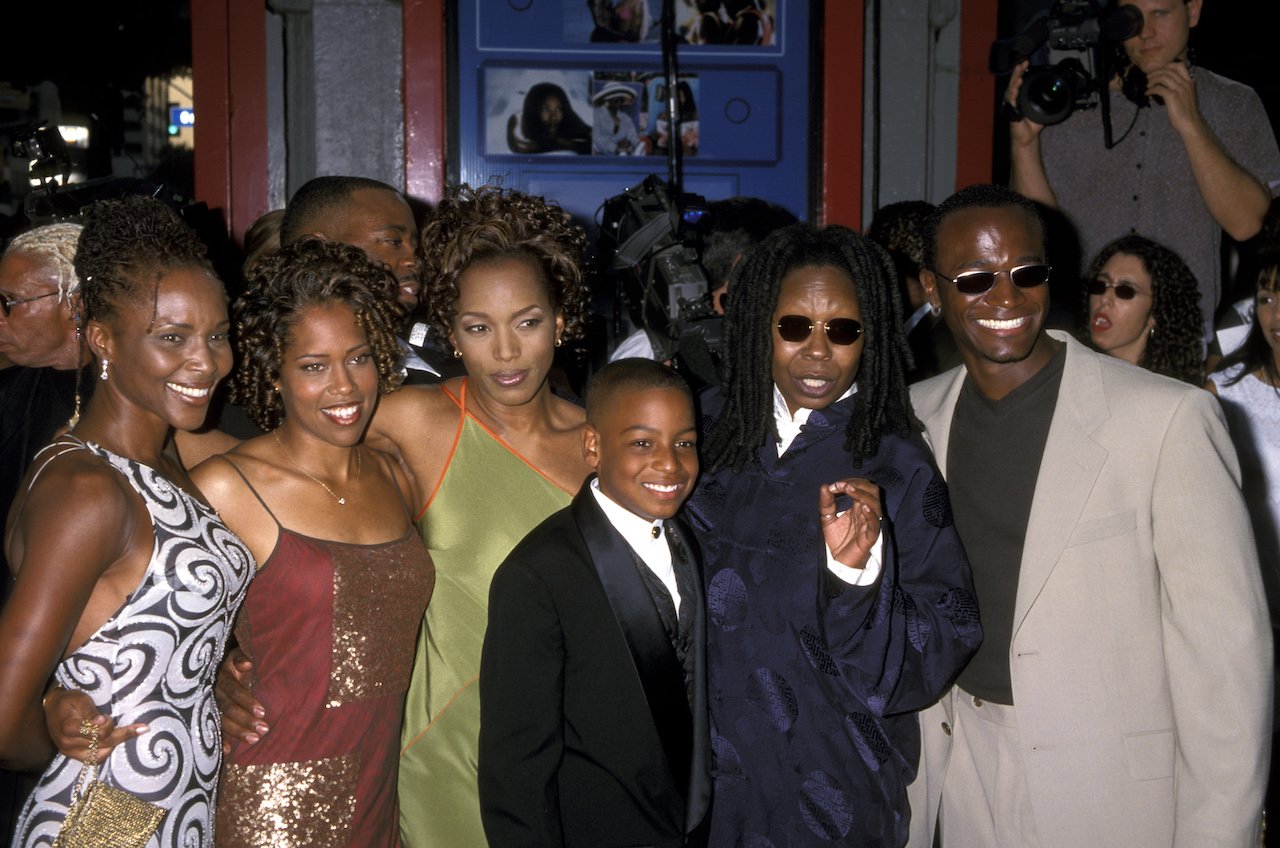 Model Tyson Beckford almost landed the part
Beckford knew he wanted to in entertainment following high school graduation, but he was unsure which avenue he wanted to take. Initially, he was part of a breakdancing crew. "My mom was insistent that I go to college but I had a separate plan to do the entertainment thing, you know acting and I could rap a little bit and back then I could dance because I grew up doing breakdancing so, in those times when you went back to the Bronx, everyone was talking about, 'Yo they are doing a movie, Crush Groove' – so it was just exciting at that time," he told Vlad TV in an interview. "For me, I just wanted to be in that limelight because I noticed that the gangster s— wasn't going to last long."
Simultaneously, Diggs was a close friend of Beckford's. They he grew up together in the same neighborhood. with Diggs was also simultaneously also trying out his luck as an actor. Beckford learned that they were auditioning for the same part. 
"Me and Ty (Diggs) also went in on Stella's Gotta Get Her Groove Back so that was very big back then so he got the role and he really did it big back then so I was proud of him and sometimes when we see each other, we still talk about it," Beckford explained. 
Angela Bassett wasn't initially impressed with Taye Diggs
Diggs got his start in Broadway but knew he wanted to make a transition to television and film. "If you had any musicals on your resume, people thought you were abusive theater instead of a real actor," he said in his Unsung special on TV One. While starring in the production of Rent, he learned he has the same agent as Bassett. Stella was in the works, and Bassett had to be convinced that Diggs was right for the role. Of how things came to be, Diggs explained:
When they were holding auditions, my agent had Angela Bassett come to Rent and because my part wasn't featured really, I think Angela Bassett wasn't impressed. I was doing double duty because I was in Rent – I felt like the man – and I was on a soap opera, Guiding Light. And I remember thinking I was doing it so daytime I'd do the soap and then travel downtown and be in Rent and my agent had a tape of my character that I played in Guiding Light and he was smooth, and a fast talker and a record producer – and my agent showed Angela Bassett that and she said, 'Oh OK I Get it.'
Diggs landed a screen test with Bassett and admits he froze on camera. Luckily, Bassett was gracious enough to help him through it, and he landed the part.
'How Stella Got Her Groove Back' became Taye Diggs' breakout role
The film was Diggs' first movie role and was released in 1998. Based on the Terry McMillian novel of the same title, Diggs starred as Winston, a 20-year-old Jamaica native who captures the heart of Stella, a 40-year-old American businesswoman on vacation to reset. Winston helps Stella reclaim her life and her sexuality, but she struggles to come to terms with falling in love with a man 20 years her junior.
Variety praised Digg's performance in the film. A 1998 review notes: "In his feature film debut, Diggs is appropriately alluring and steady as Stella's young lover." Diggs went on to star as a lead in other popular films, including The Best Man, The Wood, Brown Sugar, and others.