How the Beyhive Reacted To Wendy Williams Saying Beyoncé Speaks Like She Has a 'Fifth-Grade Education'
Wendy Williams' comments about Beyoncé left an impression on the singer's fans, affectionately called "The BeyHive," back in 2012. The daytime talk show host is known for her takes on celebrity culture. She made a few remarks about Beyoncé on The Wendy Williams Show during her "Hot Topic" segment. At the time, Beyoncé was gearing up for the release of her HBO documentary, Beyoncé: Life Is But a Dream.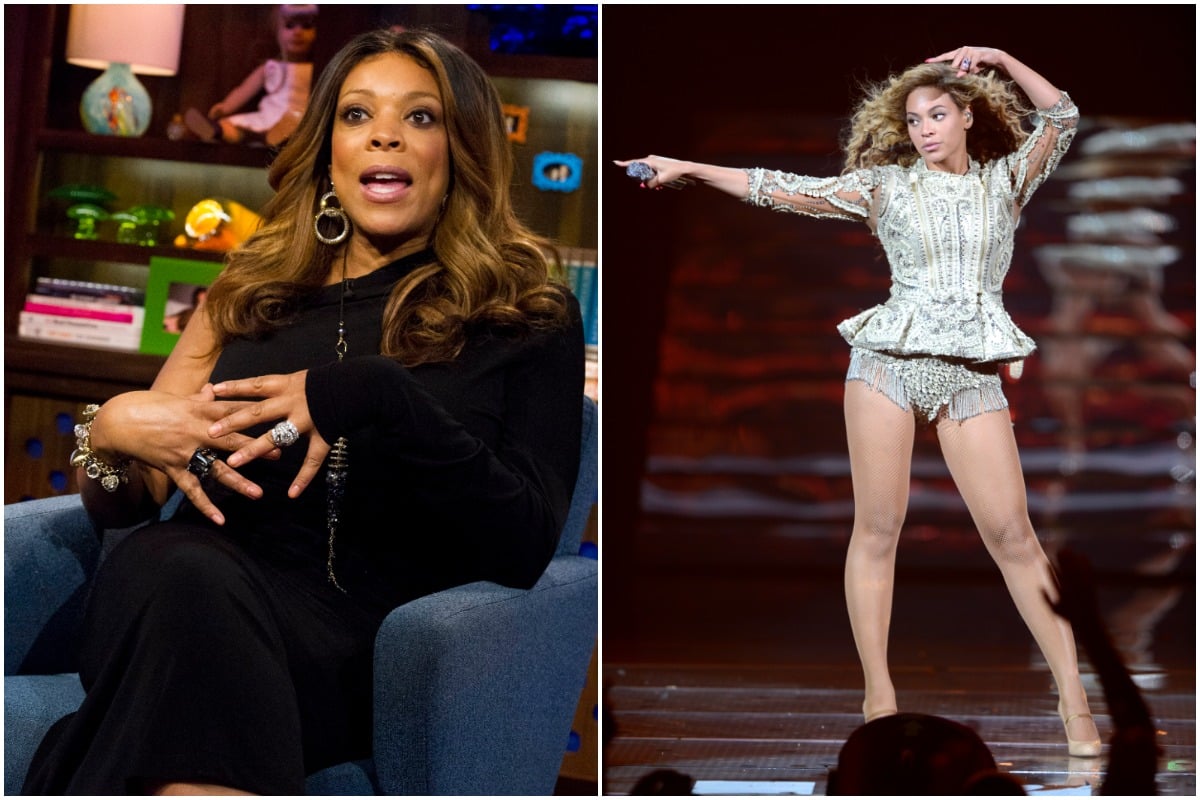 Wendy Williams criticized Beyoncé's speaking voice on 'The Wendy Williams Show'
Williams talked to her audience about  Beyoncé: Life Is But a Dream during a December 2012 episode of The Wendy Williams Show. During the show, Williams asked her audience if they planned on tuning in to Beyoncé's documentary. The host also mentioned that Beyoncé directed and produced the film. After the audience applauded Beyoncé for her venture, Williams shared that she also wanted to watch the documentary when it premiered on HBO, per The Hollywood Reporter. However, Williams informed her viewers that she intended to see the documentary from her kitchen to understand Beyoncé better. 
RELATED: Wendy Williams Once Said Beyoncé Speaks Like She Has a 'Fifth-Grade Education'
"I am a Beyoncé fan. I'm gonna watch her upcoming documentary because fortunately one of the TVs in our kitchen has closed captioning, so I'll be able to understand what she says," Williams said. "You know Beyoncé can't talk. She sounds like she has a fifth-grade education."
After hearing what Williams said about Beyoncé, several audience members gasped at the host's comments. Williams laughed at the viewers and clarified that she supports Beyoncé.
"Excuse me, I just said I was a fan," Williams said to the crowd. "But we have to call a spade a spade."
Some Beyoncé fans thought it was 'low' of Wendy Williams to comment about her speaking voice
Although many of her audience members were shocked by Williams' remarks about Beyoncé, the daytime host continued to stand by her claim. She continued to move on to other celebrity news and never apologized to Beyoncé directly. Beyoncé nor her team also declined to comment about Williams publicly.
RELATED: Why Wendy Williams hates using Zoom
While Beyoncé didn't share her thoughts, many Beyhive members stood up for the music sensation. Several YouTube users said Williams didn't have a right to judge the tone of Beyoncé's voice. Fans also said that Beyoncé's singing voice is the only thing they're concerned about. 
"Wow, I love you, Wendy Williams…but really…?? That was really low for you. Just turn the situation around," one Beyoncé fan wrote under the video. 
"I know a lot of people that were on the honor roll and had high GPAs and test scores that have trouble with public speaking. It happens. It's not that big a deal," another fan chimed in.
"Wow, how evil is this human. Never able to really say or mean anything g kind of others. When she tries to say something nice is very fake and ends with its true intention, humiliation, and criticism. The bible says what comes out of your mouth comes straight from your heart. Evil!!!" exclaimed the third user.
"Wendy, really? That's not cool," said a fourth fan.
Other Beyoncé fans agreed with Wendy Williams
While several of Beyoncé's fans sided with the "Drunk In Love" singer, many admitted that Williams had a point. Multiple commenters agreed with Williams' criticism of Beyoncé's voice and said it's something Beyoncé can improve.
RELATED: Wendy Williams Says Her Partying Didn't Affect Her Radio Career: I Would 'Dare Them To Fire Me'
"You can thank her… now Beyoncé doesn't do interviews," one commenter wrote on YouTube. 
"I don't like Wendy, but she's right," a second fan wrote.
"People hate Wendy for this comment, but it is the truth. Bey is a great artist with amazing achievements, but she has a hard time talking in public. I don't know if she is thinking too much when she talks, or she is just very shy and nervous or maybe she isn't that intellectual when it comes to speeches/talking," said a third user. 
"It's true though. Everyone knows it," a fourth fan said regarding Beyoncé's voice.