How the BTS Members Described Their Individual Concept Photos for 'BE'
BTS' new album BE will be released on Nov. 20, and the album's lead single is titled "Life Goes On." Over the past week, BTS have released individual concept photos leading up to the album's release.
The concept photos were curated by the members and show the members sitting in a room they designed themselves. Each member narrated an interactive version of their concept photo to explain the decisions they made when designing the space.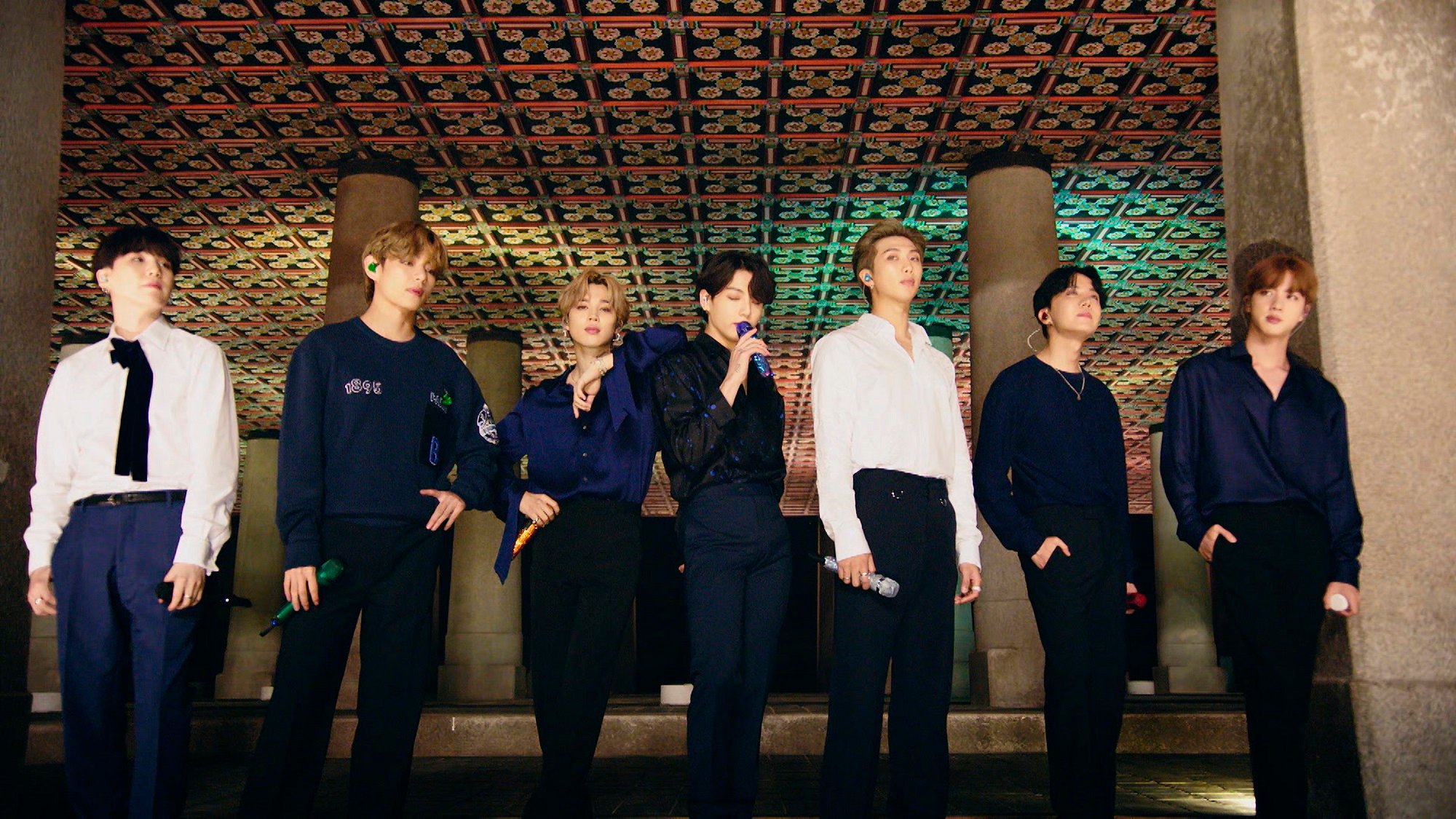 V and Jimin's concept photos
V's room is decorated with green and white wallpaper. Violins and a framed photograph hang on the wall, and in his narration, he explained that he styled the room to appear like an art gallery.
V also explained which object in the room best represents him, saying, "… if I had to choose one that's the picture behind me. I think it's more meaningful because it's a picture I took myself. I was able to express with what I saw through the viewfinder, both how I see the world, and myself within that space…"
The next day, Jimin's concept photos were released. In a bright room filled to the brim with flowers, Jimin sits on a couch wearing black.
"If you look at this room, you can easily see that in contrast to the beautiful flowers I'm colorless, and I wanted to highlight this contrast in a way that's impossible to miss," Jimin said. "I think the overall balance of colors in this room instead of any particular object best shows who I am… I tried on an outfit devoid of colors to make it stand out from the warm tones of the flowers around me."
RM and Jungkook's concept photos
With a white and wood color scheme, RM designed his room to appear "warm and cozy" and to give the feeling of "being in someone's embrace."
"It best reflects my philosophy — a long sleeved top paired with shorts is the best outfit," he said in his narration.
When he asked BTS fans which objects in the room best fit him, he answered, "They are none other than objects made of wood: figurines, tables, wooden frames on the walls, and even the bonsai tree. I think these 'wooden' objects best portray who I am."
Sitting in a darkened blue room, Jungkook decorated his room to reflect his "two passions, music and speakers."
"I wanted to create a room booming with music so that the viewer can catch a glimpse of who I am inside," he said. "What objects in this room do you think best represent me? You probably guessed this already. That's right! Speakers. Speakers are not only a medium for delivering music, but also seems like a conduit for the comfort and joy that a song delivers."
Jin, Suga, and J-Hope's concept photos
Pink-toned, Jin's room is filled with gemstones. In his narration, Jin explains that this was a purposeful choice.
"When I first stepped into this room, I was immediately shocked and overwhelmed by the sight of this huge gemstone, but it turns out it was me all along," said the BTS singer. "Have you perhaps forgotten along the way that each and every one of you is a unique and precious gem?"
Out of all the objects in the room, Jin chose himself as the object that best represents him.
As Suga explained in his narration, the main theme of his room is the color blue as it is his favorite color and he finds it comforting.
"… the highlight of this is the mirror," he said of the object in the room that most represents him. "A mirror is a special object. It shows a reflection of you, letting you know that you indeed exist in the here and now. All the members took part in the making of our latest album 'BE' in order to make it a true and faithful reflection of who we are…"
J-Hope's concept photos were posted last and brought the week of concept photo drops to an energetic end.
"Like J-Hope, this space is bright, colorful and filled with an energetic ambience," he said. "I tend to pay close attention to how I'm dressed whenever I go anywhere. The shoes in the center of the room and the outfit I'm wearing are the elements that best represent J-Hope. The shoes show the colors of the clothes that I most often turn to these days."