How 'The Crown' Season 4 Challenges the Royal Family's 'Stiff Upper Lip' Policy
The Crown Season 4 has finally arrived. The newest season of the Netflix drama hit the streaming platform on Nov. 15, and fans of the royal family are in for quite the splashy season.
Previous seasons of the Emmy-winning series show the members of the royal family repressing their emotions often to a fault. The Crown Season 4, however, allows its cast to lean into their feelings more frequently than seasons past, although they express emotions in rather tense, uncomfortable ways. In the case of Olivia Colman's Queen Elizabeth II, there's perfectly timed pettiness.
[Spoiler alert: Spoilers for season 4 of The Crown ahead.]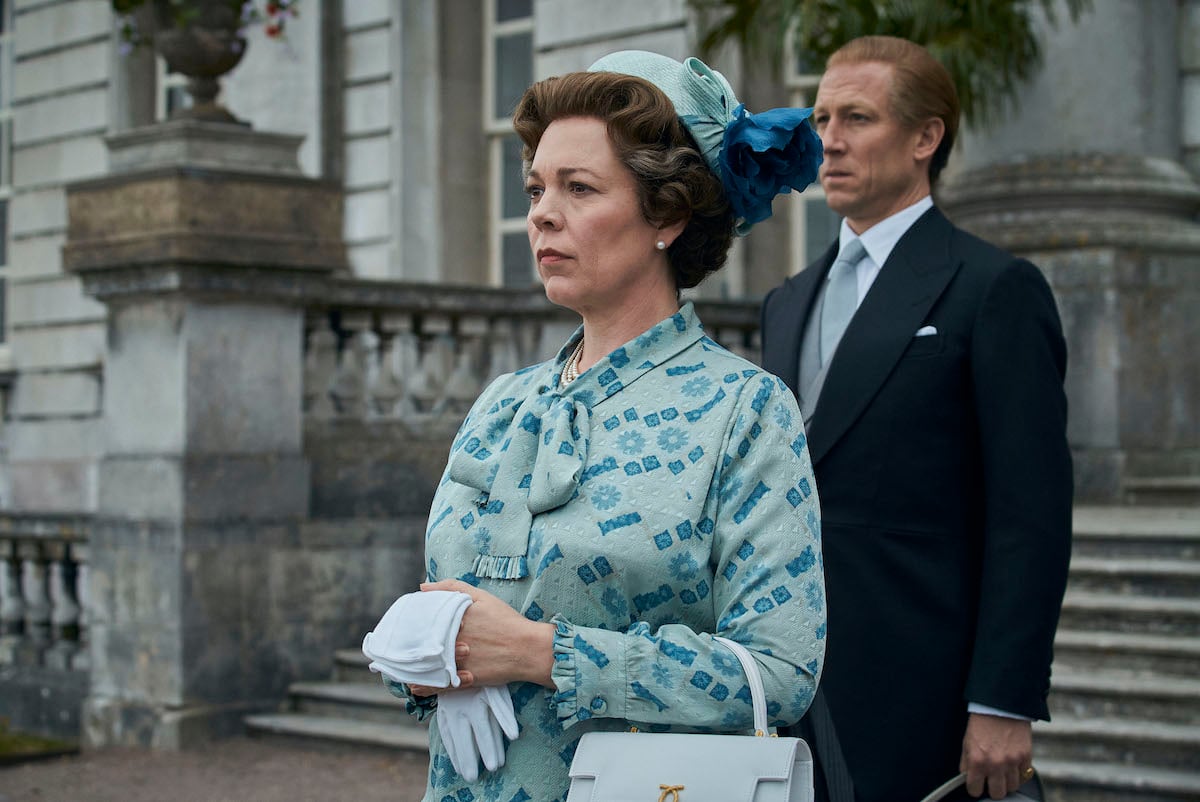 The royal family questions the merits of the 'stiff upper lip' policy in 'The Crown' Season 4
The royal family has a stiff upper lip policy. It's essentially a strict belief in keeping your thoughts and feelings to yourself, no matter what the world finds out about your private life. The family has subscribed to it since Elizabeth, the queen mother, was queen. But Prince William has spoken out against it in recent years, saying that internalizing emotions can affect a person's mental health.
While the "never explain, never complain" policy is mainly applied to how the royal family respond to public conversation about their family, it's easy to see how it affected their personal lives as well. And The Crown spends a lot of time focusing on it.
For starters, Princess Margaret goes to therapy at the suggestion of Prince Charles, who also sees a therapist. In her sessions, she admits she and her family think processing feelings is a waste of valuable time. But she also learns of a dark family secret her mother helped keep, which leads her to question the merits of repressing feelings and burying truth to preserve the monarchy.
Emma Corrin's uncanny portrayal of the late Princess Diana also challenges the stiff upper lip mentality. The mother of Prince William and Prince Harry wears her heart on her sleeve—a trait that makes her wildly popular with the public, but wildly unpopular with her husband's family.
RELATED: Are Prince William and Prince Harry in 'The Crown' Season 4?
Elizabeth throws a lot of shade at Margaret Thatcher in 'The Crown' Season 4
While every character has their own emotional breakdown this season (Prince Philip's comes in episode 1, Princess Anne has one in episode 4, and Charles and Diana have one just about every time they talk), Colman's Elizabeth is the most reluctant to admit how she feels. This shouldn't come as a surprise, given that Elizabeth's inability to connect with people (namely her children) is repeatedly addressed throughout the series.
Some of the shadiest Elizabeth moments come in her scenes with Margaret Thatcher, England's first woman prime minister, who is played by The X-Files' Gillian Anderson. Elizabeth and Thatcher have frequent verbal faceoffs in Buckingham Palace during their meetings. Of course, these faceoffs are in the form of thinly veiled shade, not actual yelling. (What, did you think this was The Real Housewives?)
In fact, there's an entire episode dedicated to Elizabeth finally giving Thatcher a piece of her mind. In season 4 episode 8, "48:1," Elizabeth can't stand that Thatcher will not agree to issuing sanctions against the apartheid regime in South Africa. After lots of back and forth between the monarch and the prime minister, Elizabeth—in an incredibly rare move—allows a newspaper to report that she disapproves of Thatcher.
To this day, the queen and the royal family's press team denies that she allowed the report to be made, according to HistoryExtra. Whether factual or not, "48:1" is one of the few examples of Elizabeth chucking the stiff upper lip policy to the wayside.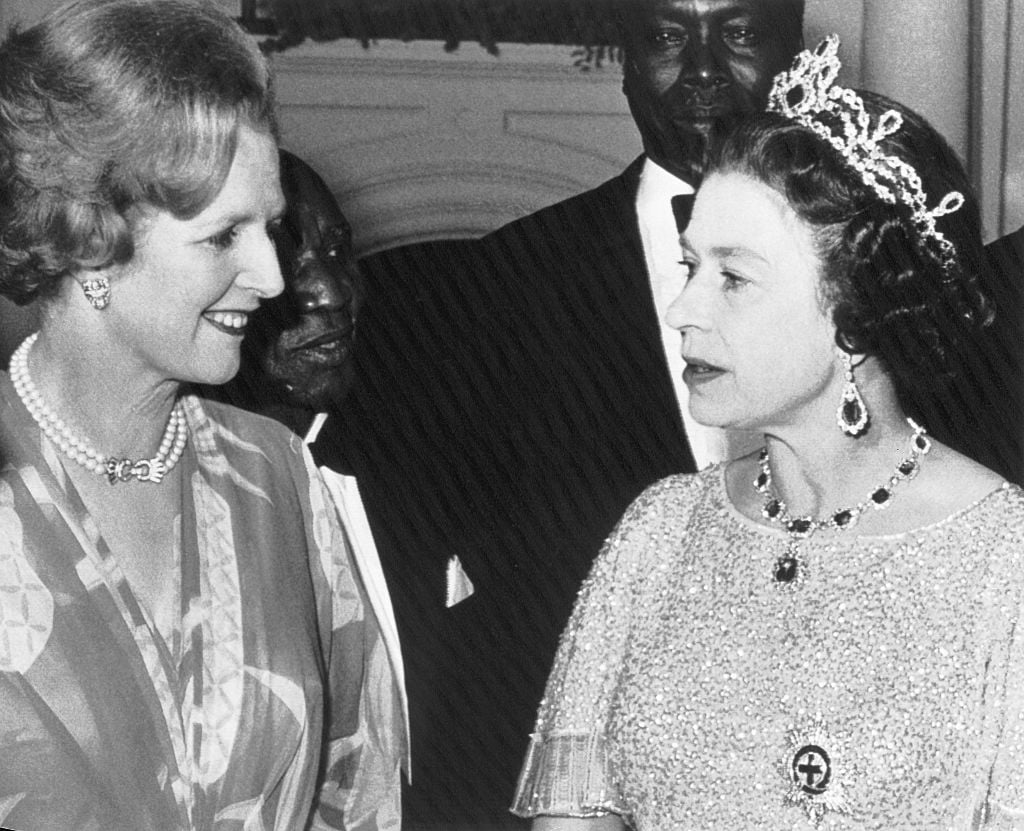 RELATED: 'The Crown': 2 Gillian Anderson Shows to Binge Before She Plays Margaret Thatcher
Elizabeth sees Charles and Diana's emotional struggles as childish in 'The Crown'
Outside of her rocky relationship with the prime minister, Elizabeth finds it rather silly when people try to connect with her—namely Diana, whom she doesn't dislike but definitely isn't going to coddle. She especially can't stand it when Charles and Diana complain about their difficult marriage.
Although it's uncomfortable and sad for Diana, fans will find themselves giggling at Elizabeth's sheer awkwardness whenever the Princess of Wales tries to hug her and call her mom. It's not for lack of care for her daughter-in-law, as she frequently criticizes Charles for his mistreatment of Diana. Rather, she's just the antithesis of Diana in terms of emotional expression. And Colman's exceptional comedic timing makes the brief moments like this some of her funniest of the 10-episode arc.
Outside of the comedic pettiness, the show does its characters a service by allowing them to really express their feelings this season. It's made for the juiciest episodes yet, setting the stage for what's bound to be a grippingly—and tragically, in the case of Diana—dramatic final season.