How to Copy Kate Middleton's Remembrance Day 2020 Look
The royal family's clothing and accessories always draw attention, but no one royal is more influential in the world of fashion than Catherine, Duchess of Cambridge. As the wife of Prince William, the future king of England, Kate has been in the spotlight for well over a decade, and always manages to dress with grace and style.
Recently, Kate stepped out for Remembrance Day, one of England's most solemn and venerable occasions. And, as always, her outfit made headlines. Fortunately for Kate's fans, however, her look is relatively easy to replicate at home — even if you don't have a major royal event to attend. 
What did Kate wear for Remembrance Day 2020?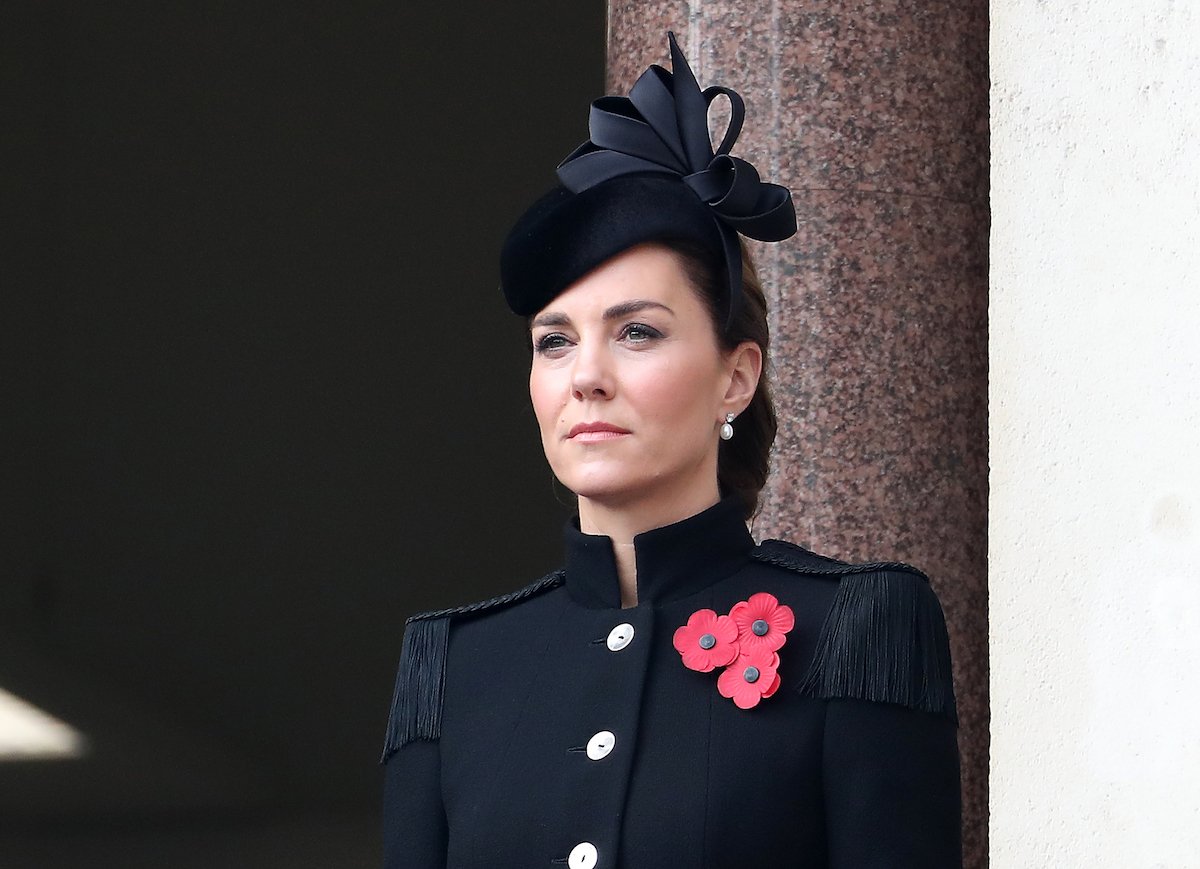 Within the royal family, and indeed, the entirety of England, few occasions are more important than Remembrance Day. Sometimes called Poppy Day, November 11th is a day for all Britons to stop and take a moment to remember soldiers who died in the line of duty.
Every year, the royal family steps out for a major public appearance in honor of the event. And, although there were likely more strict safety rules in place at this year's event, 2020 was no exception.
Along with the rest of the royal family, the Duchess of Cambridge made her appearance at a special service. As usual, Kate's style made a splash. The royal was decked out in distinguished black, wearing a custom Alexander McQueen coat that featured special shoulder detailing.
Kate also wore a chic black hat by designer Philip Treacy and pearl drop earrings that were borrowed from Queen Elizabeth II. As a pop of color, and as a nod to those whose lives have been lost in service, the duchess wore a red poppy pin.
Meghan Markle wore an all-black ensemble for Remembrance Day
Across the pond, Meghan, Duchess of Sussex and her husband, Prince Harry, celebrated Remembrance Day in a very different way. Prince Harry, who spent several years in military service, has always been open about how much the day means to him, so even though the two couldn't be with the royal family in England, they still found a way to honor the fallen.
Meghan and Prince Harry visited the Los Angeles National Cemetery, where they laid wreaths at the graves of several Commonwealth soldiers. Meghan dressed solemnly, wearing a black wool satin faille jacket dress created by the designer Brandon Maxwell.
Similar to her sister-in-law, the Duchess of Sussex accessorized her look with black and red elements, including the staple red poppy pin. It seems that even though Meghan is no longer a senior member of the royal family, she is still choosing to follow some of their traditions — when it comes to clothing, anyway. 
How can fans copy Kate's chic look?
Fans who want to replicate Kate's classic Remembrance Day look have several options. While the Duchess of Cambridge's Alexander McQueen coat costs around £7,000, according to Express, fans can get a similar look by wearing a long black trench-style coat, which is chicly buckled at the waist.
By accessorizing with a pair of simple pearl earrings and a red statement piece, either a red clutch or even a red necklace, royal fans will be able to simulate Kate's stylish outfit at a fraction of the cost.
Kate tends to prefer understated makeup, so if fans want to do a head-to-toe copy of her Remembrance Day look, they can do so by choosing a simple palette of mascara, a subtle pink lip, and soft blush. The overall effect is classic but still stunning — which is a good way to describe Kate, in general.