'How to Get Away With Murder' Star Viola Davis Helped Inspire the Property Brothers' HGTV Show, 'Celebrity IOU'
Audiences get to see home renovation shows after they been in the works for months or even years. But what they don't see when they watch their favorite series is the work that went on behind-the-scenes to bring the program to life. When Celebrity IOU had just been an idea of Drew and Jonathan Scott, aka the Property Brothers, How to Get Away With Murder actress Viola Davis helped them take it one step further in getting the show on the air. 
What is 'Celebrity IOU' about? 
RELATED: Melissa McCarthy Explains Why She Wanted to Give Back to Her Aunt and Uncle on HGTV's New Series 'Celebrity IOU'
Fans of Drew and Jonathan already know the twins from their work on Property Brothers where they help people take a fixer-upper to dream home status. Their latest show is like Property Brothers but with a twist. In HGTV's Celebrity IOU, celebrities work with the Scott brothers to give back to special people in their lives by surprising them with stunning home renovations.
Premiering on April 13, 2020, and Celebrity IOU features Drew and Jonathan teaming up with big names in Hollywood such as Brad Pitt, Melissa McCarthy, Jeremy Renner, Rebel Wilson, and, of course, Davis, to express gratitude to people who have had a meaningful impact on them. 
Pitt surprised his longtime makeup artist with a renovated garage, Renner gave his mom's condo a makeover, and Wilson gifted her hairstylist and best friend a tricked out backyard.  
'Initial idea' for 'Celebrity IOU' came from a fan 
During an April 2020 interview with Entertainment Weekly, Drew and Jonathan opened up about how Celebrity IOU came to be. They shared that something a fan said got the wheels turning in their minds about a celebrity renovation show.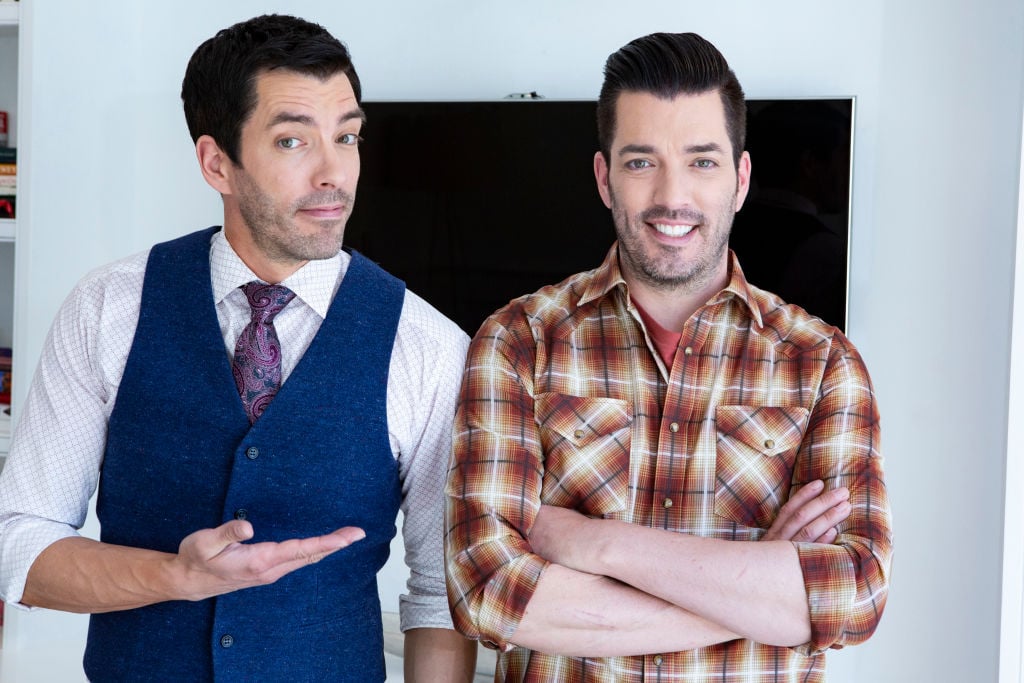 RELATED: Brad Pitt Is Coming to HGTV as a Guest on the Property Brothers' New Show 'Celebrity IOU'
"The initial idea for Celebrity IOU sparked from a fan comment that made us think, 'What if we take these huge celebrities and found somebody in their life who was instrumental in making them a success and surprise them with a home makeover?'" Jonathan said. 
But then an encounter with Davis got the ball rolling on the show. 
Viola Davis agreed to participate in 'Celebrity IOU' 'on the spot'
The idea got closer to becoming a TV show when the Scott brothers went to the Emmys and talked to Academy Award-winning actress, Davis. They discussed what would become Celebrity IOU and she was more than enthusiastic about the project. 
"Then, around five years ago, we were at the Emmys and Viola Davis came over to us to say hi, and we told her about our idea for the show," Jonathan recalled. "On the spot, she said she had someone in mind and that we could count her in."
RELATED: Rebel Wilson Surprises Her Hairdresser With New Backyard Retreat in Upcoming 'Celebrity IOU' Episode
He continued, saying other celebs did the same thing when they heard about Celebrity IOU. 
"We had the same reaction from all the celebrities participating in the show, so here we are," Jonathan said, adding that they all have "really big hearts." 
The actress renovated her best friend's home on 'Celebrity IOU'
According to HGTV, Davis went to Minneapolis, Minn., to surprise her longtime best friend, Michelle, whom she met in acting school, in the third episode of Celebrity IOU. 
RELATED: Brad Pitt on 'Celebrity IOU' Broke Records for HGTV and Reminded Everyone Just How Likable He Really Is
Together, Drew, Jonathan, and Davis were able to renovate Michelle's dining room, kitchen, and living room.
Fans of Celebrity IOU will have to wait and see whether or not HGTV renews the program for a second season.