How to Listen to a Preview of Coldplay and BTS' Upcoming Single 'My Universe'
On Sept. 24, Coldplay will release a single called "My Universe" with BTS. The single will also be included on Coldplay's upcoming album, Music of the Spheres, which will be out on Oct. 15. Leading up to the release of "My Universe," BTS and Coldplay shared teaser images and behind-the-scenes previews of the song. Here is how fans of the two bands can watch the preview of "My Universe."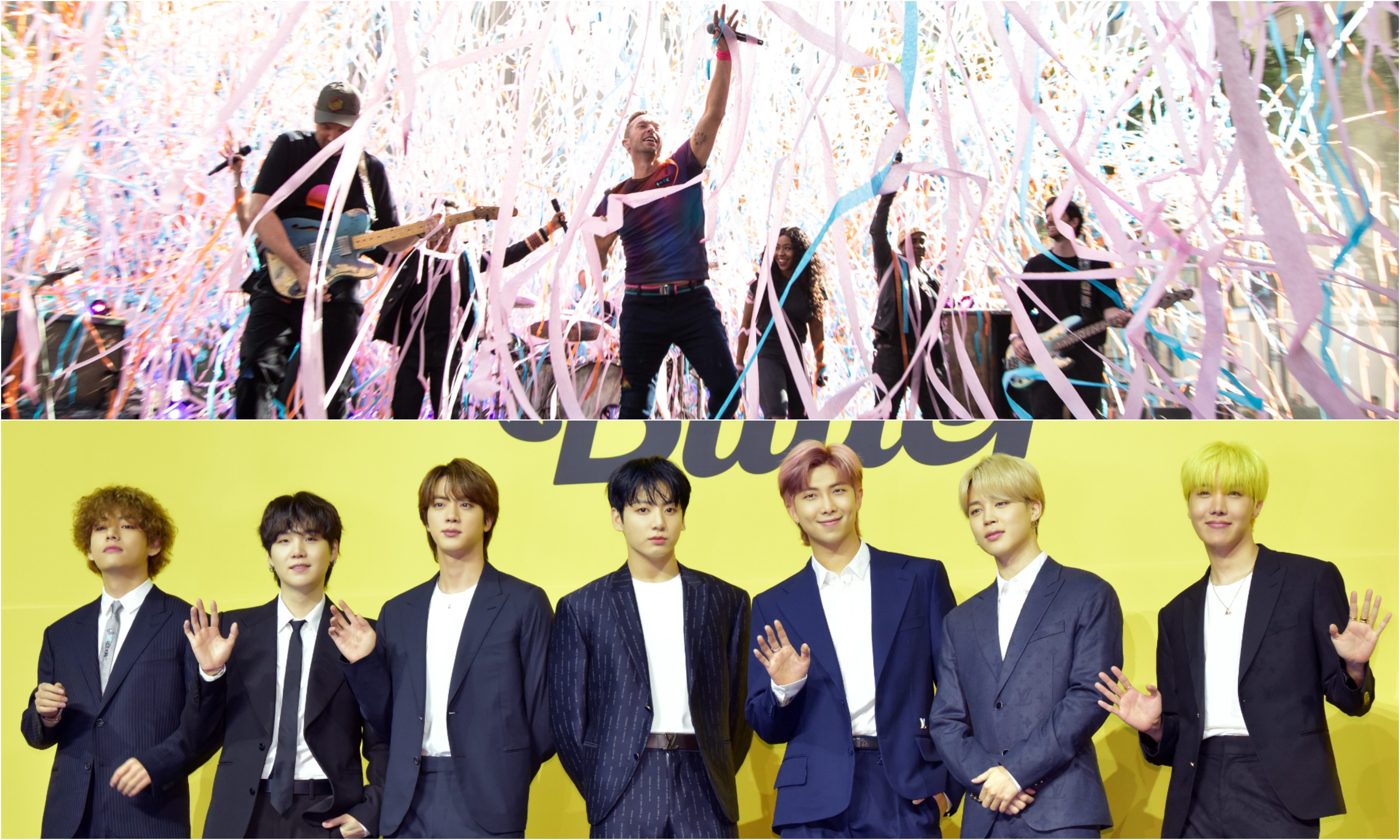 BTS and Coldplay's 'My Universe' previews are available on TikTok
Coldplay announced the collaboration track with BTS on social media on Sept. 13. BTS and Coldplay then proceeded to share exclusive previews of the song on TikTok.
Both video clips on TikTok show Chris Martin of Coldplay standing in a circle with Jin, Suga, J-Hope, RM, Jimin, V, and Jungkook of BTS. As the group sings together, audio from "My Universe" can be heard.
"You, you are / My universe / And I just want to put you first / And you, you are / My universe / And you make my heart light up inside," Martin sings in the clip while BTS harmonizes.
Fans can watch BTS' TikTok preview here and Coldplay's TikTok preview here.
RELATED: BTS' Single 'Butter' Is Officially the Song of the Summer
In addition to the two video clips posted by BTS and Coldplay, a 30-second long audio sound is available on TikTok. With the extended audio, fans of BTS can hear Jungkook sing Korean lyrics and the phrases "When I'm without you, I'm crazy" and "We are made of each other baby."
What we know about 'My Universe'
After Coldplay announced the song, the band shared details about "My Universe" on their official website. According to Coldplay's website, both bands participated in writing the song and it will feature Korean and English lyrics.
The website's announcement reads:
"The band have today announced their much-anticipated collaboration with BTS. My Universe will be released on September 24th.

The track, sung in both English and Korean, was written by Coldplay and BTS and produced by Max Martin. It is available to pre-order / pre-save now, with a CD single also available to order, at myuniverse.coldplay.com.

My Universe is the second single to be taken from the band's forthcoming album Music Of The Spheres (out October 15th)."
RELATED: What Songs Did BTS Perform on 'MTV Unplugged'?
Coldplay's upcoming album Music of the Spheres has 12 tracks:
"Music of the Spheres I"
"Higher Power"
"Humankind"
"Alien Choir"
"Let Somebody Go"
"Human Heart"
"People of the Pride"
"Biutyful"
"Music of the Spheres II"
"My Universe" with BTS
"Infinity Sign"
"Coloratura"
Have BTS and Coldplay collaborated before?
"My Universe" will be the first official musical collaboration between Coldplay and BTS. While this is the first song the two bands have worked on together, there is a history between the groups.
Over the years, the members of BTS have been vocal about their admiration of Coldplay. On Feb. 23, BTS performed on an episode of MTV Unplugged. During the septet's MTV Unplugged episode, the members covered Coldplay's song "Fix You."
On Sept. 9, just days before the announcement of "My Universe," Martin interviewed the members of BTS for an episode of YouTube's RELEASED series.