How Tom Hanks Saved a Performance After a Paramedic Emergency
Tom Hanks was performing 'Henry IV' on stage when the paramedics came to help an audience member. The show stopped for them to save the patient, but Hanks saved the rest of the show.
Tom Hanks has played many heroes. On the fictional side there was Forrest Gump and Captain Miller in Saving Private Ryan. He's also portrayed real life heroes in the movies Apollo 13, Captain Phillips, Sully, The Post and A Beautiful Day in the Neighborhood. Hanks also sprung into action in a real life emergency.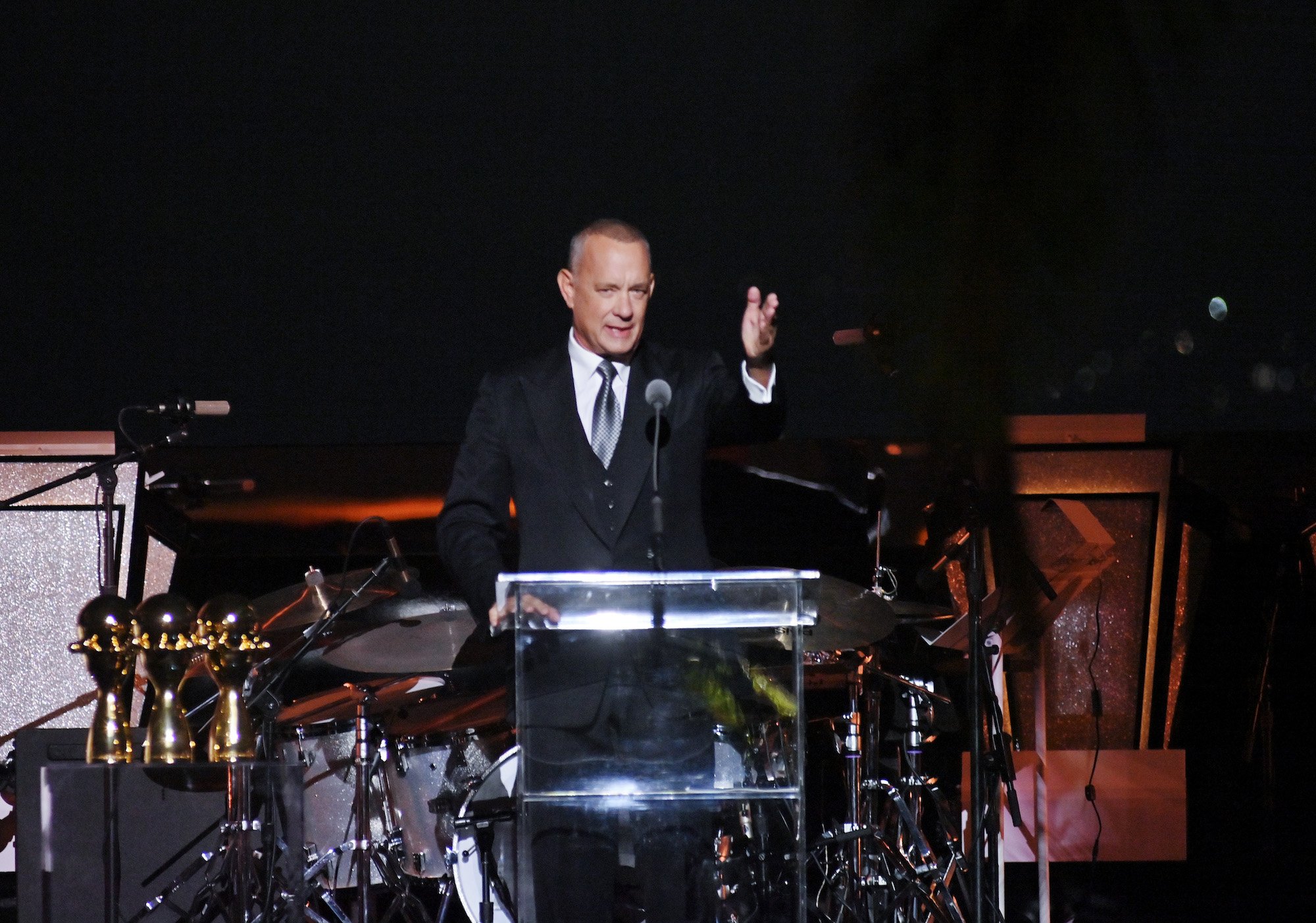 Hanks was a guest on the Smartless podcast on Nov. 1. When host Sean Hayes asked him about the paramedic emergency at a recent theatrical show, Hanks told the story. Hanks didn't save the life, however. That was the paramedics, but Hanks saved the show. 
Tom Hanks returned to his Shakespearean roots
Before Hanks landed a role on the TV series Bosom Buddies, he was a Shakespearean actor. He then returned to the stage for a run of Henry IV in 2018.
"I did Shakespeare two years ago here in Los Angeles," Hanks told Hayes on Smartless. "I played Falstaff with the Shakespeare Center of Los Angeles."
One performance got interrupted by a health crisis. 
"What happened was we had a medical emergency," Hanks said. "A gentleman had a heart thing happen to him. All of a sudden, the paramedics had to be called. We were doing it at the VA Center, in the Japanese Garden, amongst the eucalyptus trees here in West Los Angeles. A Guy had some sort of seizure and we had to call the EMTs. Then we had to take a break and the lights came up."
Tom Hanks didn't want the audience to leave
An audience member captured Hanks on video and posted it to YouTube. While the paramedics attended to the emergency, Hanks asked the rest of the audience to sit tight. The Oscar-winning actor remained in Shakespearean character.
"It ended up being about a 30 minute hold while they took care of this gentleman," Hanks said. "And we were all backstage saying, 'Should we do something?' Then when I saw that people were leaving, I said, 'Oh no, no, no, no.' It was close to a three hour show anyway. I saw a lady pick up her purse and move towards the exit and I came running out trying to scream, 'Get back here. Take thee thy seat' or something." 
"Leave not this sacred area," Hanks can be heard screaming in the video as he brandishes his sword. "God has decided this play needed a second intermission."
Hanks continues to chastise the people attempting to leave as "an insult to all artists and all actors and Shakespeare himself."
"Get back here or find this sword and many a dagger placed deeply in the tires of your carriage," Hanks says. "No intermission brew for you. Leave us the play, scurvywags."
A mostly packed house stayed for the show 
Hanks acknowledged that not everybody could be convinced. However, he was content that most of the ticket holders remained. They put on the rest of Henry IV for them. 
"It ended up being worthwhile and got enough people to say," Hanks said. "And I think I ridiculed enough people that made some lady cry. Out of laughter, tears of joy."
In the video, Hanks interacts with one woman who got up to use the restroom.
"Number one, Give me back my costume," Hanks says. "Number two, what be thy name, wench? Francis? Francis? Your name shall appear in the play come act two. The line will be, 'Give me a cup of sack, Francis.' Understood? Get thy royal arse back to your seat."
Hanks called the woman to sit in a chair on the stage and asked where she came from.
"My lady, you have crossed the 405," Hanks said. "Let all of us give Francis applause."
However, on her way back to her seat, the woman revealed Francis was not really her name. 
"Your name will not appear," Hanks said.