How You Can Get on Steve Harvey's 'Family Feud' and What Will Ruin Your Chances
The vetting process for 'Family Feud' isn't too complicated, but you will need to follow several steps in order to meet Steve Harvey and possibly win thousands of dollars.
Family Feud has been a popular game show since it debuted in 1976. Over the years, there have been six hosts, starting with Richard Dawson and, most recently, Steve Harvey. If you've been playing along from home and you think your family would win, here's what you need to know about becoming a Family Feud contestant — and what not to do.
How to become a contestant on 'Family Feud'
If you've dreamed of putting your skills to the test on Family Feud, there are some important steps to follow. According to Good Housekeeping, the first thing you must do is fill out an online application found on the Family Feud website. Although it's not required, producers encourage applicants to include a short video showcasing their family's energy and gusto.
If your application makes it to the next step, you'll be notified in about four weeks according to former contestants. Producers will then invite you to play a mock game to prove that your family is a good fit. If they like what they see, they'll interview you. If producers select you, they'll add your family's name to a database of families they can call to appear on the show. 
The producers are looking for contestants who know the rules, are good at the game, and enjoy playing. "Aside from energy and enthusiasm, we also look for an ability to play the game and to come up with answers," said Sara Dansby, head of casting."And if you love the show for a specific reason, mention it!"
What disqualifies contestants from appearing on 'Family Feud'?
According to the Family Feud website, there are a handful of rules that can disqualify potential contestants. First, to play, you must have at least five eligible family members. There are no age requirements for participants. However, it's recommended that they be at least 15 years old, because the questions can be a bit mature for kids. 
Each contestant must be a U.S. citizen or be legally allowed to work in America. If anyone in your family is running for political office, you aren't allowed to appear on Family Feud either. If anyone in your family has been on more than two game shows in the last year, you can't participate.
Finally, if anyone has been on Family Feud in the past 10 years, or they know anyone associated with the show, they're not eligible to play the game. 
What's it really like to be on 'Family Feud'?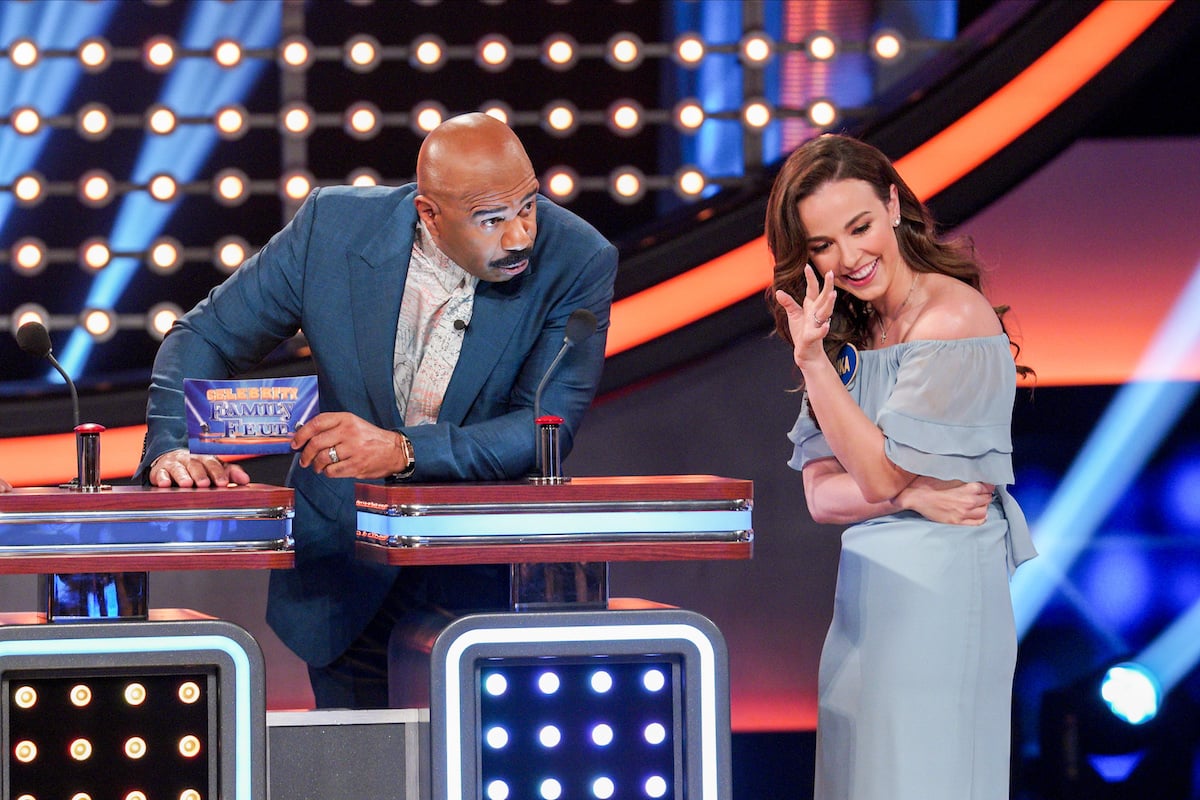 When you watch the show, it seems like it's fun, fast-paced, and energetic. It turns out that, unlike many shows, this is very much how Family Feud truly operates, according to past contestants.
Contestants should show up with energy to spare because they have to rehearse before they start taping. On average, production tapes four to six episodes in a single day. Families are expected to stay enthusiastic and engaged and to clap and cheer after every answer.
But don't get too excited and miss the button when it's your time to shine. Hitting the podium is frowned up. Aim for the button, but try not to hit it before Harvey has finished his question. 
If all of this sounds grueling, the experience is reportedly a lot of fun, too. Harvey makes it a point to meet the contestants and spend time talking to them. People say he's just as funny and personable in person as he seems on TV. On top of that, the show provides contestants with breakfast and lunch as well as the travel expenses required of families who don't live in the two cities where they tape the show: LA and Atlanta.
Family Feud has been much loved for decades. If viewers follow the right steps, they could possibly be a part of the fun too.