Hulu's 'Candy': Timothy Simons Reveals He Did Not Audition for the Role of Pat Montgomery [Exclusive]
Find out how the part of Pat Montgomery in Jessica Biel's true crime series on Hulu, 'Candy,' fell into Timothy Simons lap.
Timothy Simons plays Jessica Biel's on-screen husband, Pat, in Hulu's new true crime series, Candy. Pat's a happy, content guy who everyone likes. Although Candy Montgomery has an affair, it's not because she doesn't like Pat, she's bored and wants to spice up her life. Simons most well known role as Jonah Ryan in HBO's Veep is nothing like Pat — nearly everyone disliked Jonah in the political satire. However, Simons embodies the Candy on Hulu cast role perfectly, complete with dad jokes and a fitted wide lapel blazer. However, he didn't even audition for the role of Pat Montgomery. How did Simons become a part of Candy on Hulu?
'Candy' on Hulu producers called Timothy Simons for the role of Pat Montgomery
During an interview with Showbiz Cheat Sheet, Simons revealed that the creators of Jessica Biel's 5-episode Candy series on Hulu handpicked him for the part of Pat. The Veep star did not have to audition, and he was grateful for that. 
"This one was actually like a wonderful one," he told Showbiz on April 21. "When you're an actor, this is a wonderful thing to have happen. I got an offer for a job, and I did not have to audition for this. That feels great. It's just one little level of anxiety that you get to skip. Then you get to a whole bunch of other levels of anxiety. But there's that one little bit you get to skip, and I will skip that any time that I can."
So, how did Simons get the part of Pat Montgomery in Candy if he didn't audition? Who thought he would be perfect for the role? Did he ask?
"No, I never asked that question because you don't want to know the answer," he explained. "Then you hear the six or 10 or 12 people they thought of before you. Whenever it happens, I like to think that I was the first person they thought of, and I lie to myself, and I keep believing."
Like in the instance of Jessica Biel replacing Elisabeth Moss in Candy, it worked out to be perfect. There's no one else viewers could imagine in the role of Pat Montgomery.
Timothy Simons took the role in 'Candy' because of Jessica Biel and Melanie Lynskey
Unlike Hulu's Candy producer Nick Antosca, Timothy Simons didn't gravitate toward the role because of the bizarre 1980s housewife with an ax story. The actor's interest in playing Pat Montgomery came from the two actors attached to Candy before him — The Sinner's Jessica Biel and Yellowjackets' Melanie Lynskey.
"I think what drew me to it once I started reading it was my level of fandom for Mel Lynskey and Jesse Biel, who I think are incredibly talented and don't do anything that's bad. They're always in good stuff. This will end up being good because they are energized."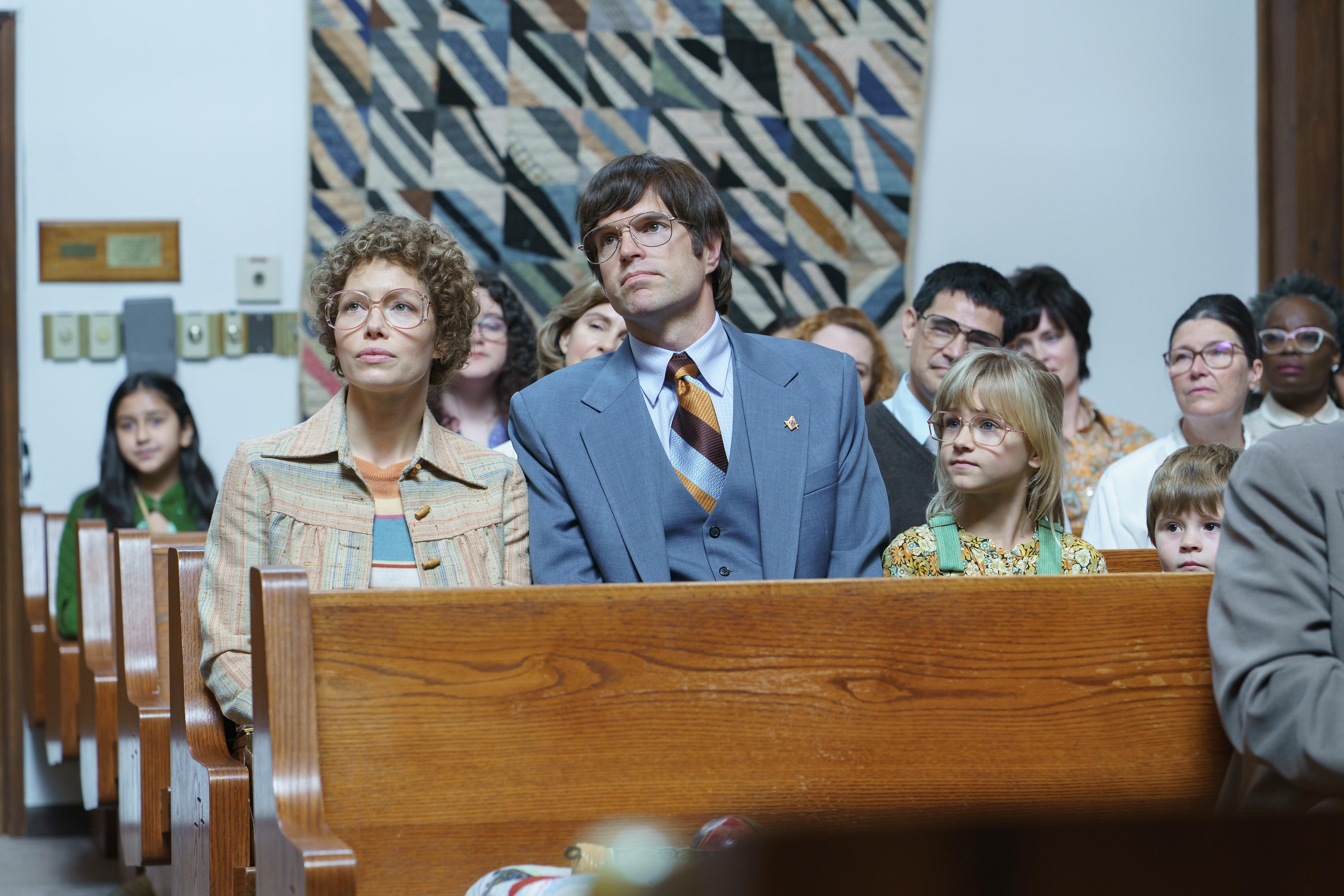 The 'strange' story true story of 'Candy' on Hulu
Timothy Simons responded to the call for the role of Pat, primarily because of Jessica Biel and Melanie Lynskey. However, he had to like the story a little bit. In the same interview, he added that the strangeness of Candy Montgomery and Betty Gore's true story couldn't be overlooked. Candy and Betty (Lynskey) went to the same church and their children played together. However, Candy had an affair with Betty's husband, Alan Gore (Pablo Schreiber), and then she hit her friend with an ax 41 times. Then she went about the rest of her day, even taking Betty's daughter to swim lessons.
"I'm generally attracted to things that are strange tonally and that have disparate tones that are balanced well," he added. "I thought right away the pilot script was strange and odd in a wonderful way. It didn't feel soapy or melodramatic. I thought it was atonal and strange, and I really liked that."
Candy premieres on Hulu Monday, May 9, with the release of only the first episode at 9 p.m. PT/midnight ET. The remaining four episodes drop every day following the premiere, with the finale dropping on Friday, May 13.