A Hurricane Made Tom Petty Realize He Met George Harrison for a Reason: 'My Life Was Different After That'
The night Tom Petty and George Harrison connected, there was a huge hurricane. It made Petty feel that he'd met George for a reason.
George Harrison and Tom Petty really loved each other. However, some truly bizarre occurrences had to happen before they realized the universe wanted them to be friends. Looking back, Petty thinks they must have been close in a past life.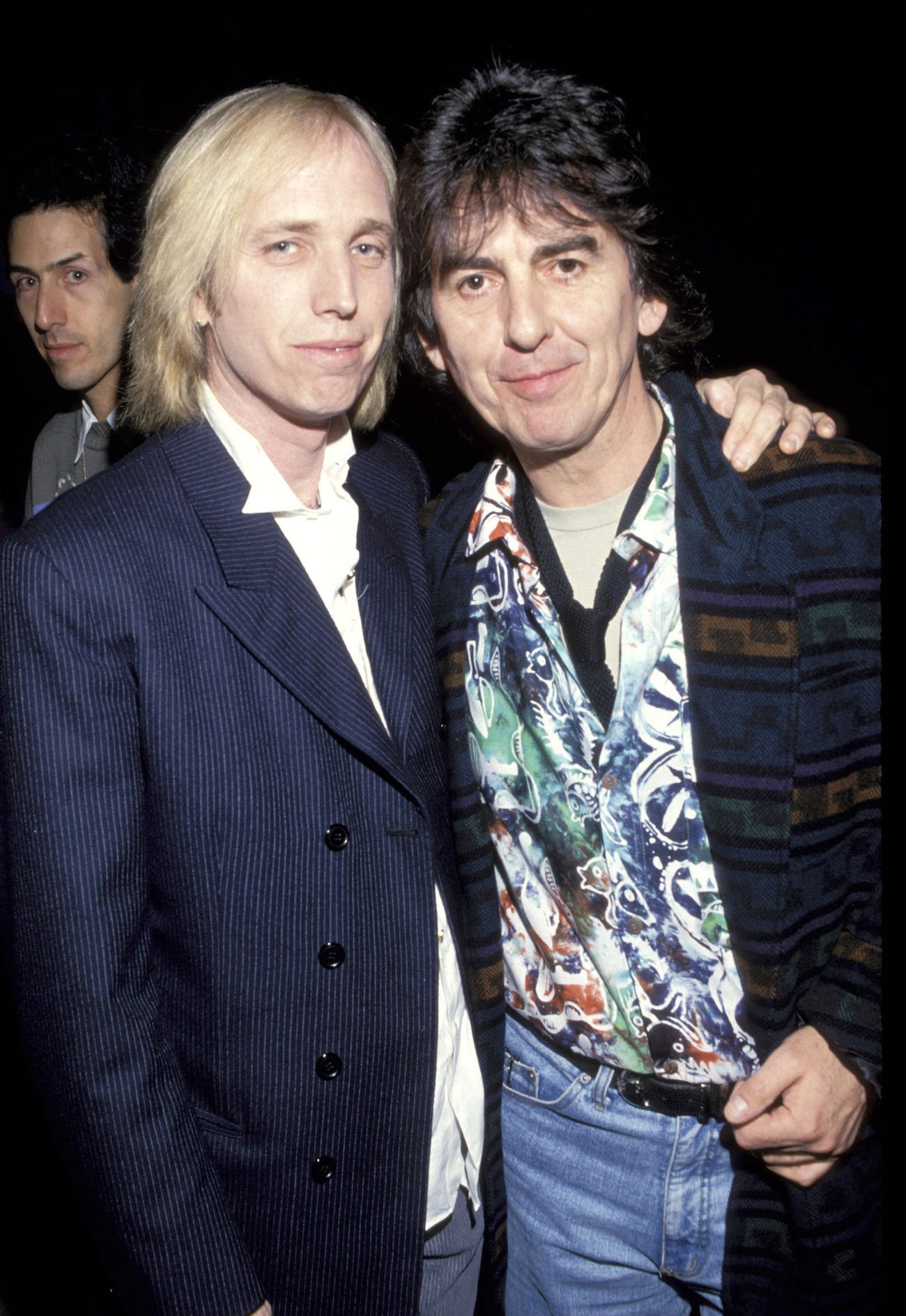 Tom Petty realized he had to be George Harrison's friend after a hurricane
Initially, Petty met George in 1974 while recording with Leon Russell. They didn't meet again until the mid-1980s when Petty and the Heartbreakers toured England with Bob Dylan.
"George came one night to see us in Birmingham," Petty told Rolling Stone. "Bob was busy with something, and so we wound up just talking. I reminded him that we'd met, and there was some kind of weird click. It felt like we had known each other all our lives, and in a very personal way.
"We wound up just hanging a lot. I have a great photo somewhere — it was my birthday, and George brought a little cake to my dressing room. In the photo, there is me with George and Jeff Lynne, Roger McGuinn, Bob Dylan and Mike Campbell — all of my favorite people right there, and it was all so sweet. I think Ringo was there as well."
Petty said that night there was "a surprise hurricane" in London and his life "never felt the same again after that." However, Petty told the story differently to Classic Rock. He said the Heartbreakers were in London in 1987 and that George and Lynne would come backstage every night.
"I remember we were having such a good time after one of the shows we stayed back there for hours," Petty said. "It was one of those, 'You've got to leave, we are shutting the building down' nights. I felt really inspired by it all, I remember thinking, 'My God, this is great. I love these guys.'
"We went back to the hotel and a hurricane hit the middle of London the same night. They didn't even predict it, but it ripped huge oaks out of the ground. I got up the next day and thought, 'Holy cow, this is something.' I always thought that hurricane had something to do with something. My life was different after that."
However it happened, Petty knew that hurricane meant something.
RELATED: Would George Harrison Like the New Video for 'My Sweet Lord'?
Stranger occurrences happened the next time they met
Petty was sorely mistaken if he thought the hurricane was strange. When he got back to LA, something weird happened. Fate brought them together again, but really obviously.
"I went back to L.A., and almost by fate I went into a restaurant, spur of the moment," Petty told Rolling Stone. "I hadn't planned to go, and the waiter came over and said, 'Oh, your friend is in the next room, he wants to see you.'"
So, Petty walked in and saw George. Then, the ex-Beatles said, "God, it's so weird, I was just asking Jeff Lynne for your number."
"He said, 'Where are you going?' I said, 'I'm just going home.' He said, 'Do you mind if I go with you?' He came to my house and stayed for days."
Petty said he agreed with George that their chance meeting was strange. "Cosmic, even," he said.
Petty felt that maybe he and George had known each other in a past life
With all these strange occurrences, Petty and George took the hint that the universe wanted them to be friends. Later, Petty even looked at it from a Hindu point of view.
In Paul Zollo's book, Conversations with Tom Petty, Petty said, "The Hindus think that when you meet someone and you feel really close to them immediately, that maybe you knew them in a past life. And that was how it was with George. We instantly became very close.
"And I remember him saying to me, 'You know I'm not going to let you out of my life now.' We really got along well, and shared a sense of humor. And we became very close friends."
Petty told Rolling Stone, "George was the kind of guy who wasn't going to leave until he hugged you for five minutes and told you how much he loved you. We knew where we stood with each other."
George's wife, Olivia, saw how close he was to his friends. In Martin Scorsese's documentary, George Harrison: Living in the Material World, she explained George had an almost romantic relationship with his friends. He truly loved them. "They say in this life you have to perfect one human relationship in order to really love God," Olivia said.
"You practice loving God by loving another human and by giving unconditional love. He had these love relationships with his friends. He loved them."