'I Love Lucy': Why Lucy and Ricky Never Shared a Bed or Blanket on the Sitcom
I Love Lucy is often said to be one of the best and most influential TV shows in history. Lucille Ball's portrayal as Lucy kept fans tuning in to see the red-headed housewife's comedic antics.
Since Lucy's husband Ricky was a bandleader for a popular act, she was determined to make it in show business too. The happy couple often ended up in situations that gave fans comedic relief.
Although Ball starred opposite of her real-life husband, Desi Arnaz, the network was still cautious about the couple's on-screen actions, including having separate beds. 
Why 'I Love Lucy' is iconic 
As one of the most popular shows in television history, fans of all ages enjoy watching the comedy favorite, Ball. I Love Lucy originally aired from 1951 to 1957, but the iconic show is still widely watched today. It is considered a classic that boosted Ball into stardom. 
I Love Lucy had many firsts, including ending its run at the top of the Nielsen ratings and being the first scripted TV program shot on 35mm film with a live audience. It was one of the most-watched shows in the United States, winning five Emmy Awards and receiving many other nominations and honors. 
The show's viewers watched to follow the life of Lucy and Ricky Ricardo. Lucy was a young and funny middle-class housewife who was always dreaming up plans with her best friends and landlords, Ethel and Fred Mertz, to be included as part of Ricky's nightclub shows or scheming up a way to become part of show business. Her ambition and scheming plans for stardom often lead to trouble for Lucy and Ricky. I Love Lucy was Ball's chance to show off her comedy skills, and everyone fell in love with the red-head's infectious laugh. 
Lucy and Ricky's marriage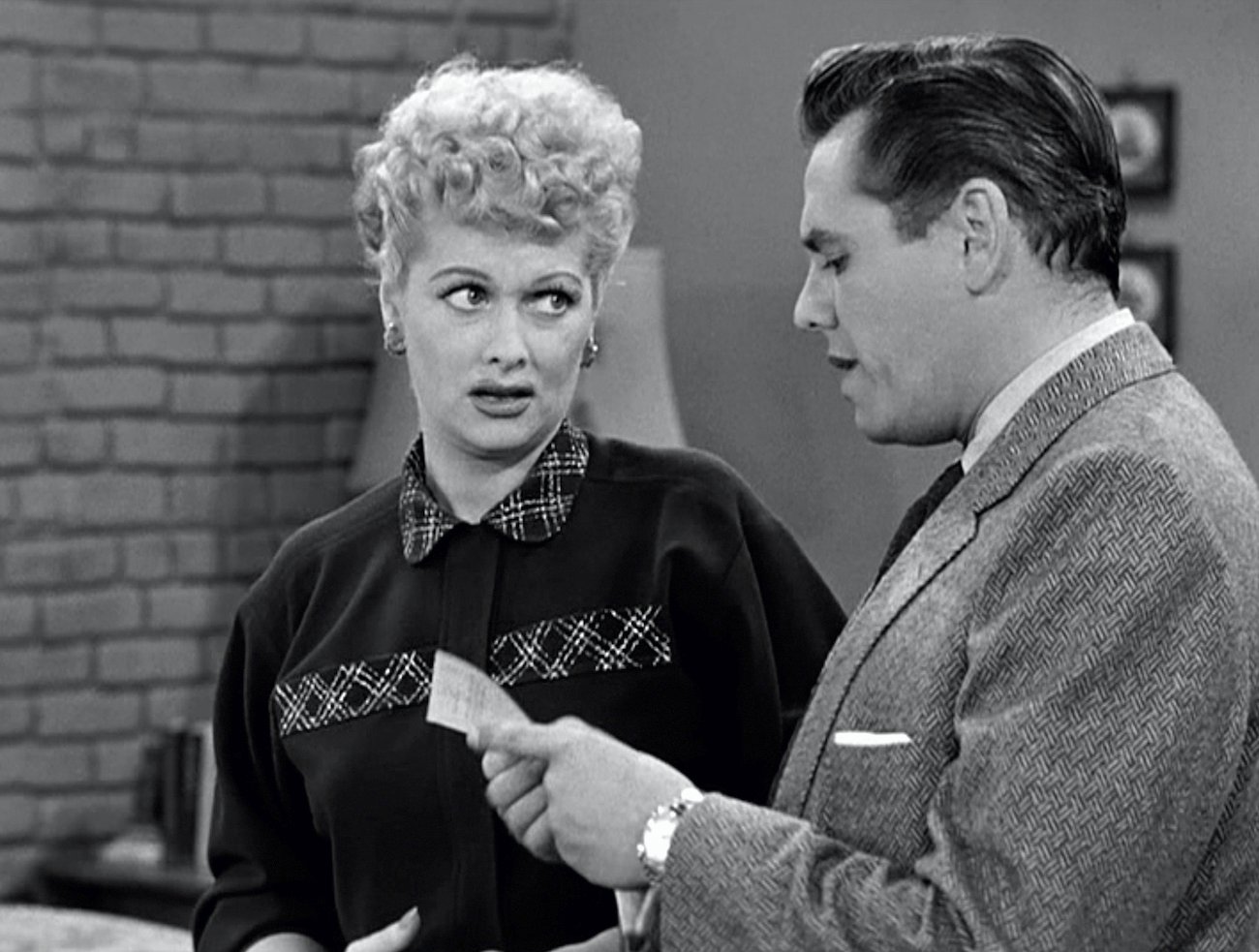 The popular TV show covered the life of a New York married couple, Lucy Ricardo and Ricky Ricardo. The stars — Ball and Arnaz — were also married in real life. Therefore, the chemistry and quarrels saw on-screen often steamed from behind-the-scenes drama.
In fact, when Ball and Arnaz were expecting their second child, the show wrote it into the script despite the fear that it may cause a cancellation. The opposite actually happened with the episode when Lucy announces her baby news gaining a huge viewership with successful ratings. Millions of viewers tuned in to watch the welcoming of Little Ricky in "Lucy Goes to the Hospital."
The couple was married for over 20 years. However, their marriage in real life wasn't as perfect as it appeared on-screen. After the ending of I Love Lucy and the final 60-minute episode of The Lucille Ball-Desi Arnaz Show, Ball filed for a divorce. The couple ended splitting up, but their roles of Lucy and Ricky is still ranked as many fans' favorite Hollywood couple. 
Why the couple's never shared a bed on the sitcom 
Although Ball and Arnaz were married in real life, they were still not allowed to share a bed in the show's six seasons. At the time, married TV couples sharing a bed was considered much more scandalous than today.
If you did see the happy couple in the bedroom, you noticed they had separate beds with their own tucked blankets. Much of this was because of the less risque time.
A clergy member even had to approve the I Love Lucy script related to Ball's pregnancy. In the early fifty's, CBS did not want to allow the word "pregnant" to be used on-air and worked hard to avoid showing her real-life pregnancy to the audience.
Although the decision to finally announce Ball's "condition" turned in to gaining unbelievable ratings for the show. You could say I Love Lucy paved the way for Hollywood being more transparent about real-life situations on-screen.