IATSE Strike Vote Results Are an Overwhelming Yes: What Happens Next
The International Alliance of Theatrical Stage Employees has approved the biggest industry strike in Hollywood history. The vote took place from Oct. 1 to Oct. 3. And the IATSE strike vote results are a nearly unanimous yes with an almost 100% voter turnout. But that doesn't mean the strike has begun. Here's what you need to know about what happens next for the TV and movie industry.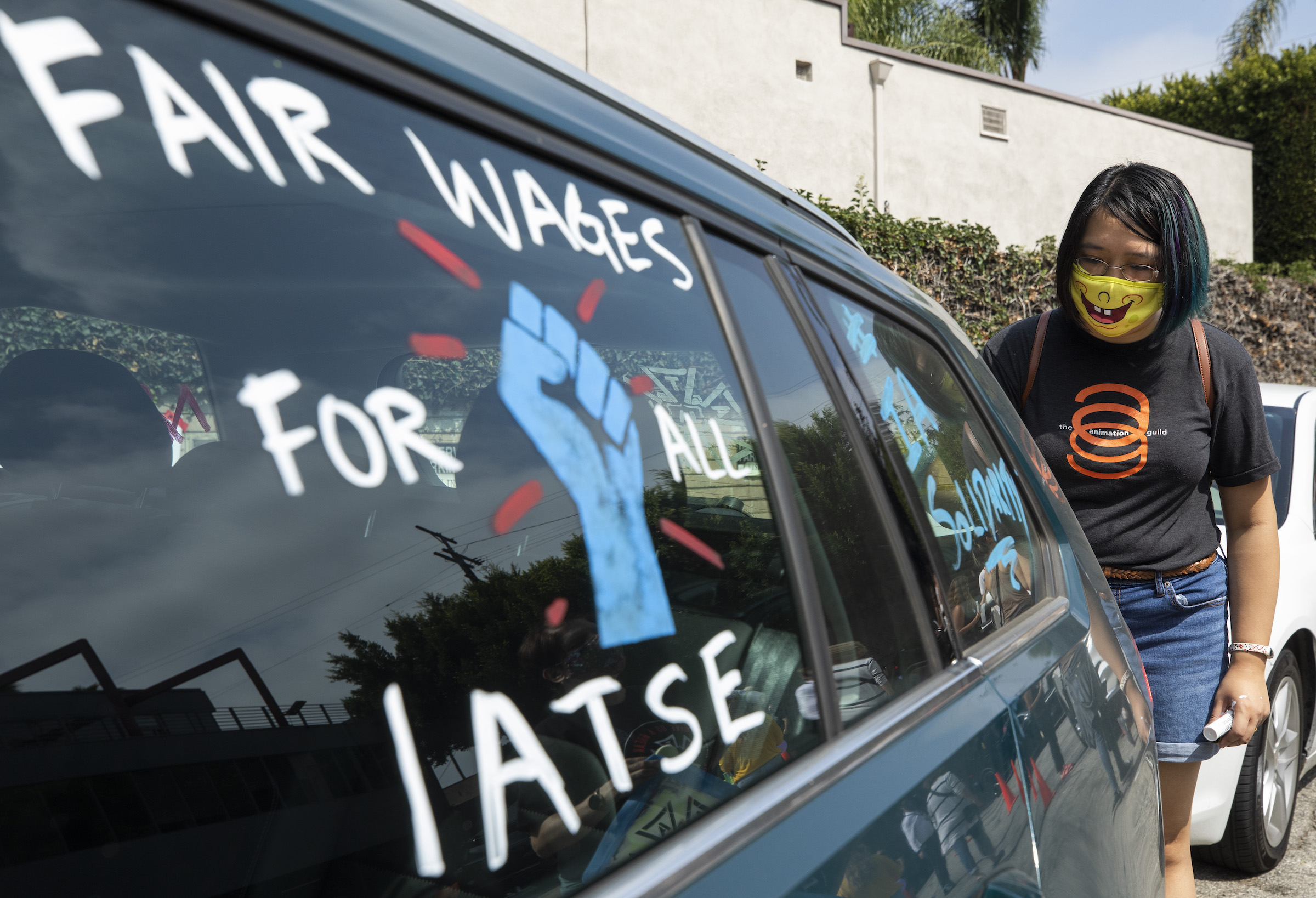 Is IATSE going to strike?
IATSE has been advocating for better working conditions for its over 60,000 members for months. The union has been negotiating with the Alliance of Motion Picture and Television Producers (AMPTP). And the talks have reached an impasse, leading to this strike authorization vote. The workers are demanding a commitment to better treatment, pay, and contracts for its workers, who have shared their "Hollywood horror stories" on the increasingly popular IATSE Stories Instagram account in recent weeks.
Crew members on film/TV sets have detailed horrific experiences such as getting into car crashes on their way home from work due to severe lack of sleep. Their pay is also abysmally low on many jobs, requiring some workers to resort to selling their plasma to make rent. Workers are also denied legally required breaks and aren't given time to eat during 14+-hour days. Studios are able to work out this legal requirement by opting to pay the fees incurred when breaks are skipped. IATSE is trying to negotiate higher penalties to stop this kind of budgeting from happening.
IATSE is demanding higher pay and humane working conditions for its members. And the IATSE strike vote results have now authorized IATSE International President Matthew Loeb to authorize a strike in the possibly near future. As of Oct. 4, the strike has not begun. But it could be imminent if AMPTP doesn't commit to changes in a satisfactory way.
IATSE strike authorization passed by nearly 100%
On Oct. 4, IATSE announced 89.66% of its members voted in the strike authorization, a total of 53,411 votes. Of that group of voters, 98.68% voted yes. The authorization needed 52,706 votes to pass. Loeb said in a statement:
"The members have spoken loud and clear. This vote is about the quality of life as well as the health and safety of those who work in the film and television industry. Our people have basic human needs like time for meal breaks, adequate sleep, and a weekend. For those at the bottom of the pay scale, they deserve nothing less than a living wage."
Again, this doesn't mean a strike has started. It means Loeb and the union return to their talks with AMPTP. And this time with an overwhelming amount of leverage. Loeb said he wishes to avoid a strike, which would shut down nearly all film/TV production in the United States immediately for an indefinite amount of time.
"I hope that the studios will see and understand the resolve of our members," he said. "The ball is in their court. If they want to avoid a strike, they will return to the bargaining table and make us a reasonable offer."
"A deal can be made at the bargaining table," AMPTP said in a statement on Monday. "But it will require both parties working together in good faith with a willingness to compromise and to explore new solutions to resolve the open issues."
A source told The Hollywood Reporter negotiations could begin again on Oct. 5 and that AMPTP is reportedly prepared to make a new offer. IATSE is asking non-union members to sign a petition in support of the union's efforts.