'iCarly': OG Cast Members Reveal Wacky Fan Encounters: 'They're All Doing Hard Time Now'
The 'iCarly' trio of Miranda Cosgrove, Jerry Trainor, and Nathan Kress dish on unforgettable fan encounters.
During its prime run from 2007-2012, iCarly cultivated a fan base as massive as the fictional one on the TV show. In the Nickelodeon world, Carly, Sam, and Freddie had fans across the globe from America to Brazil, to Tokyo. Off camera, Miranda Cosgrove, Nathan Kress, Jerry Trainor, and the rest of the cast regularly bumped into viewers who loved the series. And the three original iCarly actors recently shared some of their most intriguing fan encounters.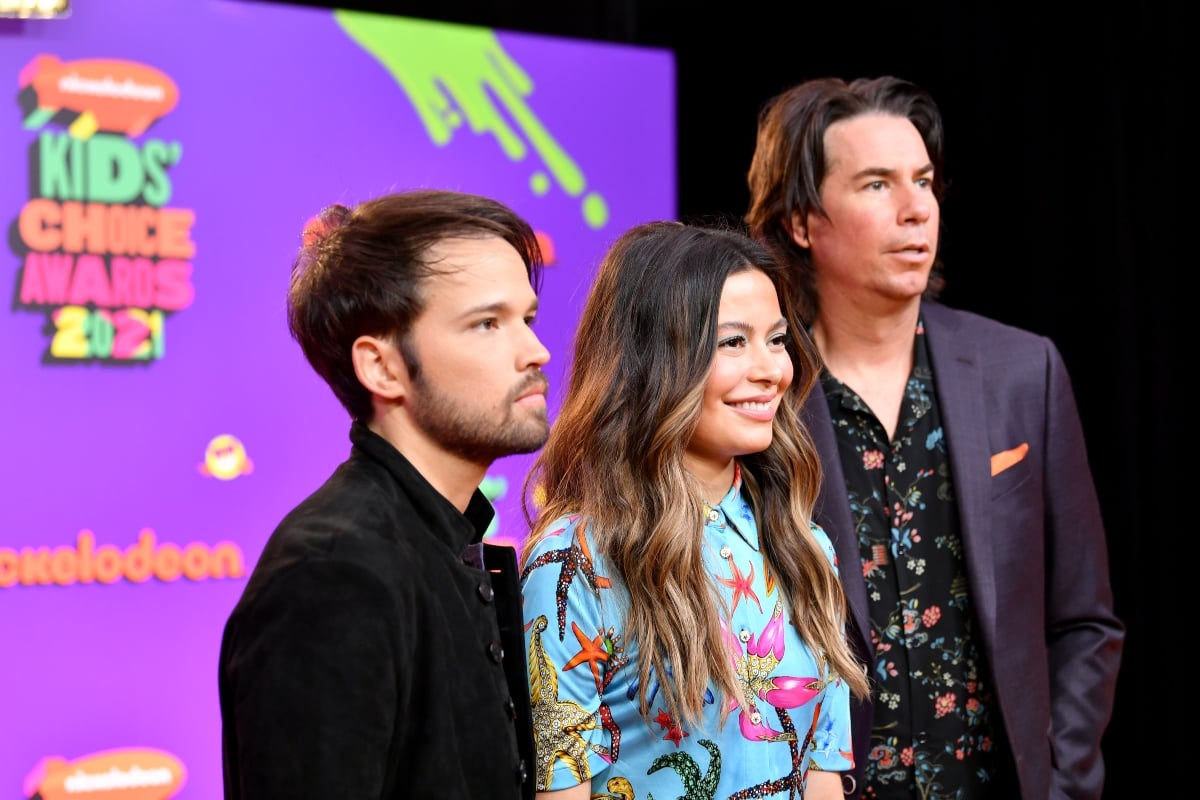 Jerry Trainor joked that his fans went to jail
During a recent interview with IMDb, Jerry Trainor, Miranda Cosgrove, and Nathan Kress reminisced about their time on iCarly after it became a hit on Nickelodeon. When asked about memorable fan interactions, Trainor shared a story about some girls spotting him while out with a friend.
"I got tackled by a group of girls who were having a birthday — in the parking lot," he said. Trainor explained that years ago, he was leaving Jerry's Famous Deli with a friend when he was accosted in the parking lot. "I was leaving the restaurant with my friend, and they saw me, and ran after me and they tackled me. And then I got out of there and I went right to the cops." Trainor joked that "they're all doing hard time now."
Someone fainted at Nathan Kress
Say what you want about Freddie Benson, but his nerdiness had a certain amount of swagger. As seen in episodes of iCarly, that earned him scores of fans. Longtime viewers may recall the episode, "iStart a Fan War" when the gang attended Webicon and fans swarmed Freddie. In real life, Kress had his own set of admirers, and one fainted at the sight of him.
"At an autograph signing I had a girl come up, and before saying a word, she did a very pronounced, 'Oh,'" said Kress, gesturing with a hand on his forehead. He thought the young lady was playing until she dropped to the floor. "Turns out she was actually fully passing out," he recalled.
Miranda Cosgrove had an awkward encounter
Between iCarly and her professional singing career, Cosgrove was one of the most popular actors when the show aired in the early 2000s. But not everyone could easily pick her out of a lineup — or a crowd. Instead of a wild fan encounter, she had a slightly embarrassing, yet unforgettable interaction.
Cosgrove told IMDb she was at Disneyland when a man approached her. "A man came up to me and he said, 'Will you get a picture?' and I said yes, and I took the camera and I started to take a picture with me, him, and his family, but it turned out he just wanted a picture of his family." Oops.
Cosgrove said, "That one stuck with me." Though she shared that as a memorable moment, when it came to the show's ending in 2012, Cosgrove once said her favorite memory was just coming to set every day and spending time with her castmates.
Catch new episodes of the iCarly reboot on Paramount+ each Thursday.