Idina Menzel Says Adele Dazeem Oscars Moment Was the 'Greatest Thing That Ever Happened'
In recent Oscars ceremonies, two moments stand out as particularly cringe-inducing: the Moonlight/La La Land Best Picture mix-up and Idina Menzel's performance of "Let It Go." Menzel's performance of the Disney song became infamous when John Travolta called her by the wrong name. Years later, Menzel reflected on the moment and explained that her feelings about it have changed quite a bit.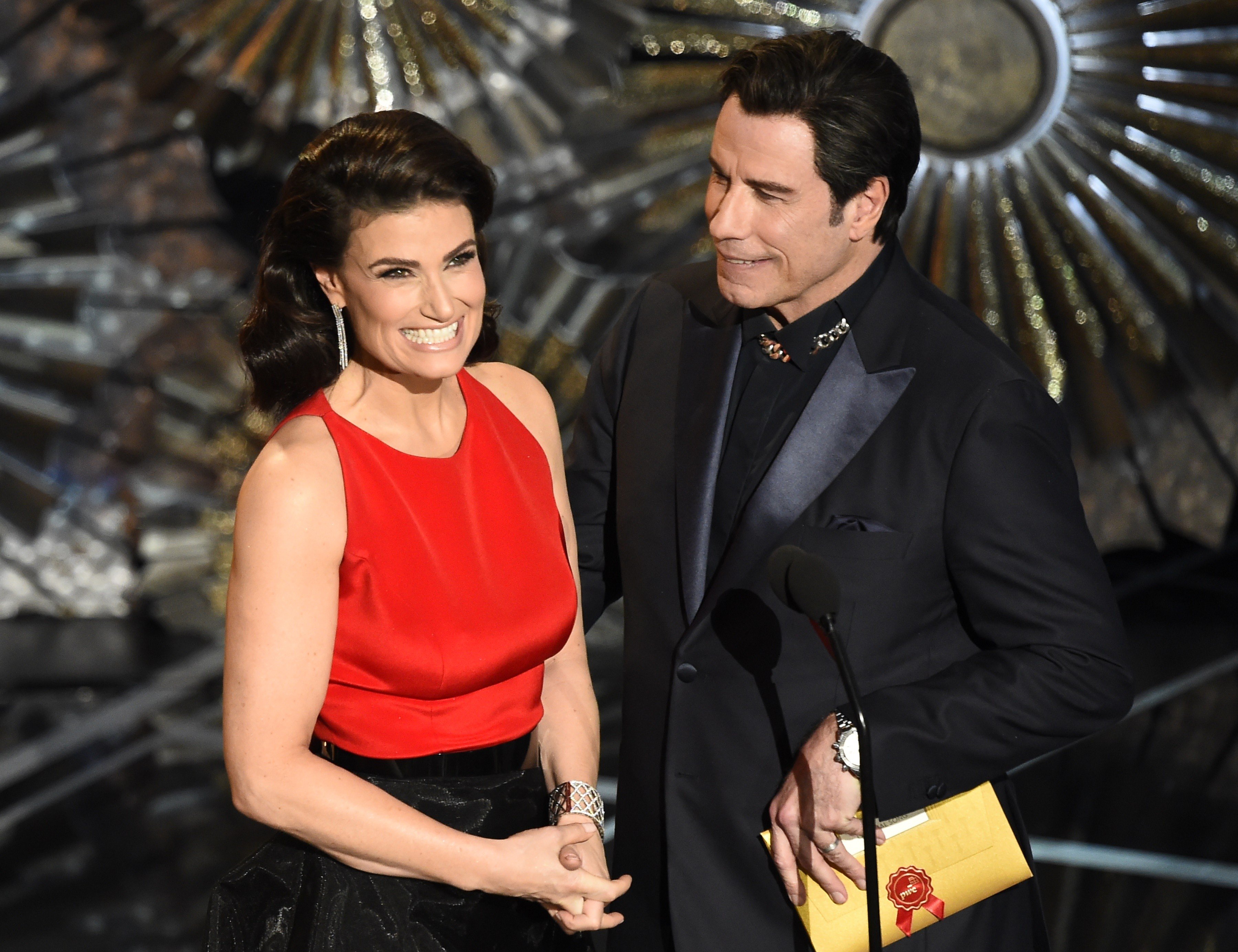 Idina Menzel performed 'Let It Go' at the 2014 Oscars
Following the meteoric success of Disney's Frozen, Menzel performed "Let It Go" at the Oscars. The song was nominated for Best Original Song (it later won the award). There to introduce Menzel's performance was Travolta. 
"Here to perform the Oscar-nominated, gorgeously empowering song "Let It Go" from the Oscar-winning animated movie Frozen, please welcome the wickedly talented, one and only, Adele Dazeem," he said.
The moment is brief but is one of the most well-known in Oscar history. A Google search of "Adele Dazeem" draws results about the Travolta moment but also links to Menzel's Wikipedia page. She is inextricably linked to the incorrect name.
She recently discussed the infamous moment on 'The Late Late Show With James Corden'
Menzel recently appeared on the Carpool Karaoke segment of The Late Late Show. She discussed the moment with her Cinderella co-stars Camilla Cabello and Billy Porter.
"First, I felt really sorry for myself," Menzel said. "Like Meryl Streep's out there, it's my big break, and he just f—– up my name. And then eight seconds the band starts, I was like, 'Get your s— together. Come on, this is your moment, like, stop worrying that he messed up your name. Sing b—-.'"
Billy Porter added that he distinctly remembers watching the moment.
"I was sitting in my house, and he said your name wrong. And I said, 'She's going to be a household name within 24 hours,'" Porter said. "I was like 'I need somebody to say my name wrong at the Oscars.'"
Menzel said that while Travolta clearly feels terrible for the mess up, she can look back on it and laugh. When she receives apologetic emails or flowers from Travolta, she tells him not to worry about it.
"It was the best thing that ever happened," she said.
John Travolta also spoke out about the moment
In a 2015 appearance on Jimmy Kimmel Live, Travolta gave his side of the story. According to him, he was rushing before introducing Menzel. The person meant to bring him backstage was stuck in an elevator, leaving him with only a minute to get onstage. 
Just before he walked on to present Menzel, an assistant told him they'd written her name phonetically on the teleprompter.
"Oh, by the way, we've changed Idina's name to a phonetic spelling, and I was like, 'Wait – what do you mean?'" he said.
"So I go out there, and I get to her thing, and I thought 'Huh?' In my mind, I'm going 'What? What is that name? I don't know that name'. And it was this phonetic spelling, and I didn't rehearse it that way," he added.