'Imperfect High': Director of New Lifetime Movie With Sherri Shepherd and Nia Sioux Explains Why She Had to Make the Film (Exclusive)
In an interview with Showbiz Cheat Sheet, director Siobhan Devine talked about making the new Lifetime movie 'Imperfect High' with Sherri Shepherd and Nia Sioux, explaining that the project was particularly special to her.
When director Siobhan Devine saw the script for Imperfect High, she knew it was a film she wanted to make. The new Lifetime movie, which stars Sherri Shepherd and Nia Sioux, deals with some weighty issues, including mental health and drug addiction in teens, subjects that are close to Devine's heart.  
'Imperfect High' addresses addiction and mental health in teens
In Imperfect High — which is a follow-up to the 2015 Lifetime movie Perfect High with Bella Thorne — Dance Moms alum Sioux plays Hanna, a high school junior who moves from Maryland to Chicago when her mom Deborah (Shepherd) gets a new job. Faced with the stress of transferring schools, she turns to prescription drugs to cope. 
"She becomes very isolated and alienated," Devine explained in a phone interview with Showbiz Cheat Sheet. "She hooks up with these new friends, and they all seem to take Xanax, and it helps them with their anxiety. So she figures it might help her with her anxiety. So she gets a prescription, but she just takes them too often and eventually, she becomes addicted."
The project spoke to Devine, who also directed the 2015 feature film The Birdwatcher, in a personal way. 
"It's a super special project to me because I used to work in child welfare in public relations," she said. "Just as soon as I read it I was like, 'I have to make this film.' I just have such a special spot in my heart for teens facing a tough time in life." 
Siobhan Devine praises Sherri Shepherd and Nia Sioux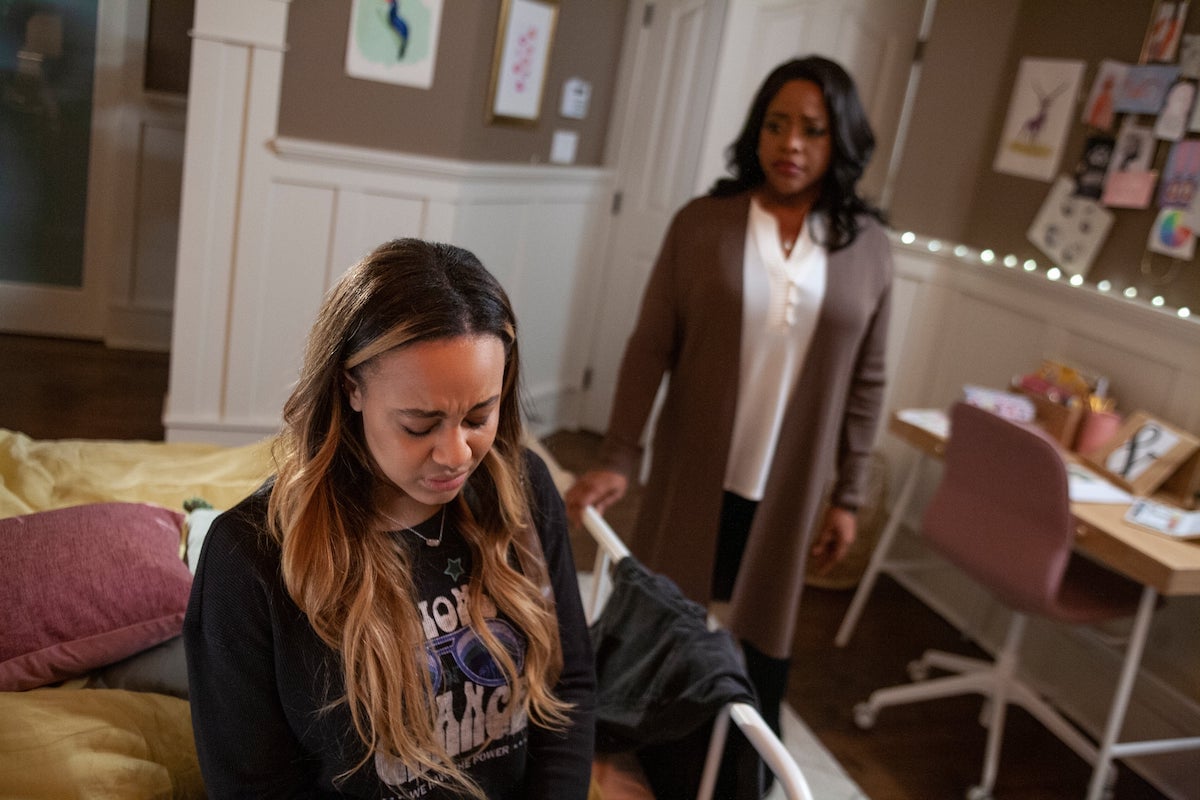 For Devine, another perk of working on Imperfect High was getting the chance to team up with Shepherd and Sioux, whom she called "amazing."
"Sherri Shepherd is just a phenomenal actress," she said of the former co-host of The View, who plays a loving mom who is struggling to figure out the best way to communicate with her teenage daughter. "She would bring so much to the table … she brought insights into the character that were really great." 
As the daughter of Shepherd's character, Sioux appears in nearly every scene in the movie, a responsibility she had to balance with completing her college coursework. 
"She just worked and worked and worked," Devine recalled of making the film, which was shot during the middle of the pandemic. "Some days we would have six scenes to do and she'd be in them all. She would start work at 7 o'clock in the morning and work through the whole day. She was amazing."  
Sioux also worked closely with Devine on her character's evolution throughout the film. 
"Nia and I really worked through how she would be, where she was at each point," the director shared. "Where she was emotionally, how often she was taking the pills, and how much her anxiety was becoming exacerbated. We worked quite a lot on that to make sure it tracked through the whole movie." 
The 'Kim's Convenience' director recalls working with Simu Liu  
Devine is eagerly awaiting to see what Sioux — who recently told ET her goal is to join the EGOT club, becoming an Emmy, Grammy, Oscar, and Tony award-winner — does next with her career. The director knows a thing or two about working with up-and-coming talent. She directed multiple episodes of Kim's Convenience. On that show, she had the chance to work with Simu Liu, who recently made history as Marvel's first big-screen Asian superhero in Shang-Chi and the Legend of the Ten Rings.   
"I loved working with Simu. He's such a talented guy and funny and charming and worked hard," Devine said. "I could not be prouder of him … I knew he was going to do huge things and use his platform to better the world." 
As for Imperfect High, Devine hopes the move helps start conversations between parents and kids about the dangers of drug abuse and the importance of talking about feelings and mental health. 
"The main message I'm really hoping that people take away is that it's all about communication," she said. "Talking to parents, talking to your peers. Don't just bottle stuff up and think that it will go away or you can deal with it. If you're suffering from depression or anxiety, the best thing to do is to reach out. Even though it's the hardest thing to do … there is help available." 
Imperfect High airs Saturday, September 18 at 8 p.m. ET on Lifetime. 
How to get help: In the U.S., contact the Substance Abuse and Mental Health Services Administration helpline at 1-800-662-4357.