Ina Garten's Advice for Flawless Entertaining Includes 1 Easy Shortcut That's So Barefoot Contessa
What's Ina Garten's secret to entertaining? The Barefoot Contessa shares her tips for throwing great parties, including one shortcut that's one of her mottos: store-bought is fine. Garten shares ideas for planning your next party, including using one store-bought item to save time and enjoy your event.
Entertaining guests can be nerve-racking, but for Ina Garten, she has developed easy ways to take the stress out of having dinner guests. She shares some of her proven tips that make any event stress-free and that includes a couple of easy shortcuts the Barefoot Contessa star swears by.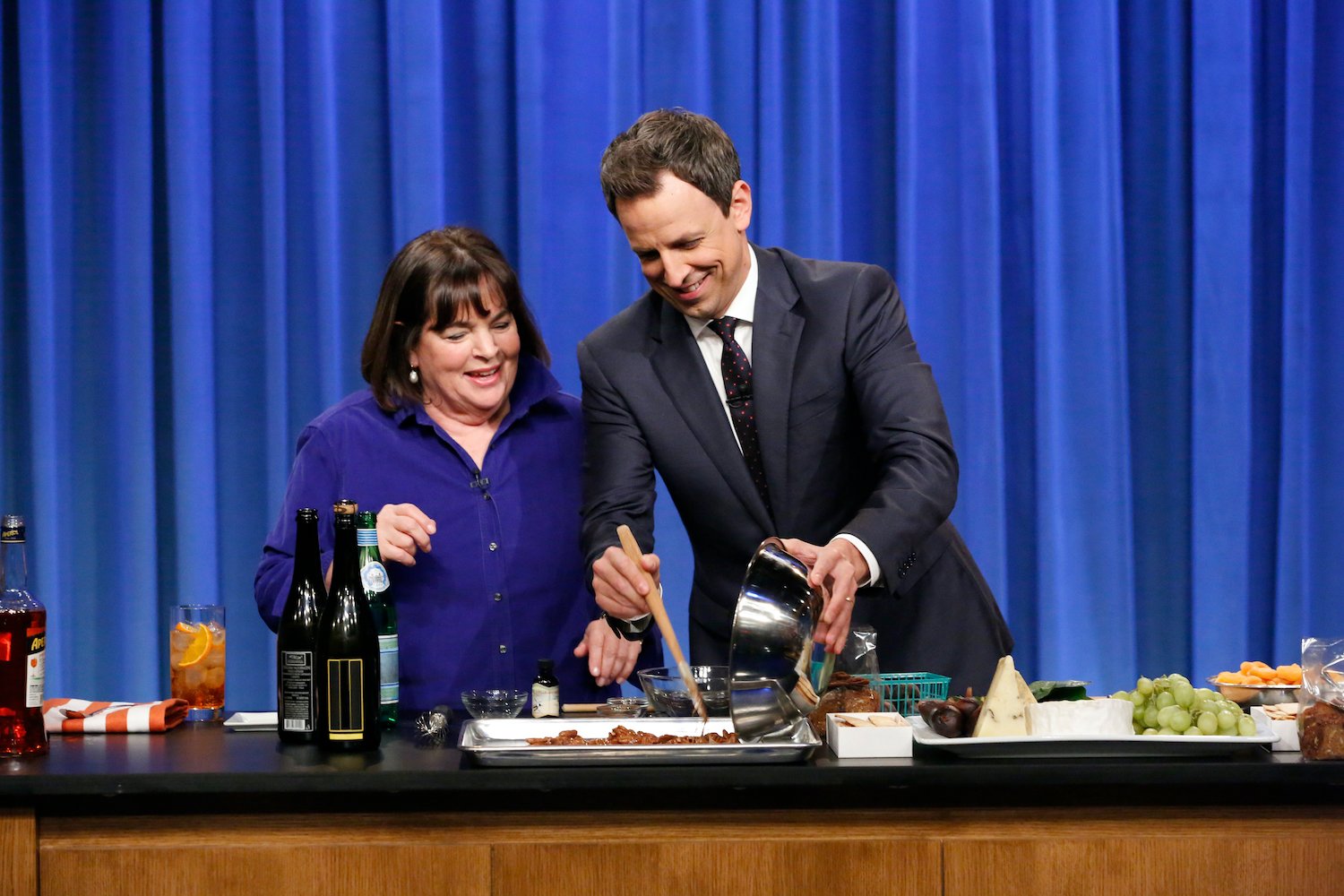 Ina Garten shared her easy entertaining tips
Garten has learned that one of the more important elements of throwing a great party is for the host to be relaxed. That involves some level of planning but there are also some tips she implements that really keeps things low-key while still serving delicious food that everyone will love.  
During a 2010 interview with Epicurious, Garten shared some of her party planning knowledge, including her top tip: "The most important thing for having a party is that the hostess is having fun."
Garten finds that putting a little bit of effort into planning things out make things go more smoothly, ensuring the host will enjoy the party as much as the guests.
"I'm very organized. I make a plan for absolutely everything," Garten explained. "I never have anything that has to be cooked while the guests are there."
Garten leans on making things ahead of time too so that you're not crunched with getting everything finished when the guests arrive.
"When I'm doing a menu for a party, I make sure I have at least one thing done the day before, at least one thing I can do early in the day, and then I only have one thing in the oven when guests arrive," she shared.
Ina Garten uses one easy shortcut when entertaining
Garten also advised not to make everything yourself. The Barefoot Contessa star often says "Store-bought is fine" and she lives by that motto when it comes to entertaining.
When asked her advice for first-time hosts, she said that getting something store-bought will satisfy guests just as well as something you made yourself and take one thing off of your plate.
"Don't make everything yourself; your friends will have just as much fun if you go out and buy a fabulous cake at a bakery," she explained.
Her second piece of advice was planning a menu that has some room temperature foods. "Everything doesn't have to be served hot," she explained. "Some things are actually better at room temperature." She said that makes it easier because she's "juggling four things in order to make dinner."
"It's nice to have one hot thing, but other things can be room temperature," she added.
The Barefoot Contessa shared the best part of cooking
Garten loves to entertain and especially loves cooking for her husband Jeffrey, but shared in a 2016 video that cooking is about more than the food.
"The thing I like most about cooking is actually that when you cook, everybody shows up," she said. "It's not really the cooking part, it's the community part."
"One of the things I think people get really worked up about is doing a meal that impresses everybody," she continued. "What I try and do is something where you can buy really simple ingredients, cook something really simple and everybody loves it."
"I love to take an idea of something I love, like lemon chicken, and just make it as simple as it can possibly be and as delicious," Garten added.