Ina Garten Calls Her Crab Risotto Recipe 'Incredibly Comforting'
Ina Garten makes a hearty fresh crab and pea risotto dish that may become a comfort food staple in your cooking rotation. The Barefoot Contessa star's recipe is easy and hearty — a dish she calls and "incredibly comforting one pot meal."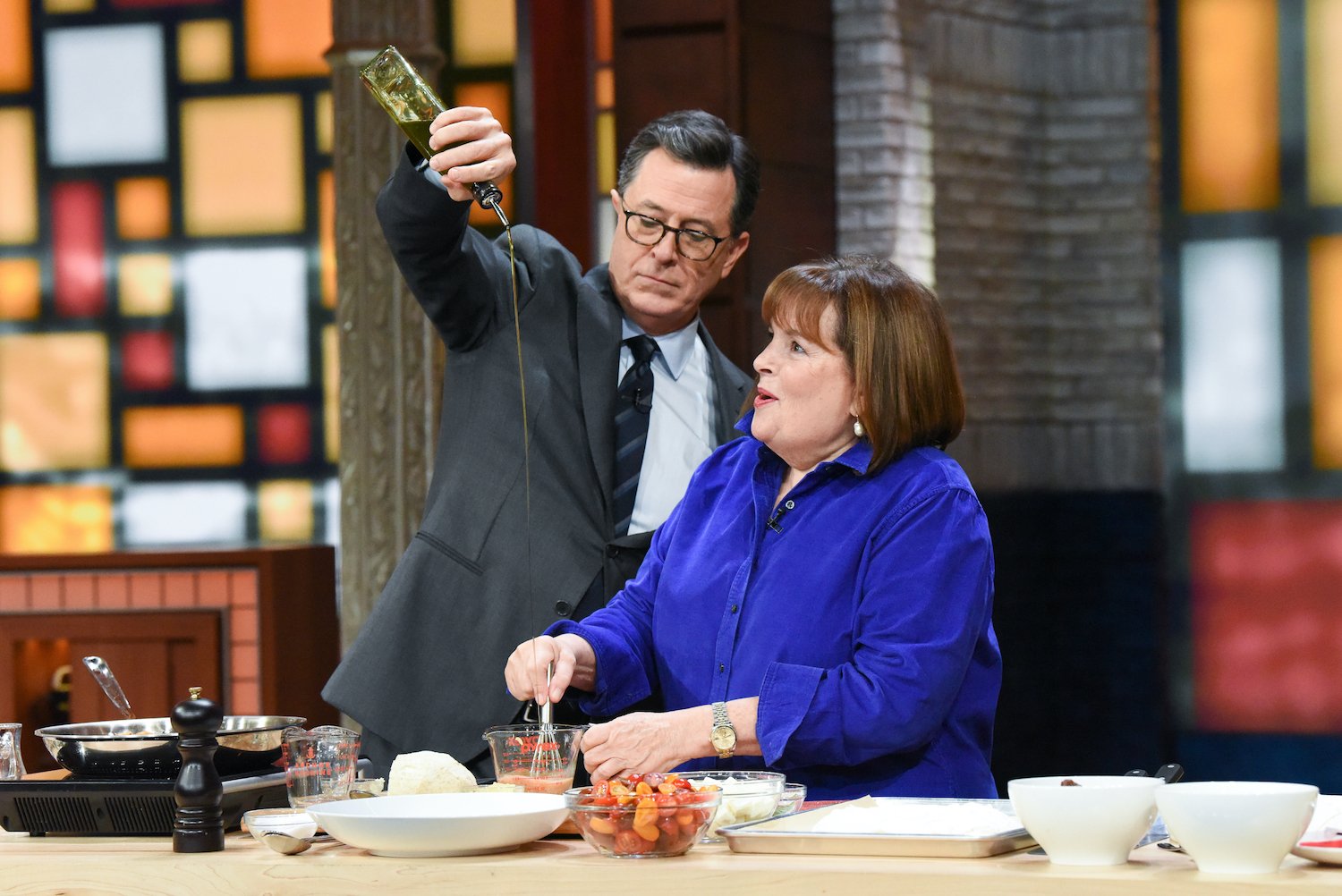 Ina Garten makes an easy seafood risotto recipe
Garten demonstrated how to make the easy recipe on an episode of Barefoot Contessa featuring seafood comfort foods. She called her crab and pea risotto recipe "an incredibly comforting one pot meal."
"I'm starting with a can of seafood stock and some really good crab meat and I'm gonna use both in a one pot dinner that's frankly as comforting to make as it is to eat," she explained.
The Food Network host started by simmering seafood stock in one pot. In a Dutch oven pot, she melted butter and olive oil, then added fennel, shallots, and poblano peppers. "You want this risotto to have great flavor," she explained.
Garten noted how flavorful the poblano peppers are. "They're kind of warm. They're not really, really hot and it's just kind of a little kick," she explained. "You don't want boring risotto."
She sauteed the mixture for 5 minutes, then added garlic and cooked everyting for another minute. Then Garten added crushed red pepper flakes and saffron. "Saffron's critical for risotto. I don't know what it is about saffron but I really miss it when it's not in risotto," the Barefoot Contessa star said. "It's just go a heat, it's got this really subtle flavor but it's really important."
Garten shared the 'key' to making perfect risotto
Garten added thyme leaves and Italian arborio rice to the pot and explained the process for making the risotto recipe.
"And this is the key. You want to stir it and make sure each grain of rice is coated with butter," she explained.
"Arborio rice really has the right amount of starchiness for risotto," Garten continued. "It's got a creaminess when you're done that really is perfect for this dish."
Garten added white wine and cooked the rice until the wine evaporated.
"Next, a little bit of a process," she explained. "Add stock, stir, and repeat."
Garten stirred the rice for 5 minutes, added a half-cup of stock, stirred it, and once the stock was almost completely absorbed, added more stock. She kept repeating the process until the rice was al dente, about 25 minutes.
The 'Barefoot Contessa' star adds creaminess to the rice dish
Garten stirred crème fraiche into the rice for "a little richness" and seasoned it with salt and pepper. She added lump crab meat in big pieces. "It's a little more expensive, but it's really worth it," she said.
The Barefoot Contessa star added frozen defrosted peas. "Frozen peas are really pretty good and they're already blanched," she explained, so it's a timesaver when compared to fresh peas.
"The key to this is just make sure that the rice is cooked through. It's not mushy, it's al dente, and there's still a lot of creaminess in this sauce," Garten shared. "And see how it's not thick? It's really creamy." She added fresh chives and lemon zest to finish the dish.
After taking a taste, Garten pointed out how flavorful the recipe is. "This is one big bowl of comfort," she noted.
The full recipe is available on the Food Network website.
RELATED: Barefoot Contessa Ina Garten Has an Easy Way to Cook Perfect Shrimp