Ina Garten's 'Easiest Ever' Dessert 'Requires No Cooking at All'
Ina Garten doesn't shy away from taking a shortcut here or there when it comes to entertaining. Her easy dessert idea is perfect for saving time in the kitchen and guests will be impressed, even if it is an entirely store-bought option.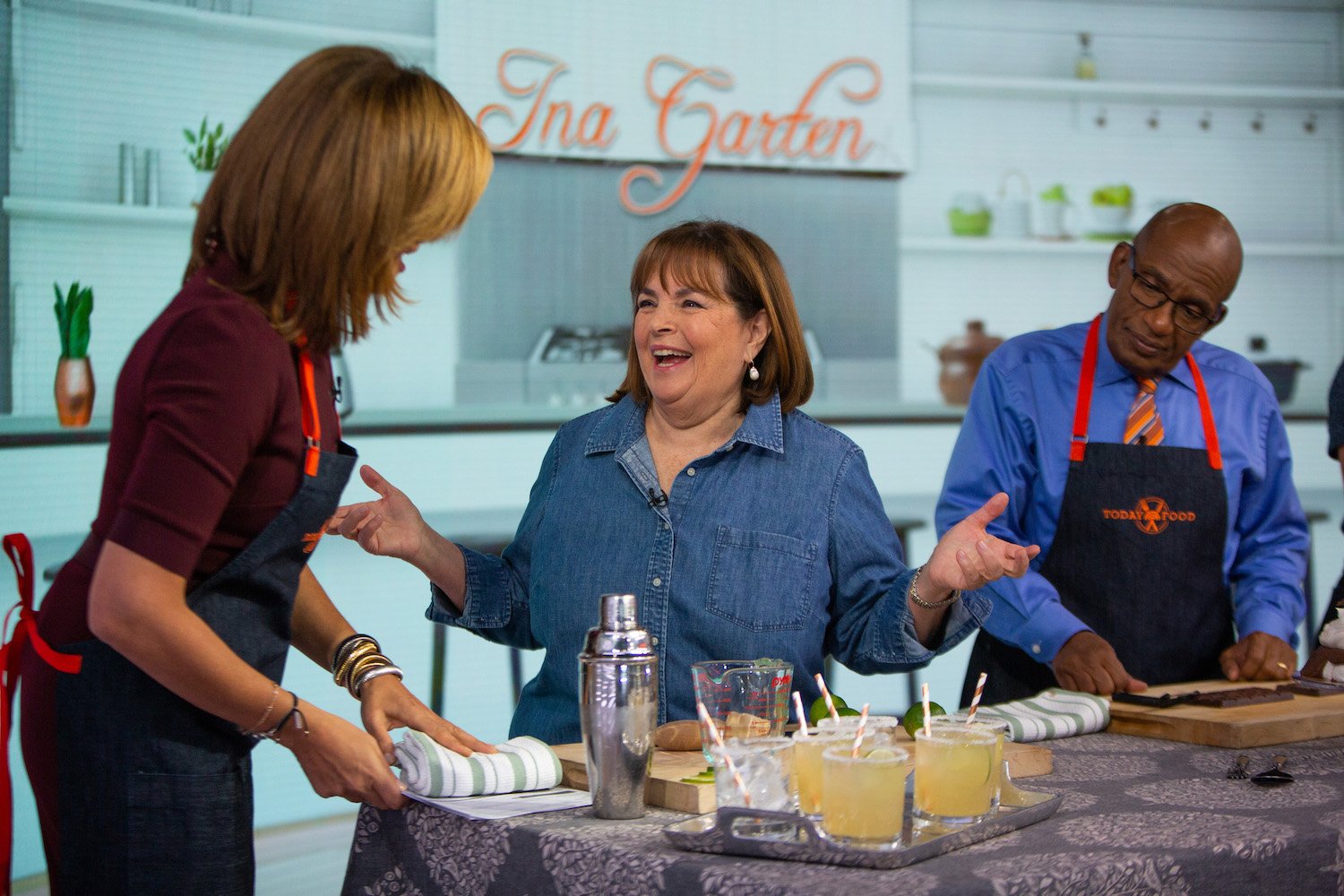 Ina Garten shares a dessert idea that 'requires no cooking at all'
Garten firmly believes the focus should be on spending quality time with your guests so she's been known to use a store-bought shortcut to make entertaining easy.
The Barefoot Contessa star explained why her limoncello and ice cream with biscotti recipe is such a perfect dessert. "Dressing up store-bought ice cream is one of the easiest ways to serve a fast yet impressive dessert," she explained in a recipe posted on the Today website. "Here, rich vanilla ice cream is topped with chilled lemon liqueur and served with a crisp biscotti cookie."
She added, "The liqueur adds a pop of color and bright flavor while the biscotti gives the treat a pleasant crunch."
The "recipe" couldn't be simpler. She put 2 scoops of ice cream in a bowl, drizzled it with limoncello, and served a piece of biscotti on the side.
When she demonstrated how to make the dessert on the Today show, she put it together in seconds. "And that's dessert," she said. "And everybody will lose their minds."
The 'Barefoot Contessa' star lets guests build their dessert
Garten demonstrated how to make the recipe on an episode of Barefoot Contessa, noting how the "dessert is the easiest ever … It's fabulous and requires no cooking at all."
She let her guest have fun and personalize the dessert to their tastes. "It's vanilla ice cream and I froze them in the glasses with frozen limoncello," she explained. "I'm going to let everyone pour their own limoncello. And biscotti to go with it. I mean, how Italian is this dessert?"
Her friends were impressed with the presentation of ice cream bowls on a tray with the limoncello and biscotti. Garten quipped, "I spent a lot of time working on this dessert." Each guest took a bowl of ice cream, placed a biscotti in the bowl, and poured over the limoncello.
The recipe is available on the Food Network website.
Ina Garten said the best part of entertaining isn't the food
Garten shared her philosophy about cooking and entertaining in a video promoting the cookbook Cooking for Jeffrey in 2016. While she loves cooking for her husband, she also explained why entertaining friends has more to do with the experience rather than what's on the menu.
"The thing I like most about cooking is actually that when you cook, everybody shows up," Garten said. "It's not really the cooking part, it's the community part."
She continued, "One of the things I think people get really worked up about is doing a meal that impresses everybody."
The Food Network host keeps the menu simple to reduce any dinner party stress. "What I try and do is something where you can buy really simple ingredients, cook something really simple, and everybody loves it," she explained. "I love to take an idea of something I love, like lemon chicken, and just make it as simple as it can possibly be and as delicious."
RELATED: 'Barefoot Contessa': 3 of Ina Garten's Easiest Appetizers Are Surprisingly Simple Store-Bought Snacks