Ina Garten's Easiest Thanksgiving Turkey Recipe Uses a 'Secret Little Cheat'
Ina Garten has an easy Thanksgiving turkey recipe that she claims will make you never cook a turkey the old-fashioned way again. The Barefoot Contessa star has two different turkey roulade options that are beautiful and flavorful.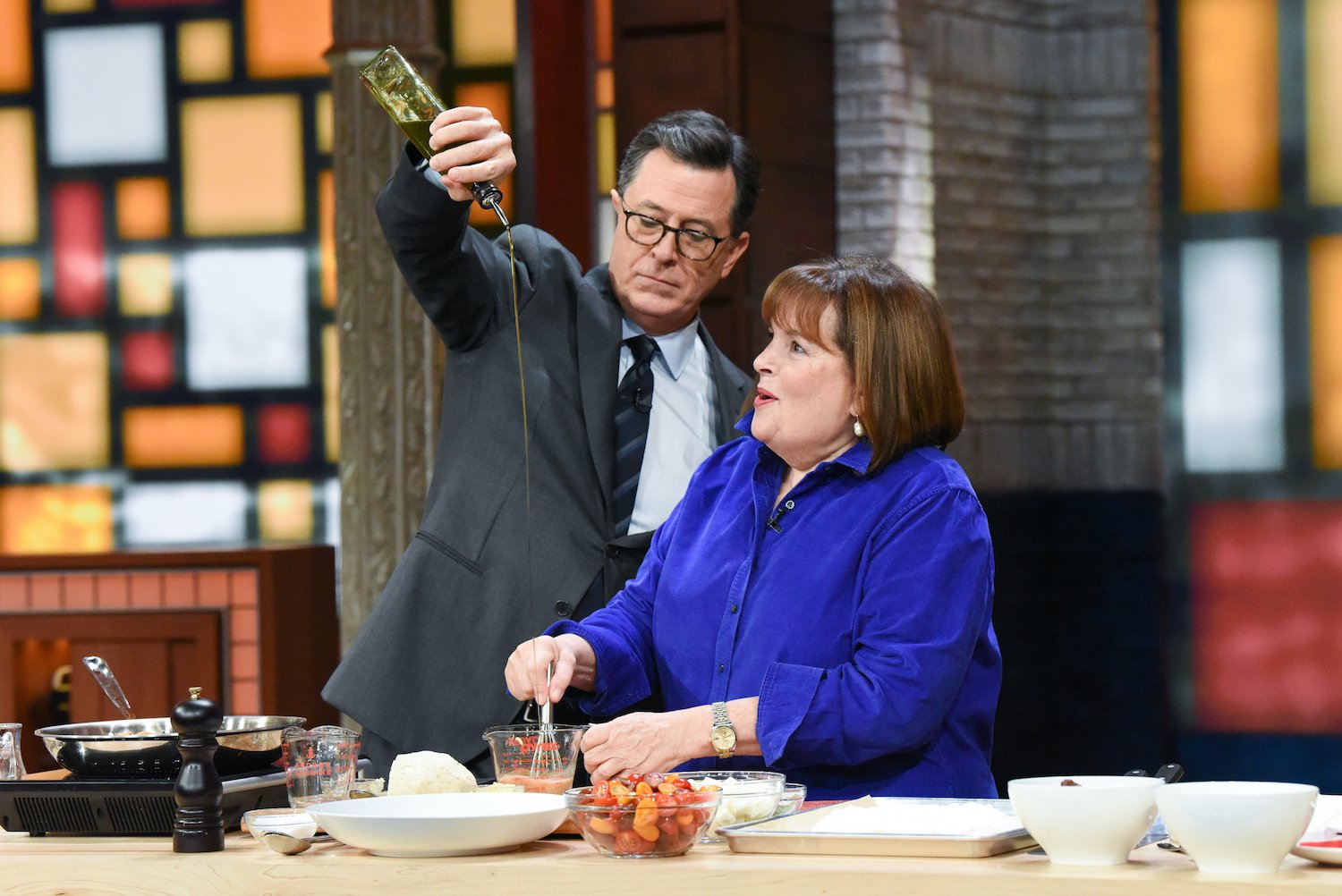 Ina Garten makes a simple roast Thanksgiving turkey roulade
Garten demonstrated how to make her roast turkey roulade on an episode of Barefoot Contessa. "I'm making a boneless turkey breast stuffed with fig and cranberry stuffing — so delicious," she explained.
The Food Network host started making the stuffing by adding dried figs, dried cranberries, apple brandy, and water to a pot and bringing the mixture to a simmer.
In a saute pan, she melted butter and added onions and celery. "Onions are really the beginning of anything that's got lots of flavor that's savory," Garten explained. She simmered the mixture for 5 to 10 minutes until the vegetables were tender.
Garten shared that Thanksgiving turkey gets a boost from sausage "to make a really flavorful stuffing," otherwise it's "fairly bland."
She added, "I like to mix sweet and hot [sausage], half and half. I don't like it too sweet, I don't like it too hot, so I figure half and half is just perfect … but if you like it hot, go for it."
Garten cooked the sausage until it was browned, about 10 minutes, breaking it up while it cooked. Then she added the dried cranberries and figs, fresh rosemary, and toasted pine nuts.
Garten has a 'secret little cheat' for her turkey recipe
Garten shared that she leans on a store-bought ingredient for the stuffing. "This is my secret little cheat — packaged bread stuffing, herbed bread stuffing from the store. And it's just so easy," the Barefoot Contessa star shared. "So much easier than cutting up all that bread. And it's really good."
She poured the bread crumbs into a bowl then added the mixture of figs, sausage, cranberries, onions, and celery.
Garten added chicken stock, an egg, salt, and pepper. "No point in making stuffing if it's really dry," she explained. "You want it to be so moist." While stirring the ingredients all together, she said, "Does that look like good stuffing or what?"
Garten prepared the turkey next. "I've asked the butcher to give me a boneless turkey breast, which is actually two halves," she explained. "It's not just one, so it's big, with the skin still on."
She pointed out the beauty of cooking a turkey breast. "You know, one of the great things about this is that, usually with a whole turkey, by the time the dark meat is cooked, the white meat is dry as a bone," Garten explained. "And everybody likes the light meat anyway. So in this case, it's just light meat."
She sprinkled the meat with salt and pepper on the inside, then spread the stuffing along the center, and rolled the turkey from one end. "This is why it's important to have the skin on it," the Barefoot Contessa star said. "Because on the outside, it's going to get nice and brown. The skin's going to be just gorgeous."
Garten used butcher string to tie the meat securely and brushed the top with butter, then sprinkled it with salt and pepper. She cooked it in a 325 degree Fahrenheit oven for just under two hours.
The full recipe is available on the Food Network website.
The 'Barefoot Contessa' star makes a Tuscan turkey roulade, too
Garten also makes another turkey roulade recipe with a Tuscan twist. Rather than using traditional stuffing, she fills the turkey with onions, fennel seeds, garlic, rosemary, and sage.
Garten assembles the turkey the same way, seasoning the meat with salt and pepper before adding butter, the onion mixure, and slices of prosciutto. She rolls the meat and secures it with kitchen twine. "The tighter you tie it the more evenly it's going to cook, so really give it a nice yank when you're tying it," she advised.
In this recipe, the Barefoot Contessa star places the turkey on a rack set in a roasting pan, then pats it dry with a paper towel and brushes it with olive oil. She sprinkles the meat with salt and pepper and pours wine and water in the bottom of the pan.
Garten roasts the turkey in a 350-degree oven for an hour and 45 minutes. After roasting, she covers it with foil and allows the meat to rest for 15 minutes. "This is so moist it doesn't even need gravy," she shared on her cooking show.
"I would say, once you've made a turkey this way, you're never going back to the old-fashioned way," Garten added.
You can find the recipe on the Food Network website.