Ina Garten's Easy Chicken Stock Recipe Is 'Liquid Gold': 'It's Good for You and Boosts Your Immune System,' According to the Barefoot Contessa
Ina Garten typically uses homemade chicken stock in recipes that call for stock, though she does say the store-bought variety works too. While some people may be intimidated by the idea of making chicken stock, the Barefoot Contessa star's recipe is quite easy and it makes enough to store in the freezer for future use.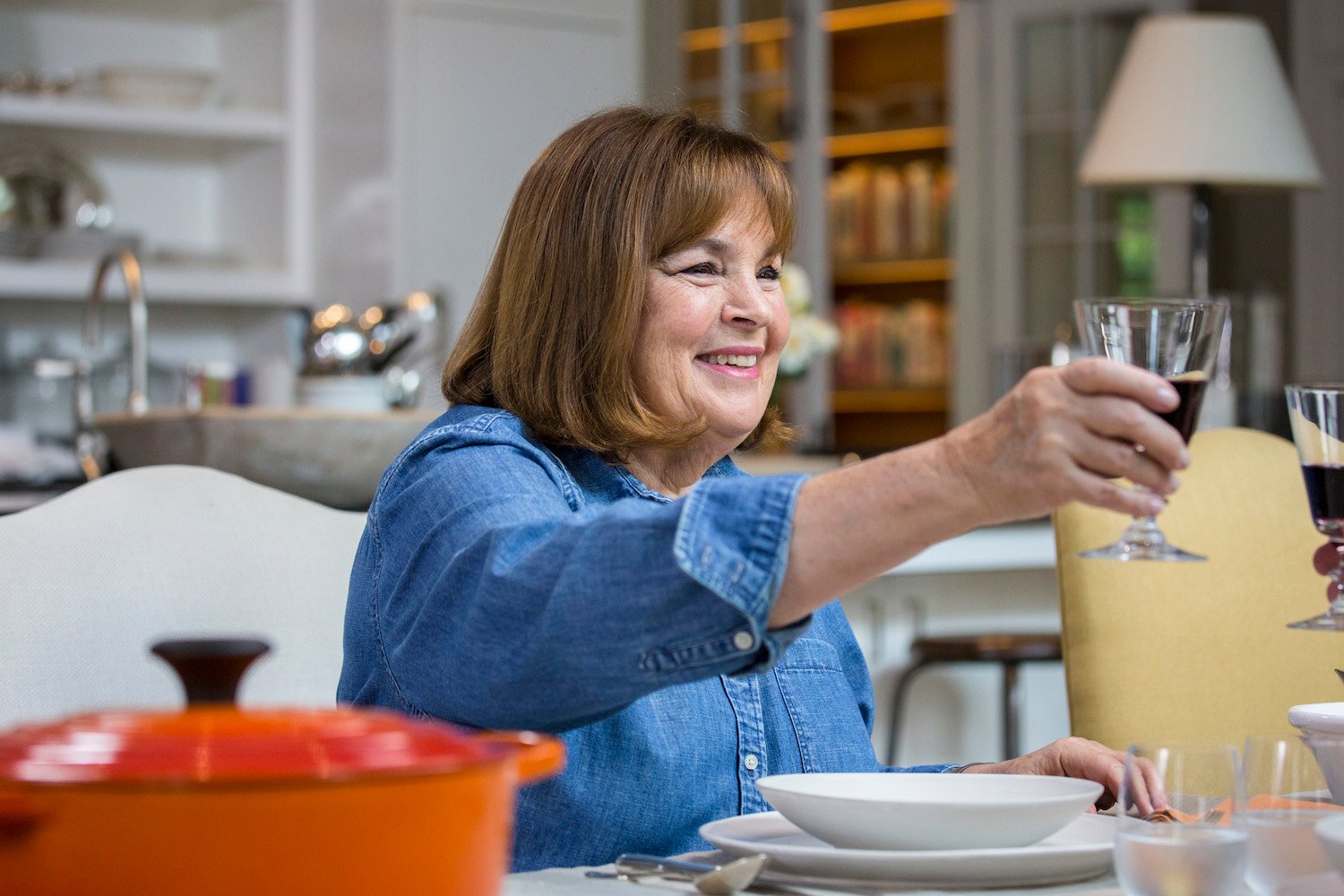 Ina Garten said homemade chicken stock 'boosts your immune system'
In addition to adding so much flavor to recipes, homemade chicken stock is great for your immune system.
In a March 2020 Instagram post, Garten shared a photo of her chicken stock ingredients ready to simmer away. "Time to make chicken stock! The house smells great and then I'll have it to make soups and stews for the rest of the week," she wrote in the caption.
Garten added, "Plus it's good for you and it boosts your immune system! If you're missing an ingredient, just add more carrots or onions!"
On her Barefoot Contessa website, Garten shared that homemade soup is "healing" and using homemade chicken stock is a game-changer. "When it's freezing cold outside and I'm spending the day at home, I fill a huge pot with chickens, onions, carrots, celery, garlic, fresh herbs, and water and let the stock simmer away for four hours," she wrote. "Not only does the house smell wonderful but I end up with six or seven quarts of delicious stock (it's so good we call it 'liquid gold!') to use in soups and stews for the next few months."
Garten added, "It's so easy to make, and you won't believe how flavorful it is compared to store-bought stock."
In her Barefoot Contessa Foolproof cookbook, Garten explained why this recipe is so perfect. "I have to include this recipe in every book because it's the basis for so many of my dishes," she wrote. "Of course, you can use canned stock or broth but this is easy to make and the difference in flavor is astonishing."
Ina Garten's chicken stock takes some time, but is worth the effort
Garten demonstrated how to make her recipe on an episode of Barefoot Contessa. "Chicken stock may sound like a complicated thing to make but basically throw everything in a big pot, turn on the heat, and wait four hours," she said.
The Food Network host placed three 5-pound roasting chickens in a 16- to 20-quart stockpot and added 3 unpeeled and quartered onions, 6 unpeeled and halved carrots, 4 stalks of celery, 4 unpeeled parsnips, parsley, thyme, dill, a head of unpeeled garlic cut in half, salt, and whole peppercorns.
Garten added 7 quarts of water and brought the mixture to a boil. Then she simmered it, uncovered, for 4 hours. She strained the contents in a colander, promising, "And you have the most delicious chicken stock you can imagine."
According to Garten's recipe instructions, chill the stock overnight and remove the surface fat the next day. It can then be poured into containers and placed in the freezer to use in other recipes.
The 'Barefoot Contessa' star answered questions about her stock recipe
Garten answered questions about her recipe in the 'Ask Ina' section of the Barefoot Contessa website. "Hi Ina, I LOVE your recipe for chicken stock. However, even though I follow your recipe to a T, my chicken stock never fully congeals and turns gelatinous the way yours does. Am I doing something wrong?" a fan asked.
Garten answered, "The gelatin in the bones should only congeal the chicken when it's refrigerated. At room temperature, or when heated, the stock will return to a liquid."
As for how long the stock lasts in the freezer, Garten explained, "Most soups and chicken stock will last in the freezer for 4 to 6 months."