Ina Garten's Easy Salmon Recipe Is a Fancy Weeknight Dinner Idea
Ina Garten makes an easy weeknight dinner that's also special and fancy enough to serve to guests when entertaining. The Barefoot Contessa star's seared salmon with spicy red pepper aioli is ready in 20 minutes and is so delicious.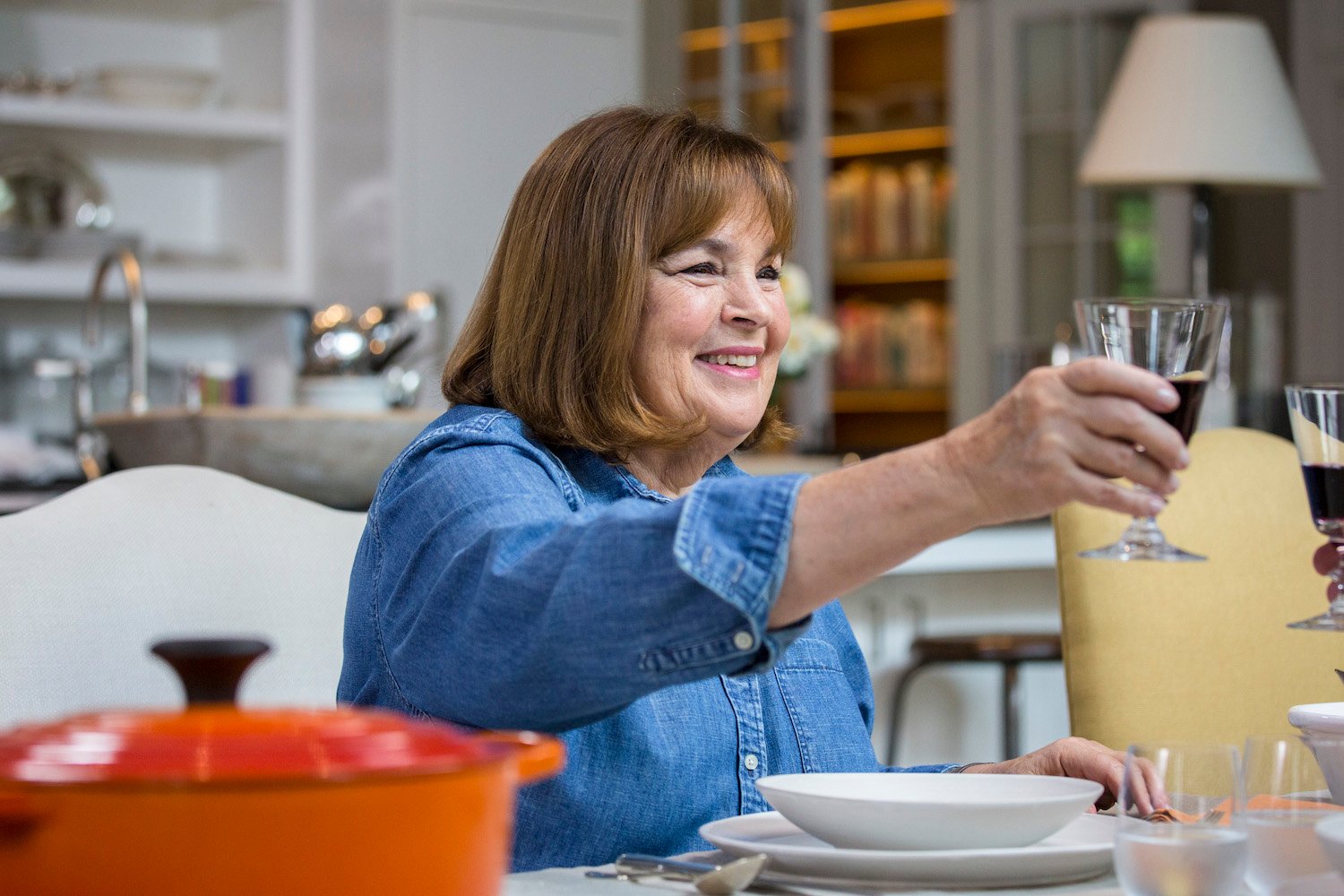 Ina Garten has an easy technique for perfectly cooked salmon
Garten demonstrated an easy foolproof technique for cooking salmon on an episode of Barefoot Contessa. "For me, the gold standard of a recipe is: Is it easy enough to make for weeknight dinner but special enough to serve to company?" she said. "That's exactly what I'm gonna make right now."
Garten continued, "Seared salmon with red pepper aioli sounds a little fancy but it's a great weeknight meal. And I'm gonna show you how I sear the salmon, kind of the way I do steakhouse steaks. I'm going to sear it on top of the stove, then I'm gonna cook it in the oven."
She added, "And that way it comes out perfectly every single time."
Garten brushed olive oil over the tops of the skinless salmon fillets then seasoned them generously with salt and pepper. The Food Network host noted she "preheated a cast iron skillet so it's nice and hot."
She explained, "I'm just gonna sear it on one side" to start. Garten placed the salmon, rounded side down, into the pan. She recommended not crowding the salmon so they "really cook evenly."
"Let me show you my system that guarantees it's perfectly cooked every time," she explained. "I'll leave the fillets to cook in the skillet without moving them for two minutes. Then turn the salmon rounded side up. Put the skillet into a 400 degree oven and roast the salmon for just 3 minutes."
Once the salmon cooked, she shared, "They'll still be rare in the center. Cover the pan loosely with aluminum foil and let the salmon rest for 3 minutes for medium rare."
She makes an easy spicy sauce that pairs perfectly with salmon
While the salmon was resting, Garten made a delicious sauce. "So aioli is this Provencal sauce where you make mayonnaise with lots of garlic," she explained. "It's absolutely delicious. But I'm gonna take a shortcut and use store-bought mayonnaise for it and flavor it."
She added garlic, chipotle peppers, lime juice, roasted red peppers, mayonnaise, salt, and pepper to a food processor and pureed the ingredients until smooth. "This is gonna kind of be really spicy and good with the salmon," Garten shared. "I love the chipotle with salmon. Salmon's a pretty strong fish so it can handle a really strong sauce."
She added, "For a weeknight sauce, that's pretty fast, right?"
The 'Barefoot Contessa' star's salmon looks impressive
Garten placed the salmon on a platter. "It's really important to let any kind of protein — salmon, steak, anything — to rest," she shared. "It just allows the juices to get back into the salmon and it makes such a difference."
The Barefoot Contessa star also explained why she initially cooked the salmon "rounded side down first." After it's flipped and cooked in the oven, "the seared brown side is on the top when you serve it — it always looks best that way," she said.
Garten drizzled the aioli over the top of the salmon and served the remainder of the sauce on the side. "And this is a really delicious, really special weeknight meal because it's so fast," she said. "And if you serve it to company, they won't know. They'll think you worked all day."
The full recipe is available on the Food Network website.
RELATED: Ina Garten's Advice for Flawless Entertaining Includes 1 Easy Shortcut That's So Barefoot Contessa