Ina Garten Has an Easy Trick for 'Impressive' Cake Decorating 'Without a Lot of Extra Effort'
Ina Garten doesn't typically go big when decorating cakes — at most, she makes beautiful swirls with the frosting or tops desserts with a few curls of shaved chocolate. The Barefoot Contessa star does, however, have a beautiful cake decorating trick that she says gives an "impressive" result "without a lot of extra effort."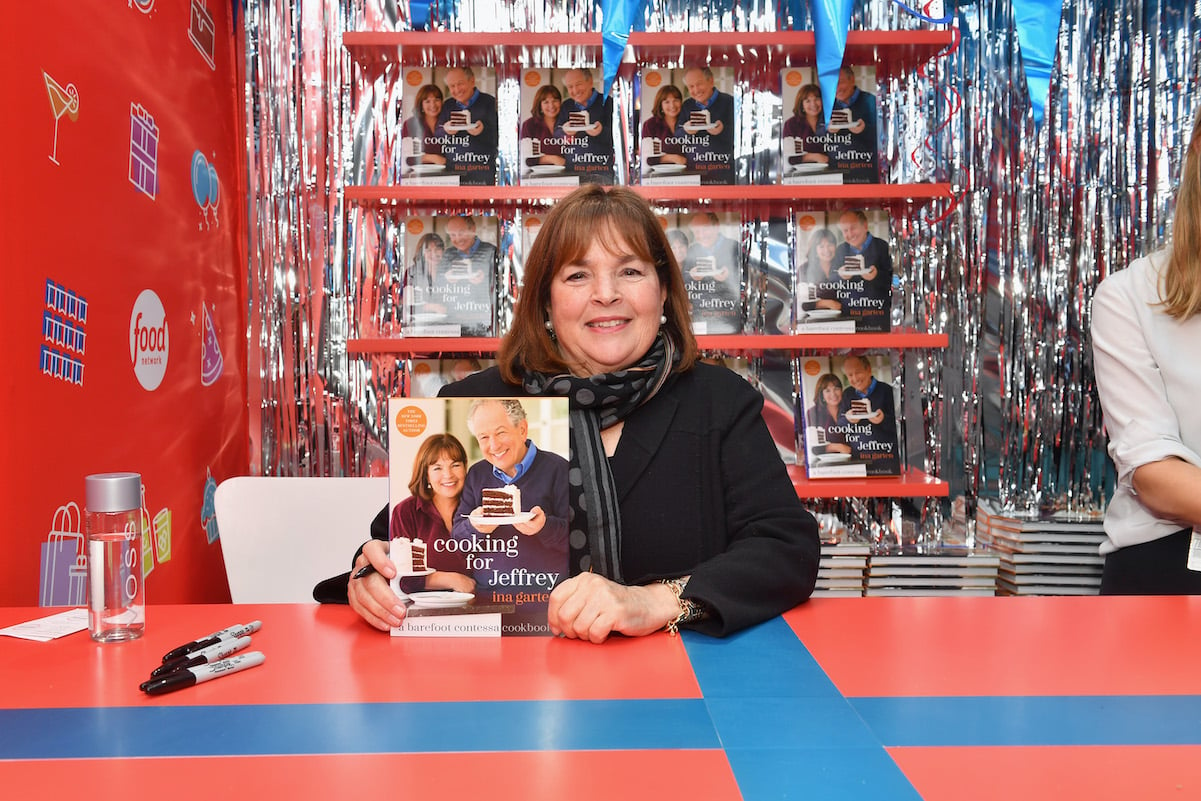 Ina Garten found the perfect way to decorate this Barefoot Contessa classic cake
Garten explained in her cookbook Cook Like a Pro: Recipes and Tips for Home Cooks how she came to decorate her chocolate ganache cake and it dates back to the days of owning a specialty food store.
"When the baker didn't show up for work one night and I had to make 50 chocolate chevron cakes, I learned the fastest and best way to bake a cake that looks impressive without a lot of extra effort," Garten wrote.
The Food Network host demonstrated her chocolate ganache cupcakes on her cooking show and explained more about how in demand the dessert was at her shop.
"Chocolate ganache cake is such a Barefoot Contessa classic," she explained. "We made it into wedding cakes for 600 people, we've made it into individual ganache cakes, but what everybody remembers most is the chocolate ganache cupcakes with a little candied violet on top."
Ina Garten demonstrates how to decorate a cake with the chevron design
Garten's cake uses a ganache recipe that combines heavy cream, chocolate chips, and instant coffee in a bowl set over a pot of simmering water. The ingredients are stirred until melted, combined, and shiny.
The ganache topping can be poured over an 8 or 9-inch chocolate cake, which she sets on a wire rack on a sheet pan so the icing can drip down the cake.
The chevron pattern, as Garten said, looks elegant but is so simple.
The white icing combines confectioners' sugar with water. Then it's added to a pastry bag fitted with a small round tip. Garten demonstrated how to pipe the icing onto the ganache-covered cake, first making six or seven straight lines. She then dragged the icing lightly with the backside of a knife in alternating directions.
RELATED: Ina Garten's Brownies Recipe Uses This 'Magic' Ingredient She Says Enhances the Chocolate Flavor
Ina Garten's flag cake has a more involved decorating technique
Garten's flag cake is the exception to her typically simple cake decorating, with a more involved technique that perfectly captures the American flag.
Garten bakes a large half sheet cake and makes a delicious cream cheese frosting, using one part of the icing as the base and reserving the rest to pipe on the flag design. She places blueberries in the upper corner and then alternates two rows of raspberries and two rows of piped icing to create the stripes. Garten then pipes stars in the corner, with the berries making a blue background.
The Barefoot Contessa star's flag cake may be more involved than her other decorating techniques but the end result is worth the extra steps.