Ina Garten Reveals the Special 'Technique' That Guarantees Light, Flaky Scones
Ina Garten knows how to make a good scone. Scones often get a bad rap because they're sometimes hard, crusty, and dry, but the Barefoot Contessa has a tried and true technique for getting them to turn out light and flaky.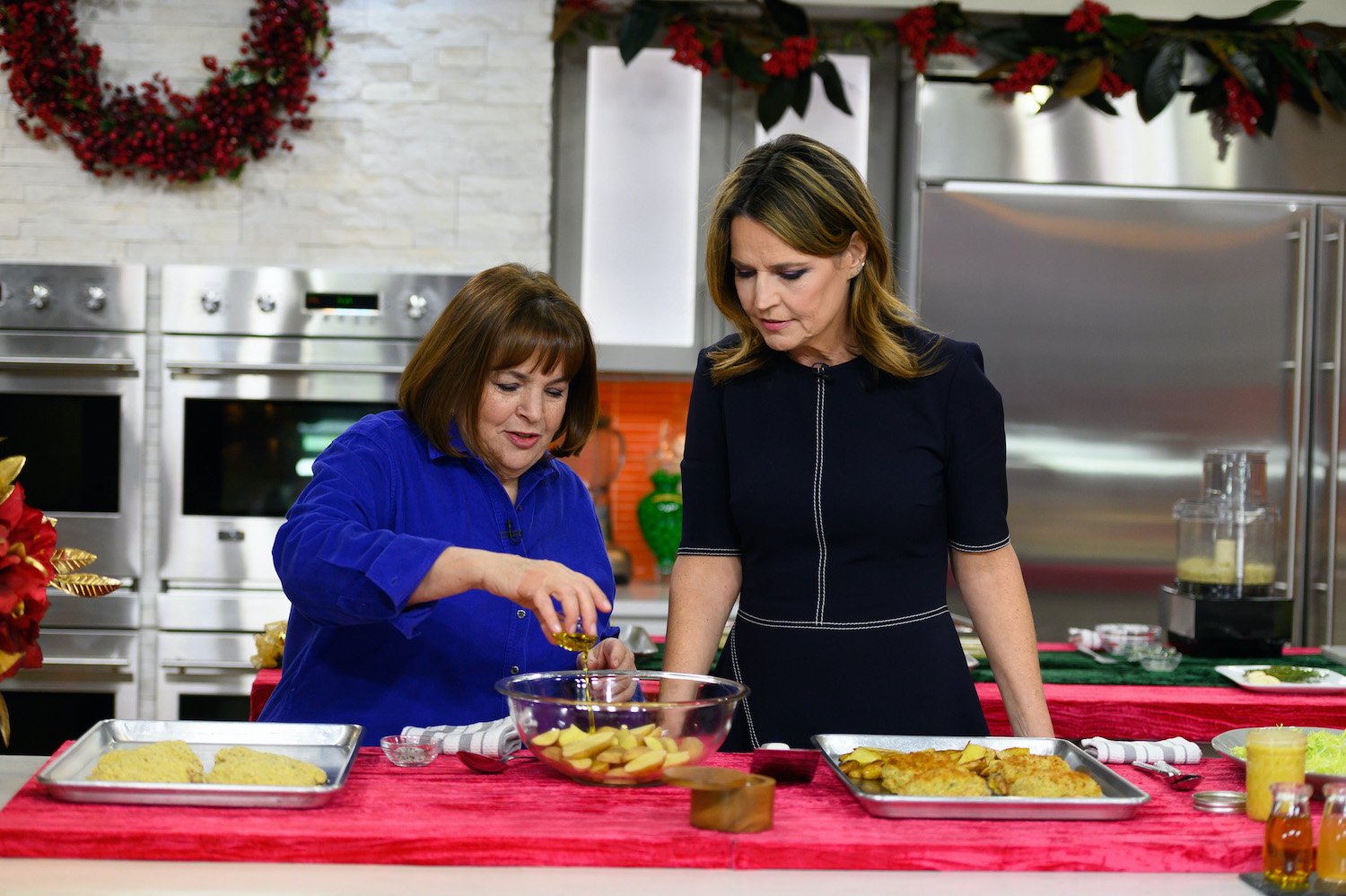 Ina Garten talks scones with Carla Lalli Music
During a 2018 Bon Appetit Test Kitchen video, Garten walked Carla Lalli Music through the steps for making her chocolate pecan scones recipe from her Cook Like a Pro cookbook.
Garten explained how she loves to make the recipe and noted that she has a tip that makes her scones perfectly light and delicious.
"This is like one of my favorite things to make, actually, because there's a little technique in the middle of it that makes all the difference between hockey pucks and light, flaky scones," Garten noted.
Lalli Music added how "people talk so much crap about scones," with Garten guessing it's probably "because they usually taste like hockey pucks."
RELATED: Ina Garten's 'Perfect Pie Crust' Is Foolproof and Rated Better Than Martha Stewart's Recipe
Ina Garten has tips and techniques for light and flaky scones
The two got down to business with the recipe, beginning with the flour, which Garten fluffed a bit in the container before scooping, rather than dealing with sifting.
She remarked how not packing the flour into the measuring cup "makes all the difference in the world" when it comes to baking.
Garten added four cups of flour in the mixer, as well as two tablespoons of sugar, two tablespoons of baking powder, and four teaspoons of salt. Meanwhile, Lalli Music mixed a small amount of flour with the pecans and chocolate, as the Barefoot Contessa explained, "It keeps it from sinking to the bottom."
The secret to her flaky scone is that the pastry dough is made with cold pieces of butter, rather than softened butter.
In her cookbook (via Bon Appetit), Garten explained the reason behind the cold butter. "Okay, I have a thing about scones. When they're good, they're light and flaky and full of flavor," she wrote. "Be sure to use really good chocolate that you dice by hand so there are puddles of melted chocolate when you bite into them. And trust me, 4 tsp. of Diamond Crystal kosher salt may sound like a lot but it makes all the difference."
Garten continued, "Cold bits of butter in the dough ensure flaky scones. When the heat hits the bits of butter, the water in the butter turns to steam and makes the dough rise."
Ina Garten's 'Chocolate Pecan Scones' recipe
Garten's chocolate pecan scones aren't overly complicated to make, but the Barefoot Contessa site classifies the recipe as 'intermediate' level.
Ingredients
3 tablespoons plus 4 cups all-purpose flour, divided
1½ cups coarsely chopped bittersweet chocolate, such as Lindt (8 ounces)
1 cup chopped pecans
2 tablespoons sugar, plus additional for sprinkling
2 tablespoons baking powder
4 teaspoons kosher salt
1½ cups cold unsalted butter, cut into ½-inch pieces
1 cup cold heavy cream
4 extra-large eggs, lightly beaten
1 egg beaten with 2 tablespoons water or cream, for egg wash
Preheat oven to 400 degrees. Line sheet pans with parchment paper.
Combine chocolate and pecans with 3 tablespoons of flour in a small bowl and set aside.
Combine dry ingredients in a stand mixer, beating 4 cups flour, baking powder, salt, and 2 tablespoons sugar on a low setting. Add cold diced butter, beating at low speed until the butter forms pea-sized pieces.
In a separate bowl, combine eggs and cream and beat lightly, then add to the mixer running on low speed until just blended. Add the chocolate nut mixture and beat until combined.
Place dough on floured surface, knead just a few times, dusting with flour, then use a rolling pin dusted with flour to roll the dough until ¾"–1″ thick. Cut dough with a 3″ cutter, being careful not to twist the cutter. Place scones on sheet pans, brush with egg wash, and sprinkle with sugar.
Bake for 20 minutes, rotating pans top to bottom after 10 minutes. Scones are done when golden brown and top springs back when touched.