Ina Garten Makes Unique Christmas Cookies Out of Leftover Cookie Dough Scraps
Ina Garten has the perfect solution for leftover Christmas cookie dough. The 'Barefoot Contessa' star smooshes the scraps of dough together, rolls it out, and cuts it into rectangles so there's no waste. She even gives it a simple and elegant decoration that will look beautiful on a cookie platter.
Ina Garten has an easy hack for using up leftover Christmas cookie dough. The Barefoot Contessa star shared the best way to minimize waste during baking so there are even more uniquely decorated cookies to enjoy.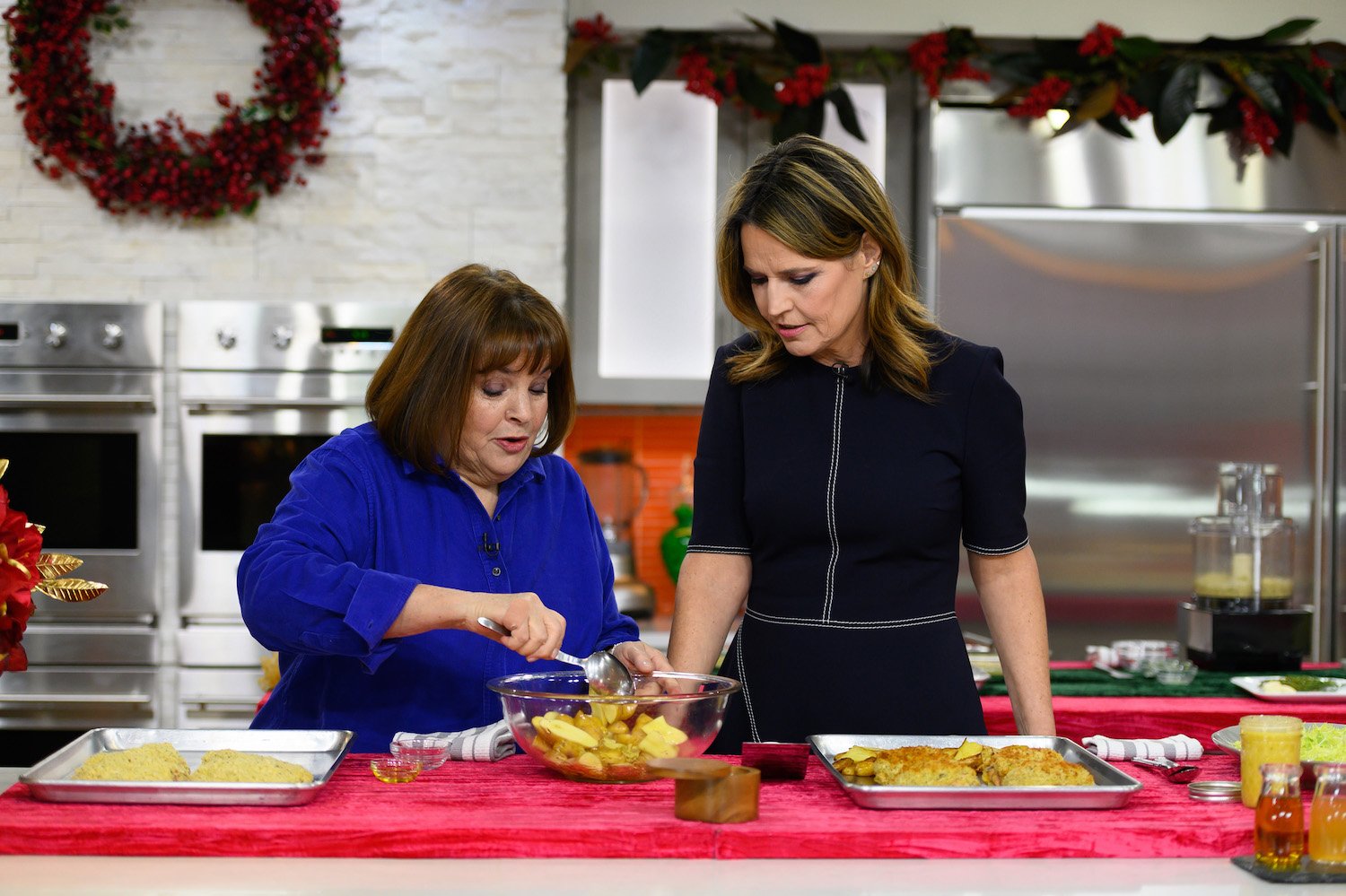 Ina Garten uses 1 cookie dough for a variety of Christmas cookies
Garten shared her Christmas cookie tips and tricks during a 2020 appearance on the Today show, including how one shortbread dough can make a variety of treats.
To save time, the Barefoot Contessa star finds that a simple shortbread recipe can be cut into different shapes and decorated in unique ways. "So for Christmas, everybody wants to make lots of different cookies, but I don't want to make a lot of different doughs," Garten explained.
She continued, "So what I do is I take shortbread dough, which is basically four ingredients plus salt — butter, sugar, flour, vanilla, you've probably got it at home. And I make shortbread dough and I then I make lots of different cookies out of it."
When she rolls out the dough, the Barefoot Contessa star cuts various shapes and gives them each a different topping or decoration. She adds glaze and sprinkles to star-shaped cookies, adds glaze and silver balls to the wreath cookies, and dips heart-shaped cookies in chocolate.
The Food Network host also makes linzer cookies from the dough — with a "window" that shows the jam inside. "That's my particular favorite," Garten said. "There's something about shortbread and raspberries together that I just think is incredibly delicious. Simple but really good."
The 'Barefoot Contessa' star has the perfect solution for leftover cookie dough
Garten doesn't let any of the cookie dough go to waste. She combines the leftover scraps, rolls them out, and makes them into simple rectangle cookies.
For a topping, she keeps it simple, yet elegant. Garten places a dab of melted chocolate in the center of each cookie and tops it with a pecan.
Garten shared a small but delicious tip in her recipe note. "To give pecans extra flavor, roast them on a baking sheet at 350 degrees Fahrenheit for 8 minutes before dicing," she explained.
She also has an easy fix if the dough becomes crumbly when forming the scraps back into a usable piece — add a teaspoon of warm water.
Garten's solution is perfect because it only requires the dough scraps to be combined and rolled out once. This minimizes the potential of overworking the dough.
Ina Garten shared her best Christmas cookie baking tips
During the Today segment, Garten also offered her pro-tips for the best Christmas cookies. She's a fan of chilling the dough before rolling it out and has determined the sweet spot for the best outcome.
"15 to 30 minutes, tops," she advised. "You want it just chilled enough so the butter's cold and then roll it out and it will be really easy."
Garten added, "It's better if you cut them out and then chill them and bake them," which results in "sharper edges."
Once cut into shapes, the cookies can be kept in a container in the refrigerator and baked later in smaller batches.