Ina Garten's 10 Best Vegetarian Dishes to Start Your Year Off Right
Ina Garten's cookbooks are a great resource for those looking to start off the new year eating right. Whether you are following a meat-free diet or looking to add more veggies to the dinner rotation, the Barefoot Contessa has a number of recipes to choose from. Here are our picks for the 10 best vegetarian dishes from the Food Network star.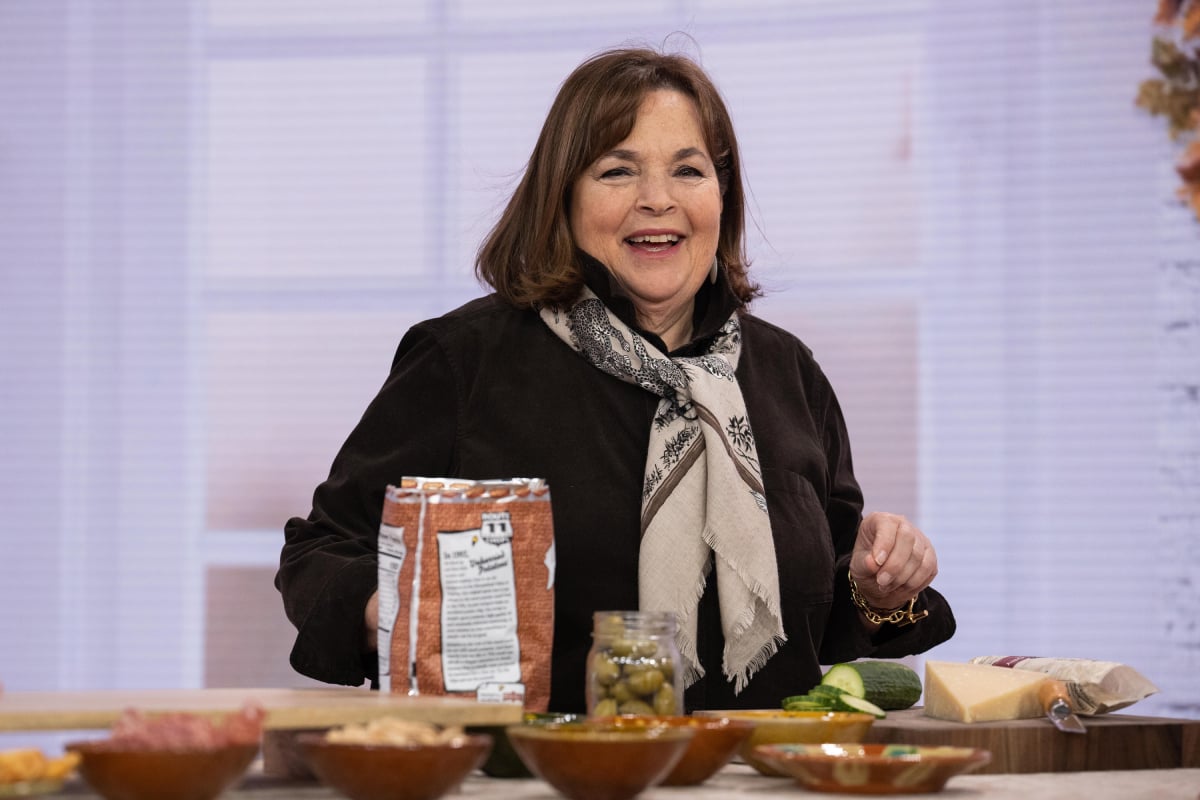 10. Ina Garten's savory Herbed Baked Eggs are seasoned to perfection
For a savory breakfast, Garten's recipe for Herbed Baked Eggs calls for butter and heavy cream. She seasons the eggs with rosemary, thyme, garlic, parsley, parmesan, salt, and pepper. For best results with this recipe, we recommend using mini gratin dishes.
This dish is the perfect addition to a yummy, healthy brunch and pairs well with the next item on our list.
9. Challah Bread French Toast is a vegetarian way to start the day
For a sweet, fluffy vegetarian breakfast, try the Barefoot Contessa's Challah Bread French Toast. It features honey, orange zest, half-and-half, vanilla extract, butter, and eggs. To top it off, Ina recommends maple syrup, powdered sugar, and raspberry preserves.
"I've made this French toast recipe many times. It's my go-to!" one fan shared. Another added, "Definitely the best french toast I've ever had!"
8. Zucchini and Goat Cheese Tart is a healthier pizza alternative
We all love pizza but know it's never the healthiest of food options. That's why Ina has blessed us with her vegetarian recipe for Zucchini and Goat Cheese Tart. It features thin slices of zucchini layered on top of lemony herbed goat cheese that is baked on top of a simple yet yummy butter crust. 
To make the dough, you'll need all-purpose flour, unsalted butter, kosher salt, white wine vinegar, and ice water. For the toppings, the ingredients include zucchinis, plain creamy goat cheese, thyme leaves, grated lemon zest, olive oil, kosher salt, and black pepper.
7. Baked Fontina is a gooey, decadent, and vegetarian cheese dip
Ina says to break out the "good" olive oil for her Baked Fontina from her cookbook How Easy Is That? The only other ingredients you'll need for this beginner recipe are Italian Fontina Val d'Aosta cheese, garlic cloves, minced fresh thyme leaves, minced fresh rosemary leaves, kosher salt, freshly ground black pepper, and a crusty French baguette.
"Serve the baked Fontina family-style—right out of the oven in the cast-iron pan with crusty chunks of bread for everyone to dip," Ina says.
6. Cauliflower Gratin is a superfood side dish
Cauliflower is such a mild vegetable that it picks up the flavors of anything you add to it. With Ina's Cauliflower Gratin, you'll add bechamel sauce, Gruyere and Parmesan cheese, and a crisp sourdough bread crumb topping for a taste that's out of this world. This might be our favorite superfood side dish, and it's a fantastic alternative to serving potatoes. 
Ingredients needed for this recipe include a head of cauliflower, unsalted butter, all-purpose flour, hot milk, freshly ground black pepper, grated nutmeg, freshly grated Gruyere, freshly grated Parmesan, and fresh sourdough bread crumbs
5. Ina Garten's Roasted Veggie Lasagna is hearty and loaded with flavor
Ina has admitted that she's wrestled with "all kinds of vegetable lasagnas." She loves the flavor, but the liquid in the veggies always seems to make the lasagna watery. To solve this problem, the Barefoot Contessa star says to roast the veggies first.
Her Roasted Veggie Lasagna ⁠is loaded with eggplant, zucchini, garlic, ricotta, goat cheese, and Rao's marinara sauce. It is so hearty and loaded with flavor, it just might be your new go-to lasagna recipe.
4. Portobello Mushroom Lasagna is another vegetarian option
In addition to her Roasted Vegetable Lasagna, Ina also has another vegetarian recipe for Portobello Mushroom Lasagna. For this dish, you'll need one and a half pounds of portobello mushrooms, whole milk, unsalted butter, all-purpose flour, ground nutmeg, freshly ground black pepper, good olive oil, lasagna noodles, and freshly ground Parmesan.
"Made this lasagna for a dinner party and it got rave reviews! I prepared it the night before, refrigerated it, and then cooked it from cold for about 55 min. The no-boil lasagna noodles bathed in all the mushroom buttery juiciness and were even soft going into the oven, no problem there…Incredible lasagna, definitely storing this one away for use again!" one happy fan wrote.
3. The secret to Ina Garten's Pasta Alla Vecchia Bettola is the vodka sauce
Ina's recipe for Pasta Alla Vecchia Bettola first appeared in her Foolproof cookbook, and she describes it as a similar dish to the classic Penne alla Vodka "but with so much more flavor."
The secret to this yummy vegetarian dish is the vodka sauce. Yes, you have to roast it for an hour and a half. But the results are so worth it. This sauce is so good you should have a container on standby in the freezer at all times.
2. Vegetable Tian is a great way to eat roasted veggies
Originally published in her Barefoot in Paris cookbook back in 2004, this vegetarian recipe from Ina is a French-accented classic that looks good on the dinner table — and is equally delicious if you use the right quality of veggies.
A tian is any casserole cooked in an earthenware vessel of the same name, and it's a popular way to eat roasted veggies. Ina's Vegetable Tian recipe includes yellow onions, garlic, potatoes, zucchini, tomatoes, and grated Gruyere cheese.
"This was the most amazing dish! Came out perfect!" one reviewer wrote. A second added, "Delicious vegetable recipe with a colorful presentation with the alternating slices of tomato, potato and zucchini. Great flavor with the sautéed onions on the bottom and gruyere cheese on the top. It tasted great the second day as leftovers."
1. Outrageous Brownies are possibly Ina Garten's best vegetarian dessert
Ina's Outrageous Brownies are sweet and salty heaven. They are loaded with bitter chocolate, semisweet chocolate chips, and chopped walnuts. In addition to the butter, eggs, vanilla extract, sugar, flour, baking powder, and salt, there's also a very unexpected ingredient — instant coffee granules.
The Barefoot Contessa airs weekly on the Food Network.