Ina Garten's 'Barefoot Contessa' Cooking Show Isn't Scripted: '100% of the Dialogue Is Improvised'
"Fabulous," "How easy is that?" and "Store-bought is fine" are all things Ina Garten often says on 'Barefoot Contessa.' But the celebrity chef insists none of what she says is written for her.
Ina Garten is a Food Network star. Fans have been welcoming the 72-year-old into their homes by way of her cooking show for nearly 20 years. As the longtime host of Barefoot Contessa, Garten's no stranger to being in front of the camera.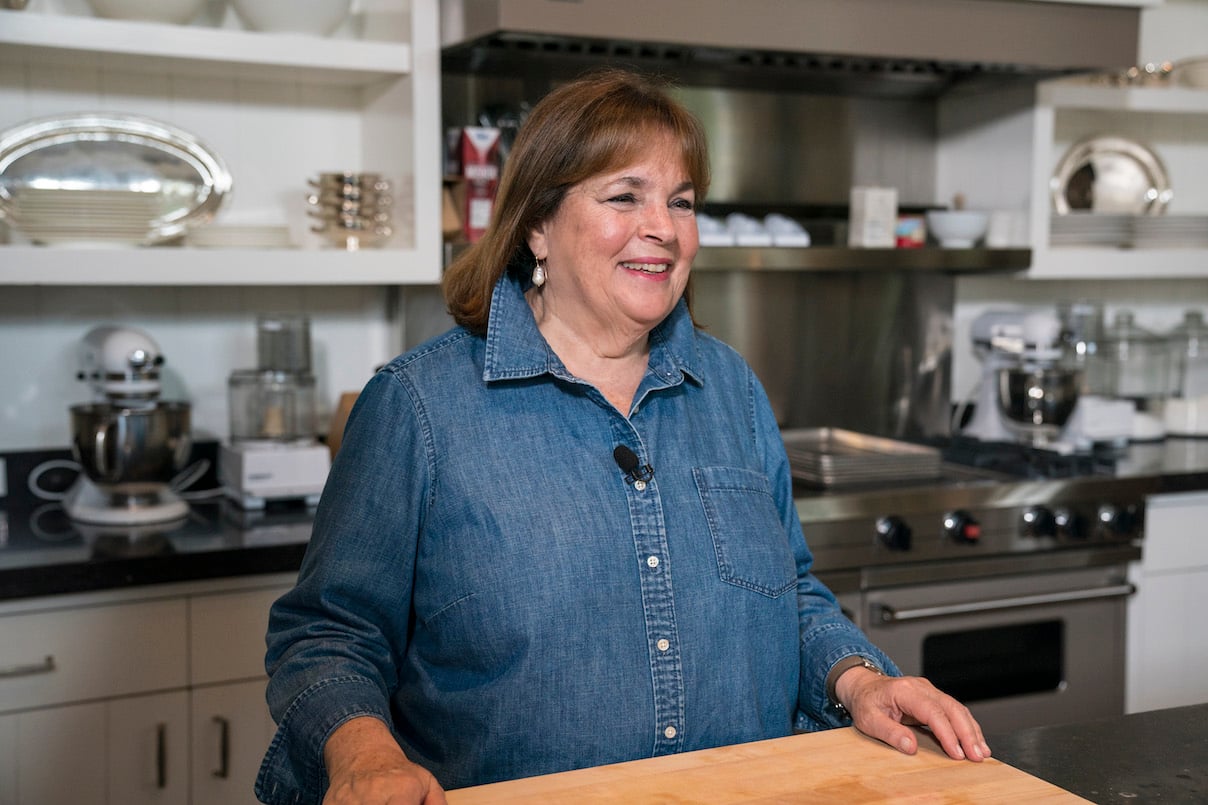 She makes recipes from her cookbooks all while saying things like "How easy is that?" and "Store-bought is fine." According to Garten, what people see on the show is simply her. There's no script, it's just her in her East Hampton "barn." 
'Barefoot Contessa' has been on the air since 2002
Garten's TV career began in late 2002. The Food Network aired the first episode of Barefoot Contessa on Nov. 30, 2002. 
The show got its name from the specialty food store Garten ran for more than 20 years. In the '90s, she sold the business to two of her employees before going on to release her first cookbook, The Barefoot Contessa Cookbook, in 1999. 
By the time the first episode of her cooking show premiered, Garten had already written a second cookbook, which hit shelves in March 2001. An extension of the recipes in her cookbooks, Garten made simple and flavorful dishes on Barefoot Contessa.
In the years since not much has changed about the show. Garten's still wearing blue shirts and the music's the same. She still cooks for friends and, of course, her longtime husband, Jeffery Garten.
The biggest difference is that Garten's become a celebrity with a large fan base and millions of Instagram followers. 
None of Ina Garten's 'dialogue' on 'Barefoot Contessa' is scripted
The Barefoot Contessa opened up about the inner workings of her cooking show during an October 2018 interview with HuffPost. 
"One-hundred percent of the dialogue is improvised," Garten said. "None of it is scripted."
She continued, saying the only thing that's planned is when food goes in the oven.  
"We work out when things go in the oven, so the food stylist can have things ready for me ― that kind of thing has to be scripted. But nothing I say is scripted," she added. 
So, all the times Garten says "good vanilla" or calls something "fabulous," it's just her being herself. 
Ina Garten didn't want to host her own cooking show
Initially, the idea of being on TV didn't interest Garten. When Food Network approached her about hosting her own show she turned them down. That happened for a while before Garten ultimately agreed to give TV a try. 
During a 2017 interview with PBS NewsHour, Garten recalled how hesitant she'd been.
"Reluctant is the understatement. I just said 'no' over and over and over again," she said before adding, "I just didn't think I'd be good on TV. I just couldn't imagine why anybody would watch it."
She continued, saying, "Food Network, fortunately, kept coming back again and again and they said, 'just try it' and I thought, 'well I'll just do 13 shows and then they'll leave me alone.' And happily, that was 15 years later … I'm still doing it."
Watch Barefoot Contessa on Food Network and on Hulu. Also, find full episodes on YouTube.