Ina Garten's Favorite 'Secret Weapon' Ingredient Is So Barefoot Contessa
Ina Garten, better known as Barefoot Contessa, is notorious for adding unexpected ingredients to whatever she's cooking. The Food Network star became massively popular thanks to her unique cooking style and can't-miss recipes ranging from basic dinner staples to fancy desserts.
And Garten is also known for concocting fun cocktails. That's what makes her most-used "secret weapon" ingredient no surprise at all.
Ina Garten didn't know she'd become a famous chef
Before she scored her coveted role hosting Barefoot Contessa on Food Network, Garten spent time working as a financial analyst at the White House. She never knew life would lead her to become a famous chef with national name recognition.
The best-selling cookbook author took her beloved husband Jeffrey's advice and decided to take a risk. It had to do with buying the specialty retail store, Barefoot Contessa, which was a huge risk.
"Jeffrey said, 'If you love it, you'll be really good at it,'" she said during an interview about her latest cookbook Modern Comfort Food. "And that's the best advice anybody ever gave me."
Garten called alcohol her 'secret weapon' ingredient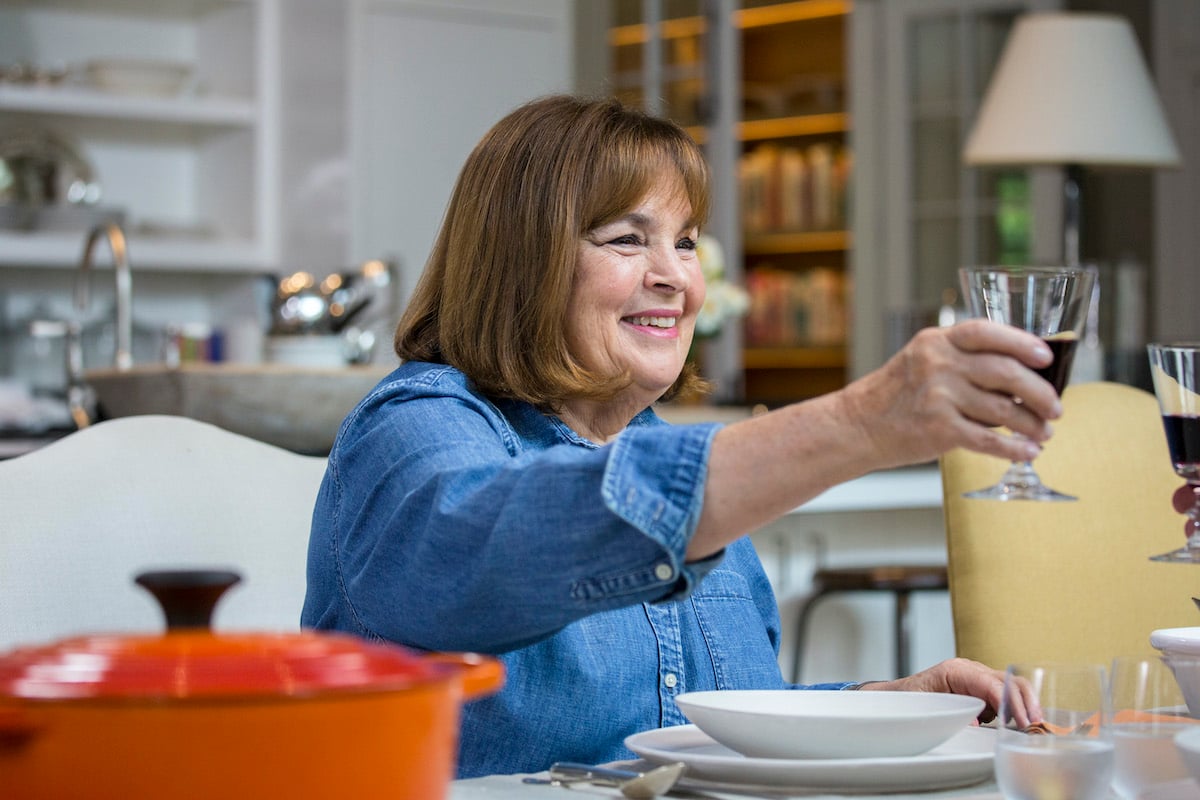 There are so many little tips and tricks Barefoot Contessa shares with her audience. But one of the funniest was when she told Food Network, "Booze is always my secret weapon!"
The 73-year-old foodie was clearly joking when she said it. But that doesn't change the fact that plenty of her most popular recipes do contain alcohol to add a little kick.
According to Mashed, Garten is well known for her Pumpkin Pie with Rum Whipped Cream, Applesauce Cake with Bourbon Raisins, and Pasta alla Vecchia Bettola with vodka, just to name a few.
The Barefoot Contessa is no stranger to alcoholic beverage recipes
One of the most exciting moments the host had during the pandemic was when Garten shared a video of herself mixing up a gigantic cocktail.
The Instagram video showed Garten having a great time making her comically large beverage and pouring it into an oversized martini glass. She joked with throughout the video tutorial, saying that she likes to make a lot of cosmopolitans in case extra guests stop by. Then she quipped, "Wait a minute, no one's stopping by."
It's not the only time Barefoot Contessa suggested alcohol to her fans, though most of the time she puts the libations in her recipes rather than enjoying them solo.
Other secret ingredients Ina Garten uses
Besides alcohol, Garten puts a few other sneaky surprises in whatever she's cooking. She adds lemon zest to her mashed potatoes for a little extra flavor that's not noticeable to the palate. She also puts butter in her applesauce which creates richness and texture. She's also known to add fruit such as raspberries for more flavor.
Overall, Barefoot Contessa isn't above experimenting with recipes until she gets them exactly right. And if that means adding alcohol as a "secret weapon," her fans just love her more for it.