Ina Garten's Ricotta Cheesecake and 2 Other Barefoot Contessa Cheesecake Recipes
Ina Garten's ricotta cheesecake is a popular Barefoot Contessa dessert. However, it's not her only cheesecake recipe. Garten has developed other cheesecake recipes during her 20-plus years as a cookbook author.
Ina Garten's Limoncello Ricotta Cheesecake
Garten's ricotta cheesecake, also known as limoncello ricotta cheesecake bars or squares, is a combination of creamy ricotta cheese and lemon liqueur. Like most Barefoot Contessa dishes, the instructions — and ingredients — are simple. 
"I actually like this instead of having a big thick wedge of cheesecake," she said on Barefoot Contessa. "This is like a light cheesecake and you get a little square and it's just perfect."
Garten makes a graham cracker crust in the food processor, one of her must-have kitchen gadgets. Then she presses the finished crust into the bottom of a baking dish. 
Her tip? "Take a metal cup and just press it down lightly," she said. "That way, you end up with an edge but not too much of a thick crust right in the corner."
As for the filling, "ricotta gives it real body," she said. Along with lemon, which lightens it, Garten's left with a "really delicious cheesecake."
Additional cheesecake tips from Garten include using room-temperature ingredients for an extra smooth filling and cooking the cheesecake in a water bath to prevent cracks. 
The Barefoot Contessa's Mixed Berry Cheesecake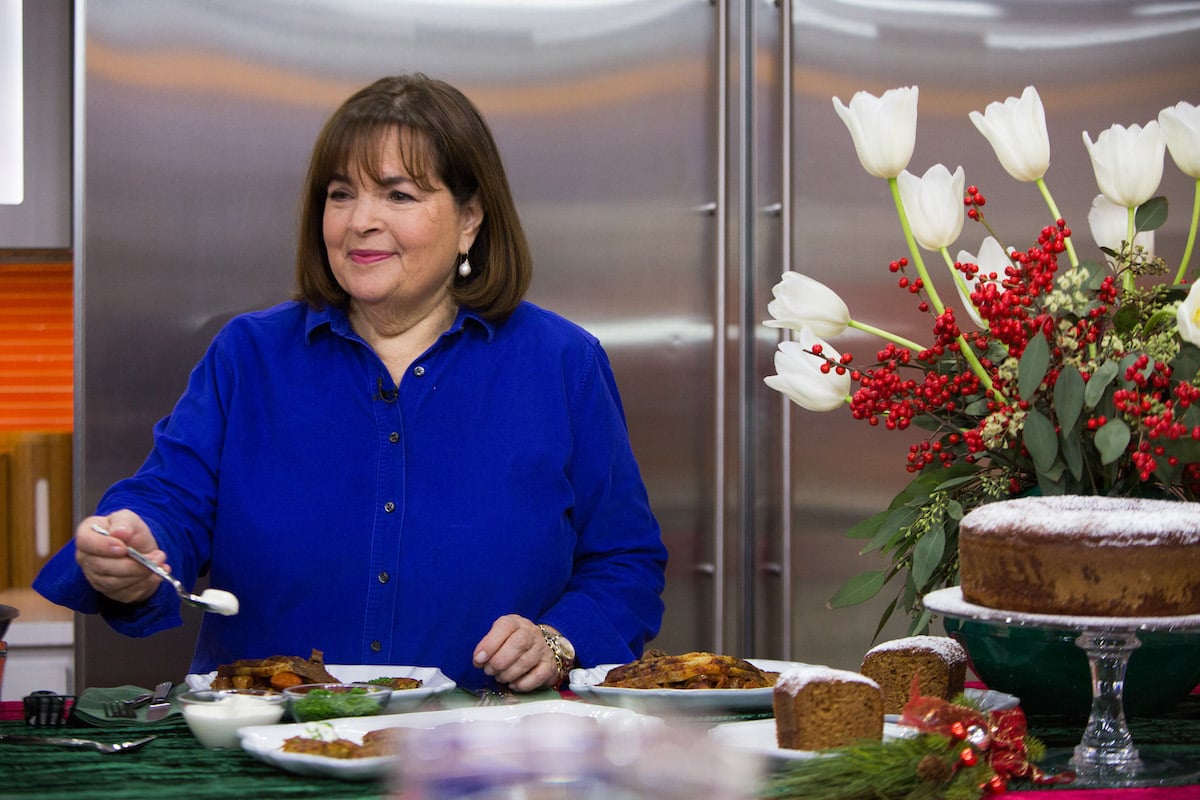 Want a show-stopping dessert? Look no further than this Barefoot Contessa cheesecake. "This has major wow factor," Garten said of her Mixed Berry Cheesecake on Barefoot Contessa, per Food Network.
The filling is similar to Garten's ricotta cheesecake. However, instead of ricotta cheese, she adds sour cream for "a little extra body." Lemon zest also goes in the filling along with "good" vanilla extract. "It's a great balance of flavors," Garten said of the cheesecake filling.
It's important to note, this particular Barefoot Contessa cheesecake recipe isn't ready in 20 minutes like Ree Drummond's no-bake cheesecake. The total cook time is 13 hours because the cheesecake has to sit overnight in the fridge. 
"Maybe a cheesecake's a bit of a waiting game but, believe me, it's worth it," Garten said. She bakes the crust, adds the filling, and puts the cheesecake back in the oven before turning off the heat. Once it comes to room temperature, the Modern Comfort Food author puts it in the fridge overnight.
The following day Garten removes the cheesecake from the pan, puts it on a platter, and makes the berry topping. In a pot, she combines fresh berries — raspberries, blueberries, and strawberries — with melted jelly. That's the topping done. 
"This is not a time for formality," Garten said as she spooned the berries over the cheesecake. "You just want a big mass of berries." 
Garten's Raspberry Cheesecake combines techniques from the previous cheesecake recipes
A combination of Garten's ricotta cheesecake and Mixed Berry Cheesecake, her Raspberry Cheesecake recipe uses techniques — and ingredients — from both. 
According to Food Network, the cookbook author makes the graham cracker crust much the same way with sugar, butter, and graham cracker crumbs. Once again, the filling's a combination of creamy cheese, sugar, and eggs. 
With the filling on top of the golden-brown crust, Garten puts the whole thing in the oven to bake. Like her other cheesecake recipes, this one also calls for leaving the cheesecake in the oven to cool. It also has to sit in the fridge overnight. 
Finally, like Garten's Mixed Berry Cheesecake, she makes topping with jelly and fresh berries.