'The Incredible Dr. Pol': Season 18 of the Nat Geo Wild Hit Is Now on Disney+
There are two things most The Incredible Dr. Pol fans look forward to, maybe three.
One is seeing Dr. Pol's office cat, Tater, lounge around the doc's waiting room on the reality show. Two is learning when the present season will be on Disney+. And three is finding out when the new season premieres on Nat Geo Wild (it's July 10).
It's all here for Pol fans.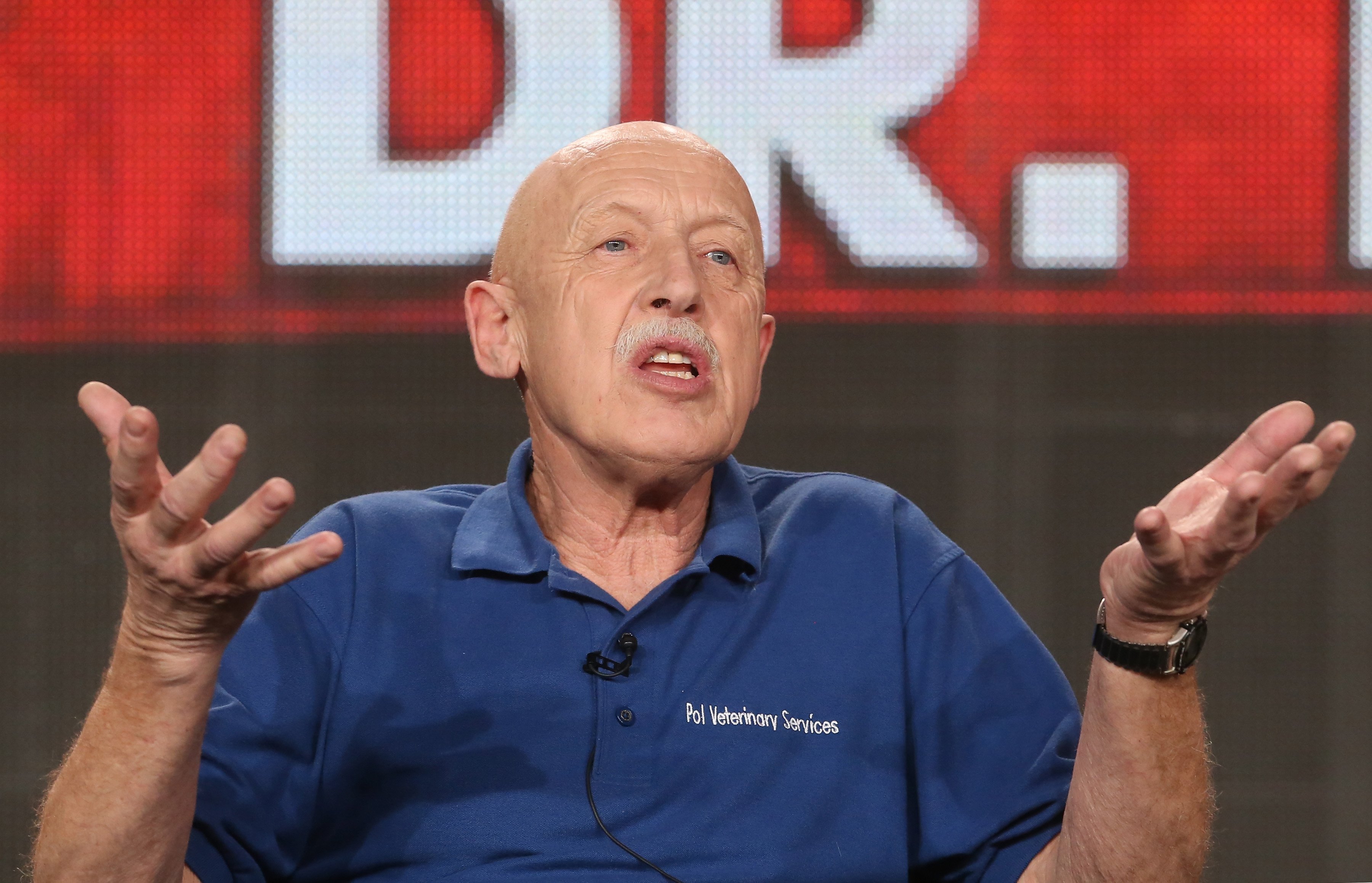 Dr. Pol is staying on Nat Geo Wild
Just in case anyone is wondering, The Incredible Dr. Pol hasn't left its longtime network Nat Geo Wild. The popular reality show began its residence there in 2011 when Dr. Pol's son Charles, who had been working for Nickelodeon, thought his dad would make a great reality show subject. His father wasn't as sure of Charles' idea, as the doc wrote in his memoir Never Turn Your Back on an Angus Cow.
"In 2009, Charles, who had moved to Hollywood to be in the entertainment industry, thought that people might be interested in a television reality show about a farm vet," Dr. Pol wrote. "I asked him who he thought might be interested in watching an old man who speaks with a funny accent putting his hand up the back end of a cow."
It turns out, millions of people have been fascinated by Dr. Pol's can-do, tireless energy and his equally incredible staff of vets including Dr. Brenda, Dr. Nicole, Dr. Ray, and Dr. Lisa.
Season 18 of 'The Incredible Dr. Pol' is now on Disney+
The latest season of the show, season 18, has now been added to Disney+, as Charles announced on Facebook Live last week: "For everybody who has Disney+ but not Nat Geo, the [most recent] season of The Incredible Dr. Pol will make its way to Disney+ in the U.S. on June 11th. So, season 18, June 11th, Disney+."
The 18th season finds the veteran vet taking on a new circumstance he'd never encountered before: the global pandemic. And as usual, he and his staff handle it with professionalism and humor. Episodes in season 18 include: "Love Wool Find a Way," "Shiver Me Puppers," and "Lights, Camel, Action," in which the doc treats a camel brought to his clinic.
RELATED: 'The Incredible Dr. Pol': Dr. Brenda On How Her Upbringing Prepped Her to Work With Dr. Pol
Some fans misunderstood Charles' announcement to mean that Dr. Pol was leaving Nat Geo Wild. As noted, he's not.
"So in order to watch Dr Pol is on Disney Plus? That is so wrong I been watching since first season and I refuse to Buy Disney Plus," wrote one fan on Facebook. Another follower of the show's set the confused fan straight: "Dr Pol is staying on Nat Geo Wild. You don't HAVE to have Disney+."
And then there's Tater
Tater the office cat is such an enormous part of The Incredible Dr. Pol, perhaps his agent should reach out to Nat Geo Wild for his own show.
The three-legged cat, sleek and black, has full reign of Dr. Pol's clinic and goes where he pleases. And, Tater has a devoted following on his own Instagram account. He can usually be found sleeping on a desk, a waiting room chair, or splayed out on the waiting room floor.
"Tater is very much at home in the clinic," Dr. Pol said on his show about his feline rescue. "He is his own boss. He gets spoiled so much, it's unbelievable. Right now, he's getting sneaky, running off to sneak outside. He is not afraid of anything or anybody and is very friendly to everybody."
'The Incredible Dr. Pol's 19th season premieres July 10th at 9:00PM EST on Nat Geo Wild