'Insecure' Star Issa Rae Was Told Not To 'Game Of Thrones' the Series Finale
As the HBO series Insecure enters its final season, fans are speculating how it will end. The show's creator, Issa Rae, has been open about the pressure that went into writing the series finale. Even though fans are eager to see the conclusion, some hope the show won't end like another popular series on the network.
'Insecure' star Issa Rae shared it was 'terrifying' writing the series finale
RELATED: 'Insecure' Star Issa Rae Explains Why Lawrence Almost Didn't Make It Past Season 1
On Oct. 21, Insecure creator Issa Rae made a special appearance on The Late Show with Stephen Colbert. Rae recounted when a person came up to her and said: "Don't Game of Thrones" the finale. "[Ending the show] was terrifying," she explained. "You're ending a show, and people are going to have their opinions. We're on HBO, which [had a show] that had a very popular finale. People come up to me and be like, 'Girl, I can't wait for the finale season, just don't Game of Thrones it ok?"
The medieval fantasy series Game of Thrones was one of the most popular shows on HBO. Many diehard fans still feel strongly about the final episode, with many arguing that it's downright disappointing. Dr. Laurel Steinberg, a New York-based fandom and relationship expert, told NBC News that fans had "inner angst, turmoil, or general conflictedness about the show ending."
Despite the fan comments, Rae is grateful to have a show like Insecure. "To come out and have this opportunity to make a TV show, I was, for lack of the better word, insecure," she said. "Now, it's been five to six years, and I'm working with some amazing people. It's made me more confident in my place [in Hollywood], and in some ways, I feel like I'm just getting started. And I would not feel capable without this show."
Rae teases the ending will be 'more sweet than bitter'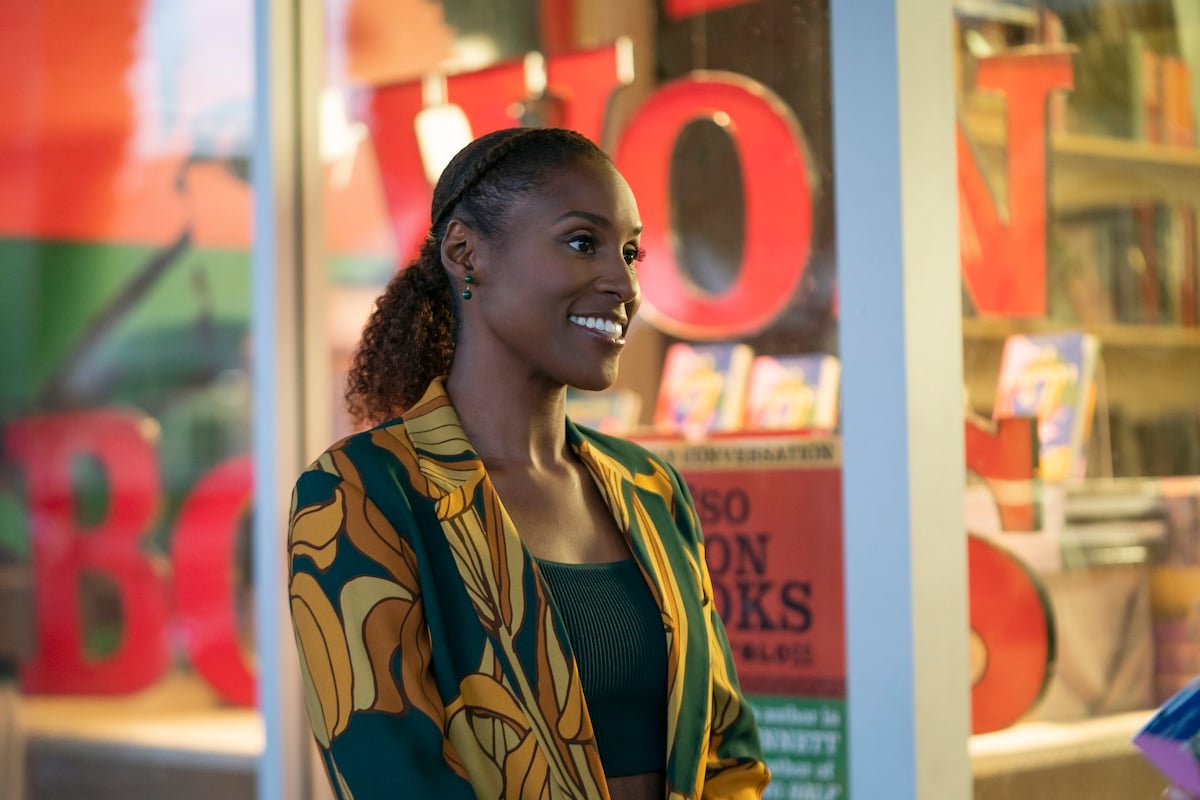 RELATED: 'Insecure' Star Gregg Daniel Teases 'Unexpected Twists and Turns' in Season 5 (Exclusive)
While fans wait for the series finale, Issa Rae teased the episode will be "more sweet than bitter." In an interview with The Hollywood Reporter, the Little alum shared what fans should expect from Insecure Season 5. "I had been talking a lot of sh*t all season, like people asking me, 'Is it going to be bittersweet?' And I was like, 'More sweet than bitter!'" Rae explained. "And then literally filming myself crying on the way to set like, 'What is wrong with me?' It caught me. But I'm just happy. I'm so grateful I got to work with these amazing people, and I'm in celebration mode."
Even though Insecure is coming to an end, Rae wants people to remember the show's authentic representation of Black culture and its beauty. "We always talked about this journey that we wanted to follow from being insecure to being comfortable in your insecurities to being securely insecure," noting the show "was for us, by us and opened the doors for a lot of your faves."
What's next for 'Insecure' creator Issa Rae?
Although Issa Rae is closing a chapter with Insecure, this is only the beginning for the young entrepreneur. According to Variety, the writer and producer secured a $40 million five-year overall deal with WarnerMedia. The agreement gives HBO, HBO Max, and Warner Bros. the rights to Rae's work in television, plus a "first look film plan" that covers WarnerMedia brands, including Warner Bros. Pictures Group, New Line, and HBO Max.
In an exclusive interview with CBS Mornings, the Insecure creator talked about the deal with WarnerMedia and how it's only the beginning of her journey. "I feel like I'm just getting started," she said. "But I still feel like a beginner in many ways. I still have so much to do. I think for me, it means I have an opportunity to bet on myself. And someone is betting on me."
Rae already has some projects in the works with HBO. Right now, she currently has a new reality show called Sweet Life: Los Angeles. Set in LA, the series follows young entrepreneurs in their twenties experiencing the ups and downs of adulthood. Rae's production company, Hoorae Media, produced the 10-episode series.
Sweet Life: Los Angeles is streaming exclusively on HBO Max.