'Insecure' Star Issa Rae Explains Why Lawrence Almost Didn't Make It Past Season 1
Insecure fans could imagine the show without Issa's on-and-off relationship with Lawrence (played by Jay Ellis). After their messy breakup, the couple decides to go their separate ways. Yet, the two found their way back to each other. However, Insecure creator Issa Rae revealed that Ellis's character was intended to have a one-season storyline. So, how did Lawrence become a pivotal character in HBO's Insecure? 
[Spoiler Alert: This article contains spoilers from Insecure Season 5 Episode 1, titled "Reunited, Okay?!"]
'Insecure' star Issa Rae shares Lawrence was supposed to have a minor role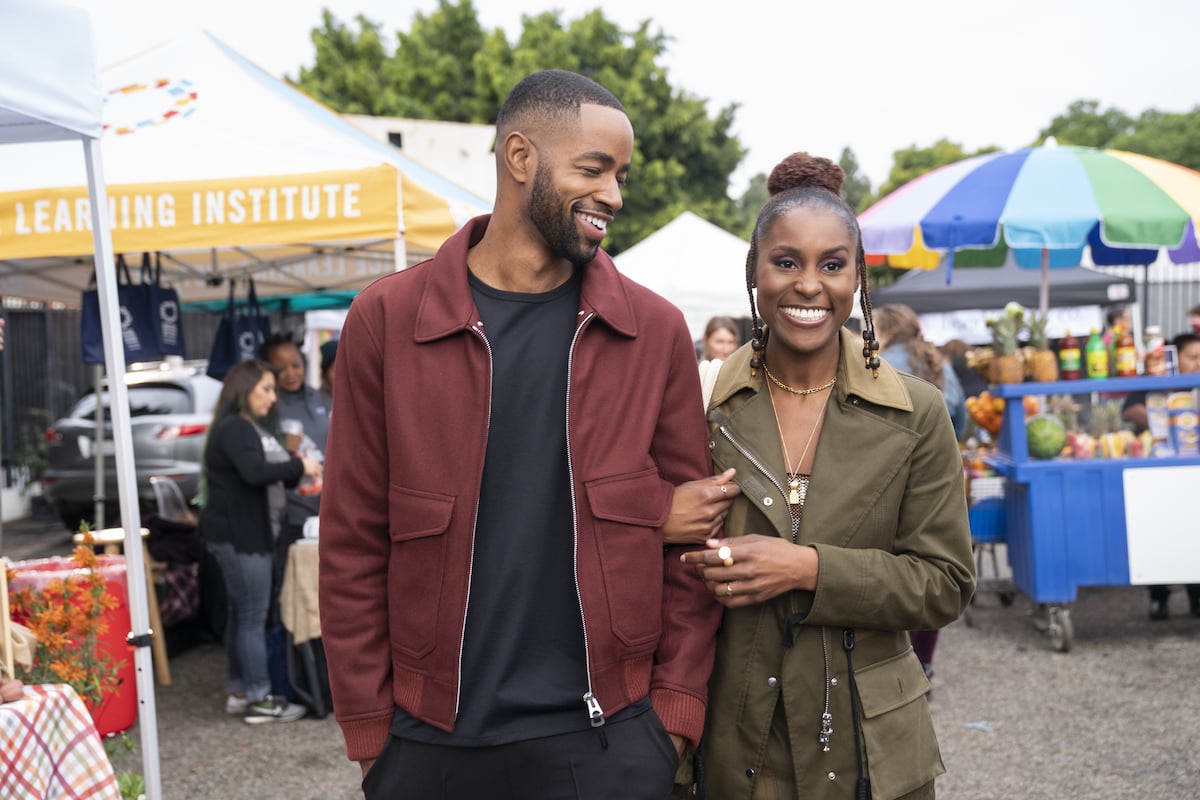 In an exclusive interview with Entertainment Weekly, Insecure actor Issa Rae shared that she didn't know Lawrence would "last so long" in the show. Lawrence has played a recurring role throughout the series. Even when Issa and Lawrence weren't together, Jay Ellis's character still played a vital part on-screen. Initially, Rae intended to make Lawrence a minor character in the storyline. But, Jay's performance brought so much depth that she kept him in the show's narrative. 
"Jay brought so much humanity [to Lawrence] and made him so endearing," she said, "But also personable and relatable – where everyone knows a guy like that. Those were the stories that were interesting to write, specifically because there weren't a lot of examples on-screen of just a regular Black dude who's not cool, not extraordinary. He's just a dude trying to figure it out, too."
In season 1, Lawrence is first introduced as Issa's unemployed boyfriend. After his tech startup failed, he struggled to find a steady job. Despite their messy split, fans hoped the two would rekindle their relationship. Eventually, they reconcile their relationship and get back together. But, their plans come crashing down after Lawrence's ex-girlfriend, Condola (Christina Elmore), announces that she's pregnant with his child. 
Did Jay Ellis know about his character's fate?
Although Issa Rae initially had the one-season plan for Lawrence, she never told Jay Ellis. In fact, the actor revealed he didn't know about his character's fate until season 3. "If you asked me, I was Jon Snow," he told EW. "I wasn't going nowhere. I truly was in my own bubble! Had I known that, I don't think I would have ever phoned it in – because that's just not who I am – but I'm sure I would have thought about every choice differently. I would have been thinking, 'Oh, how can I get them to keep me?' as opposed to just being in it every day. I'm grateful that they waited."
Does Issa and Lawrence's relationship survive the pregnancy news?
In the season 5 premiere, Lawrence picks up Issa from the airport after visiting Stanford University. When Issa exits the car, there is an awkward pause between them. "Lawrence, I had a chance to think," she says. After a long pause, Lawrence understands instantly and nods. Shortly after, he says, "Yea, I know."
Ahead of the Insecure Season 5 premiere, Issa Rae held a roundtable discussion about the series. The creator explained why it was necessary to close that chapter between her character and Lawrence. 
"That was the most important thing for us to acknowledge and repair," Rae told HuffPost. "That's why the Issa and Lawrence decision happens at the end of the episode because Issa needed to figure out where she was with Molly and get that relationship repaired and using that as a foundation to kind of give her the clear head to make a decision about what was best for her."
Additionally, Rae shared that the central plot line for this season is moving forward. "We had a lot of discussions about that in the room where Issa would be, and the idea that she just wants to move forward in her life is indicative of that decision at the end," she continued. "What you'll see, even in the second episode, we just wanted to move forward with these characters and see where they ended up."
Insecure airs on Sunday at 10 pm E.T on HBO and HBO Max.