Inside 1 of Robert Sheehan's Favorite Scenes With Justin H. Min in 'The Umbrella Academy' Season 2
Robert Sheehan details one of his favorite scenes with Justin H. Min in season 2 of the Netflix original series 'The Umbrella Academy.'
Robert Sheehan and Justin H. Min star as Klaus and Ben Hargreeves, respectively, in the Netflix original series The Umbrella Academy. Though Ben is no longer in the world of the living, he gets to stick around via Klaus — who can commune with the dead. Klaus can also physically interact with the deceased, which helps keep the spontaneous and risk-taking Klaus alive.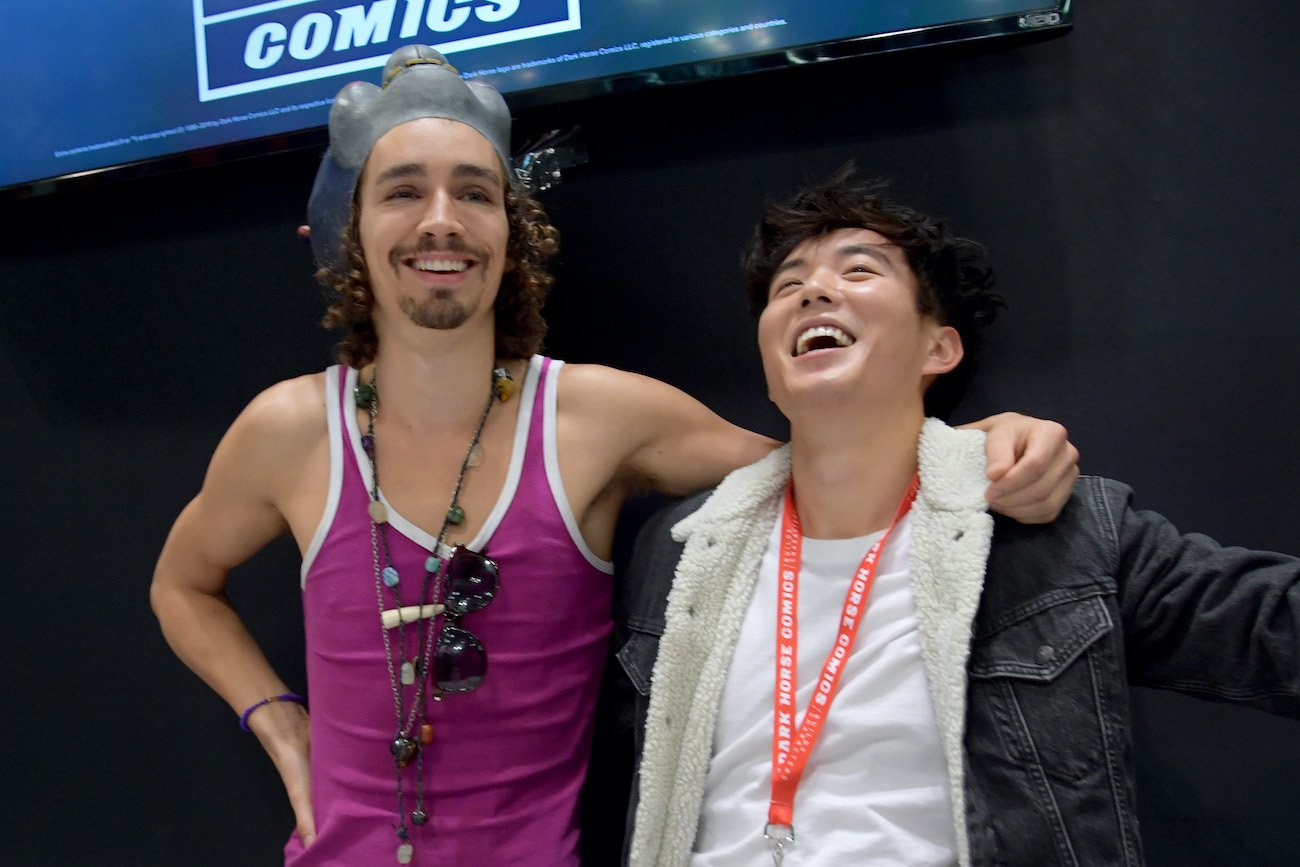 Because Ben's presence is intimately connected to Klaus', the two share many pivotal on-screen moments together. During an interview with PopSugar, Robert Sheehan recounted his favorite scene with Justin H. Min — and it's one that doesn't end so well for Min's Ben. 
[Spoiler alert: This article contains mild spoilers for 'The Umbrella Academy' season 2]
Robert Sheehan on his favorite scene with Justin H. Min 
When PopSugar asked Sheehan about one of his favorite "Ben/Klaus moments" from season 2, Sheehan was quick to jump to the one in which they fight for possession of Klaus' body. Sheehan said:
Oh, you know what, there's a lovely bit of physical acting that, unfortunately, to make it happen, myself and Justin [H. Min] had to do our parts separately, but I swear to God . . . watching it come together with visual effects. There's a part where the two of us are essentially quarreling over possession, as it was kind of his body, and we're fighting really hard, with Klaus trying really hard to get Ben out of there. So, that was enormously fun to shoot. And it came out really well, and kudos to Everett Burrell's visual effects! Basically, Everett legitimized my physical acting.

PopSugar
The above scene ends with Klaus virtually vomiting Ben out of his body, leaving Min covered in a sort of "porridge mix gack" explained Sheehan. While the physical acting and editing are top-notch, Min's final moments in the scene are not too glamorous. 
Robert Sheehan on acting as Klaus possessed by Ben in 'The Umbrella Academy'
Robert Sheehan went on to explain what it was like acting as Klaus acting as Ben. How did he approach the performance? What was his end goal for the scene? Sheehan explained that he didn't want the moment to be over-the-top, for he didn't want to resort to an "impersonation. Rather, he intended to "just give the audience enough" to recognize Ben within Klaus. He said: 
It was very jarring. It inspired great levels of terror in me at the start and in the preparation…I badgered Justin to send me videos of him doing all the dialogue . . . and then I badgered him again…And I thought, ultimately, I have to just give the audience enough, a few little things with Ben, so don't overdo it — just be…

PopSugar
Sheehan conjured Ben without trying too hard to exactly mimic Ben's every gesture and expression. Rather than a direct impersonation, he aimed to capture his spirit, which he did quite successfully.