Inside Eminem's Feud With Machine Gun Kelly
Eminem is no stranger to feuding with other celebrities. Throughout his career, Marshall Mathers has called out everyone from pop stars to actors to other rappers. One of the fellow hip-hip artists to feel Em's wrath is Colson Baker, better known by his stage name Machine Gun Kelly.
Here are the details behind their feud that goes back almost a decade.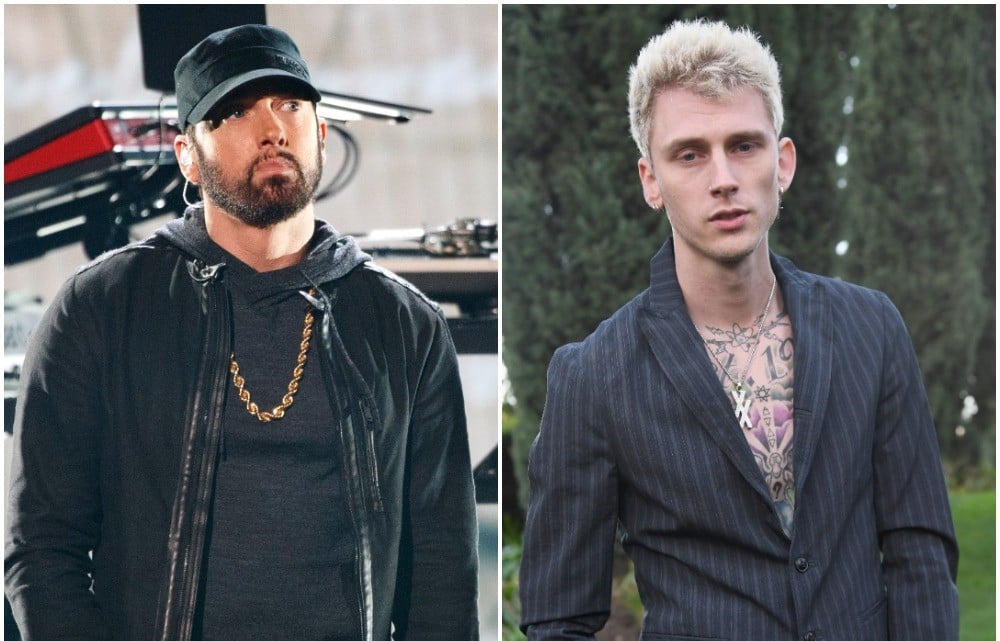 What started their feud?
While most fans of both men are aware of this feud many don't remember how it started. Well, it all goes back to a comment Kelly made several years back about Em's daughter.
"OK so I just saw a picture of Eminem's daughter… and I have to say she's hot as f—, in the most respectful way possible because Em is king," Kelly tweeted in 2012.
Apparently, the "Bloody Valentine" artist didn't get the memo that it's never a good idea to mention Slim Shady's daughter Hailie, especially given the fact that she was only 16 at the time of this post. While Em didn't publicly respond to the tweet, Kelly claimed that because of what he said he was banned from Eminem's Shade 45 SiriusXM station and certain outlets refused to review his records.
For some reason, Kellly decided to take a shot at the 8 Mile actor years later through a verse on Tech N9ne's song "No Reason" with the lyrics: "I pop cherries and pop stars, you popsicles is not hard. Popped in on the top charts out the cop car to remind y'all you just rap. You're not God and I don't care who got bars." Kelly was referencing Eminem's song "Rap God" (per The Sun) as well as the tweet about Hailie and that's what woke the sleeping giant.
Did Machine Gun Kelly apologize to Eminem?
Em hit back via his 2018 Kamikaze album with the track "Not Alike" in which he raps: "But next time you don't gotta use Tech N9ne if you wanna come at me with a sub-machine gun. And I'm talking to you but you already know who the f— you are, Kelly. I don't use sublims and sure as f— don't sneak-diss. But keep commenting on my daughter Hailie."
MGK then fired back with his song "Rap Devil" with the lines: "Tough talk from a rapper paying millions for security a year. 'I think my dad's gone crazy' yeah, Hailie, you right. Dad's always mad cooped up in the studio yelling at the mic. You're sober and bored, huh (I know). About to be 46 years old, dog."
Eminem then slammed Kelly in an interview with Sway and said he initially didn't want to respond because that would make MGK more famous. He had a change of heart though and went after Kelly hard in "KILLSHOT" rapping: "How you gonna name yourself after a damn gun and have a man bun? So before you die let's see who can out-petty who. With your corny lines (Slim you're old). Ow, Kelly, ooh, but I'm 45 and I'm still outselling you. By 29 I had three albums that had blew. Luxury, oh, you broke, b—-? Yeah, I had enough money in '02 to burn it in front of you, ho. I'd rather be 80-year-old me than 20-year-old you."
For his part, Kelly said that he apologized to Em years ago.
"Truth be told, we had handled it behind the scenes six years ago," Kelly told Charlemagne Tha God on The Breakfast Club (per Metro). "We didn't speak. I spoke to Paul Rosenberg [Eminem's manager] and his team because that is as man-to-man as it gets with him. What I had said… it all started with the daughter thing. You know what I said, Look, I didn't know how old she was. I made a comment, I didn't feel like it was disrespectful but I'm a father, I have a 9-year-old daughter. I get it. Man to man? I apologized. Can I take the tweet down? Sure. But public apology? Come on man."
Emimen's connection to MGK's girlfriend Megan Fox
So is the feud ongoing?
There have been a few more disses here and there by both sides but in the 2020 track, "Unaccomodating" Eminem appeared to call a ceasefire with a "Rap God" and "Rap Devil" reference. In it, the "Stan" hitmaker says: "When they ask me is the war finished with MGK? Of course, it is. I cleansed him of his mortal sins. I'm God and the Lord forgives even the devil worshippers."
Since 2020, Kelly has been dating Meghan Fox, who starred in Eminem's 2010 "Love the Way You Lie" video, so maybe she'll be able to improve things between them one day.
RELATED: Inside Eminem's Feud With 'The Breakfast Club' Host Charlamagne Tha God