Inside George Harrison & Madonna's Relationship During Filming for 'Shanghai Surprise'
George Harrison and Madonna worked together on 'Shanghai Surprise' with Madonna's then-husband Sean Penn. There were rumors of an affair between them because George and the pop singer seemed close to one another during filming.
Who knew that the singers of "Material Girl" and "Living in the Material World" would work on a film together? Just by listening to those two songs, you can understand how different George Harrison and Madonna are. Yet both pop stars were able to have a pretty great working relationship on the film Shanghai Surprise. However, some would say they worked a little too well with one another.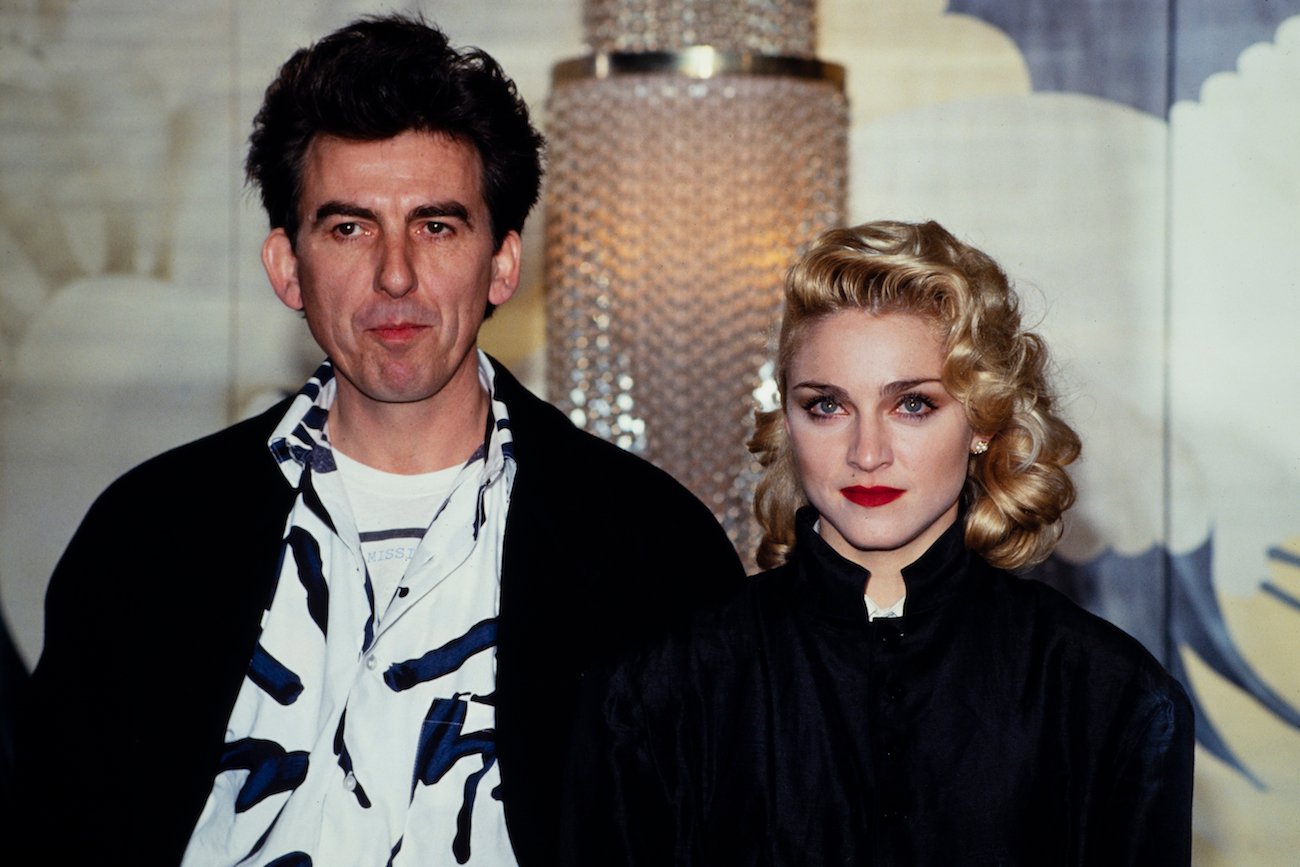 George Harrison and Madonna worked together on 'Shanghai Surprise'
In 1986, then-newlyweds Sean Penn and Madonna were cast as love interests, Glendon Wasey and Gloria Tatlock, in Shanghai Surprise. Set in 1938, Shanghai Surprise follows a failed glow-in-the-dark necktie salesman (Penn) as he helps a missionary nurse (Madonna) obtain opium to ease her patient's pain.
It was one of the biggest flops of the year even though it starred Penn, Madonna, and had George as an executive producer through his HandMade Films production company. There were problems on set as well. According to Yahoo! News, paparazzi often invaded the set to get snapshots of the new high-profile couple. But things weren't so lovey-dovey between Madonna and her new husband.
"The stars' behaviour, particularly Penn who hated the press intrusion and perhaps felt he had been convinced to appear in the film as a favour to his new wife, grew ever more tempestuous," Yahoo! News wrote. During filming, Penn punched a photographer, bashed a window in, and made the director fire and replace Bernard Hill.
So, before the crew up and left the project, George was called "to be the emissary" and sort it all out.
George was 'very understanding and sympathetic' toward Madonna
According to the Daily Mail, Madonna was not at all happy with Penn. However, she found a kindred spirit in Geroge, who she found "very understanding and sympathetic." George oversaw filming in Macau and met up with the pop star several times in London before and after the production.
"Madonna's brother, Christopher Ciccone, said that, although Harrison felt moved to 'read the riot act' to Penn over his hostile and aggressive attitude during filming and gave the actor a stern ticking-off, he treated Madonna with 'kid gloves,'" the Daily Mail wrote.
The Associated Press reported that at a press conference for the film, Madonna said George was a "great boss." He'd given her "more advice about how to deal with the press than how to make the film." Madonna also touched on her violent outbursts with the press, along with her husband's. "I have nothing to apologize for. I never imagined success could be like this," she said of being harassed by the media.
George, who never liked the press, responded by calling the English media "a bunch of animals." He also went on to praise Penn. "I don't see him like you," George said. "I see him like an actor. He's a human being and very nice – a good actor. Stars are actually people. They're human beings who've become famous."
Was something going on with George and Madonna?
Many people have claimed that George had an affair with Madonna while they were working on Shanghai Surprise. Of course, it's never been confirmed. However, we do know that George had many "hiccups" throughout both of his marriages.
Whatever happened between the two pop stars, George made Madonna feel better about stardom and the press, at least for a short time. George had a way with women, but he also had a way of making people feel comfortable.