Inside George Harrison's Unusual Ukulele Obsession
In Martin Scorsese's George Harrison: Living in the Material World, George's wife Olivia said that he had a "curious mind, and when he got into something he wanted to know everything." The "quiet Beatle" wasn't so quiet, especially when it came to his many passions. He loved race cars, comedy, spirituality, and, of course, music. He loved all kinds of music from all over the world, and it was important to him to spread what he called "minority music."
But George also loved music that used ukuleles. It's like Olivia said, when George got into something, he wanted to know everything about it, and the ukulele was no different. Soon, his love of the instrument turned into an obsession.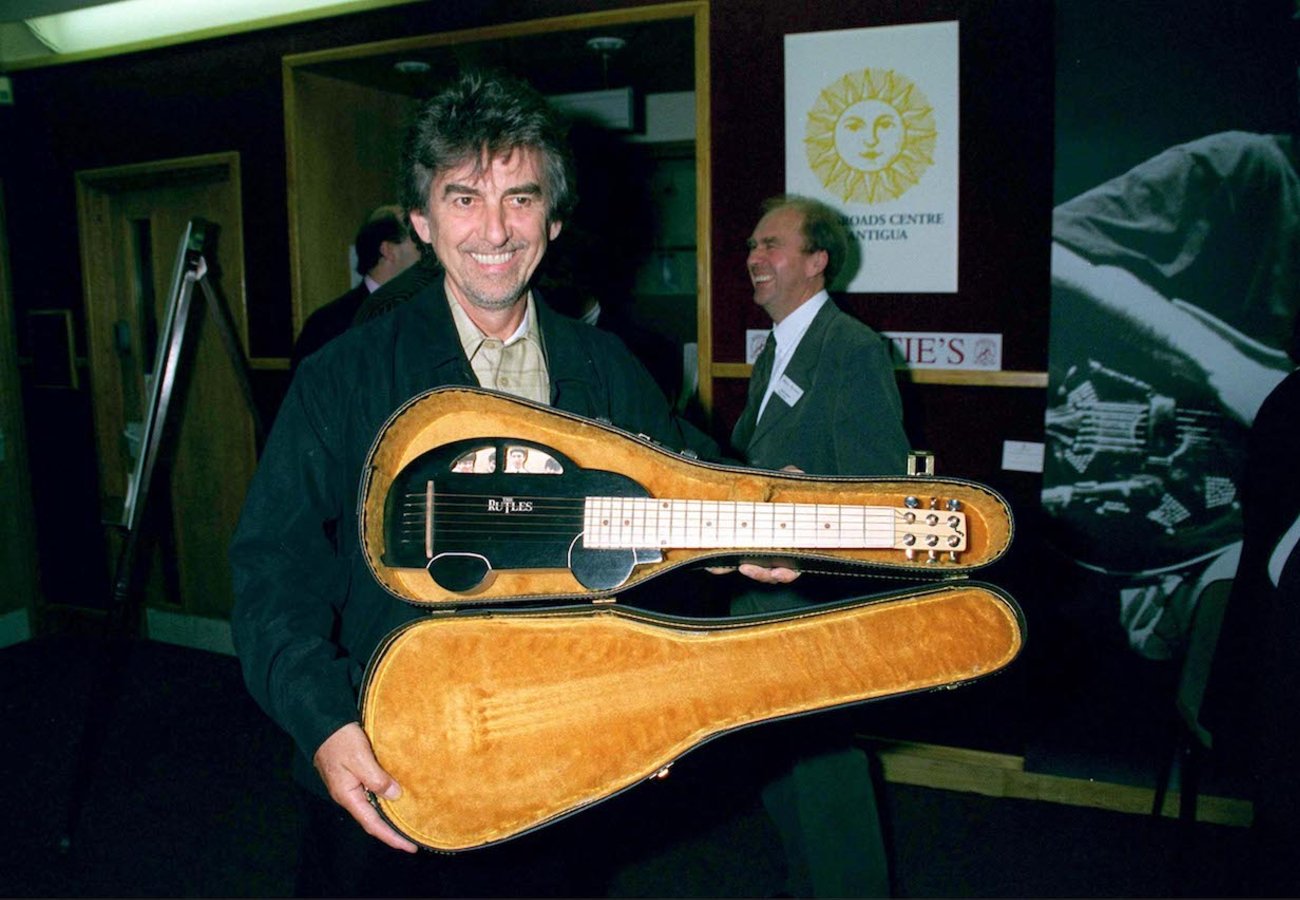 George Harrison fell in love with the ukulele in the 1980s
According to Ukulele magazine, George wouldn't have fallen in love with the ukulele without George Formby, who popularized the instrument in England in the 1920s. At one point, Formby was the highest-paid performer in the country, and everyone knew about him.
Formby's films and songs inspired George during his childhood. However, when George joined The Beatles, the ukulele was pushed to the back of his mind.
George really fell in love with the ukulele around the 1980s. George invited fellow musician Joe Brown over to jam with him at his home, Friar Park. He knew Brown played the ukulele, and Brown knew George had just started playing, so Brown taught him a few things. George had already started an impressive collection of ukuleles.
When George would travel to Hawaii, he'd buy up the music store's entire stock of ukuleles. He'd buy some for himself or friends, and they quickly noticed George's developing obsession.
George bonded with friends over the ukulele
When Brown visited George, all they did was play the ukulele. George would instruct Brown to bring a suitcase. "And off we'd go all over the world. He'd say, 'I brought the ukuleles.' And we'd play all over," Brown said.
Later, George worked with ELO frontman Jeff Lynne on Cloud Nine. Soon, George and Lynne bonded over the instrument too.
"The first time I met George was in his garden at his lovely house," Lynne told Ukulele magazine. "About two hours later, he'd given me this old Wendell Hall ukulele; it was actually a banjolele. We'd strum every day—we'd have at least a half-hour or 15 minutes on the uke or banjolele. And then other people would come over to Friar Park and they'd want to join in and have a go, and sometimes we'd have four people playing ukes in sync. It was like a ukulele orchestra!"
Something similar happened with Tom Petty. "He showed up [at my house] one day and gave one to me. 'You gotta play this thing; it's great! Let's jam!' I had no idea how to play a ukulele. 'Aw, it's no problem, I'll show ya!' So we spent the rest of that day playing ukuleles. My wrist hurt the next day.
"When he was leaving, I walked out to the car and he says, 'Wait, I want to leave some ukuleles here!' And he'd already given me one. 'We may need more!' He opened the trunk and he had a lot of ukuleles in the trunk. And I think he left four at my house, and he said, 'Well, you never know when we might need 'em, because everyone doesn't carry one around."
George joined a couple of ukulele societies
In 1990, George joined the George Formby Society, formed in 1960, after Formby's death. In All About the Banjo Uke, the president of GFS wrote that he'd restored George's gold-plated and engraved Ludwig banjo uke. When George collected it, "he was like a kid at Christmas and couldn't contain his excitement at the lovely condition of his restored Ludwig." Croft wrote.
"Unannounced, he and his wife and son attended a meeting of the George Formby Society at the Winter Gardens in Blackpool in March 1991, and he told me afterwards that they had all enjoyed it tremendously," Croft continued. "He went on to attend a meeting of the Ukulele Society of Great Britain and had a great time meeting its members and playing the uke."
During the GFS meeting, George told the BBC, "It's Formbymania! It's sweeping the nation and that's all there is to it. I haven't slept for months. I'm having dreams about Ludwig banjos and these songs going through my head… The best thing about it for me is it's just funny music. It's very lighthearted. It's hard to play a ukulele banjo without smiling. It tends to lighten your life a bit."
George remained a faithful ukulele player until he died in 2001. Months before he died, George traveled to Hawaii one last time, and you can bet he brought with him a suitcase full of ukuleles. You never know how many you'll need after all.